Brand new UK and Irish artists were few and far between amongst the biggest tracks on BBC Radio 1 in the first half of this year.
MBW has obtained a list of the station's Top 50 biggest songs in 2016 to date, based on data from trusted airplay tracker RadioMonitor, which you can see below.
Radio 1 is widely considered one of, if not the, most influential radio stations in the world when it comes to breaking homegrown artists.
Across the station's Top 50 in the year-to-date, MBW can spot just three UK acts whose music hadn't charted before 2016:
Veteran house DJ Riton, whose Rinse & Repeat ft. Kah-Lo is (Ministry Of Sound) is at

No.9

with 233 plays;
Polydor-signed Mura Masa, whose What If I Go? ft. Bonzai (Polydor) sits at

No.25

with 183 plays;
Dua Lipa, whose Hotter Than Hell (Warner Bros) registers at =

No.38

with 169 plays.
(Dua Lipa actually charted around the world last year with Be The One, a No.1 in Belgium, but the track didn't trouble the Official UK Top 40.)
Arguably, one more 'brand new' UK act in 2016 also features in Radio 1's list: ZAYN's Pillowtalk (RCA) lands at No.19 with 202 plays, but the star was well established in One Direction before he went solo this year.
Interestingly, Mura Masa and Dua Lipa (pictured) are the only British names from the BBC Sound Of… poll 2016 longlist to appear in the Top 50.
The runner up of Sound Of…, Canadian Alessia Cara, claims the No.21 spot with her hit Here.
However, the UK winner of the Sound Of… poll, Jack Garratt, is nowhere to be seen.
Here's the Radio 1 Top 50 from January 1 up to and including yesterday (July 12):

---
British artists are well represented overall in Radio 1's Top 50 with 24 spots across the Top 50 – a 48% share.
(Alan Walker, although UK-born, is considered a Norwegian artist).
This share takes a tumble across the Top 15 tracks on the station, though, with just four British acts making an appearance: Snakehips at No.5, Calvin Harris at No.6, Riton at No.9 and AlunaGeorge at No.10.
You can deduce from this stat that none of Radio 1's most-played Top 4 tracks so far this year – led by Canadian Drake's One Dance – were recorded by UK artists.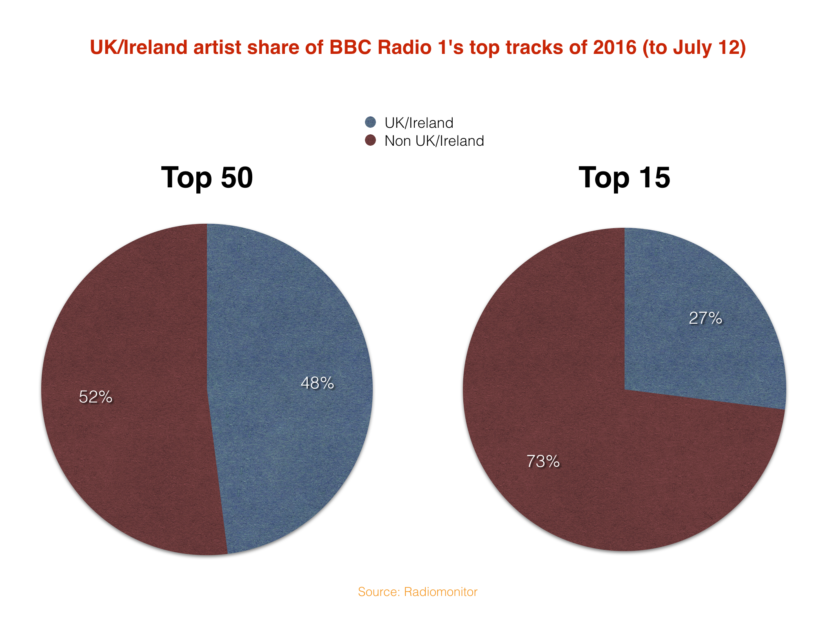 ---

There is some additional significant support in the Top 50 for UK artists who broke through last year:
Snakehips feat. Tinashe and Chance The Rapper – All My Friends (Columbia) at No.5 with 242 plays;
99 Souls feat. Destiny's Child – The Girl is Mine (RCA) at =No.26 with 182 plays;
Blonde & Craig David – Nothing Like This (Ffrr/Parlophone) at =No.26 with 182 plays
Sigala feat Imani & Dj Fresh – Say You Do (Ministry) with 177 plays
Jonas Blue ft Dakota – Fast Car (Virgin EMI) at No.36 with 171 plays
Combined with the UK/Ireland acts who have broken through in 2016 – ZAYN included – that makes nine tracks of Radio 1's Top 50, or 18%, possible to be considered 'new domestic breaking acts'.
Interestingly, of these nine tracks:
Three are signed to Sony labels
Two are signed to Universal labels;
Two are signed to Warner labels;
Two are signed to Ministry Of Sound.
---
What, then, of the record company shares across the whole chart?
Sony is the dominant force in the upper echelons.
Jason Iley's Sony Music UK takes four of the Top 10 tracks (40%, obviously) and seven of the Top 15 (47%).
There are three independent hits across the Top 50, with Ministry taking two and XL/Beggars claiming one with Adele's When We Were Young (No.41).
Two other acts are independently-signed but locked into deals at Universal Music UK: The 1975's The Sound (No.18 – Dirty Hit) and Kungs vs. Cooking On 3 Burners' This Girl (No.29 – 3 Beat).
They add to the 'pure' tally of Universal labels to give UMG 19 tracks across the Top 50, led by Drake (Island) at No.1.
Sony takes 15 tracks of the 50, led by Black Butter's Zara Larsson at No.3.
And Warner claims 13 tracks of the Top 50, led by Twenty One Pilots' Stressed Out (Atlantic) at No.2.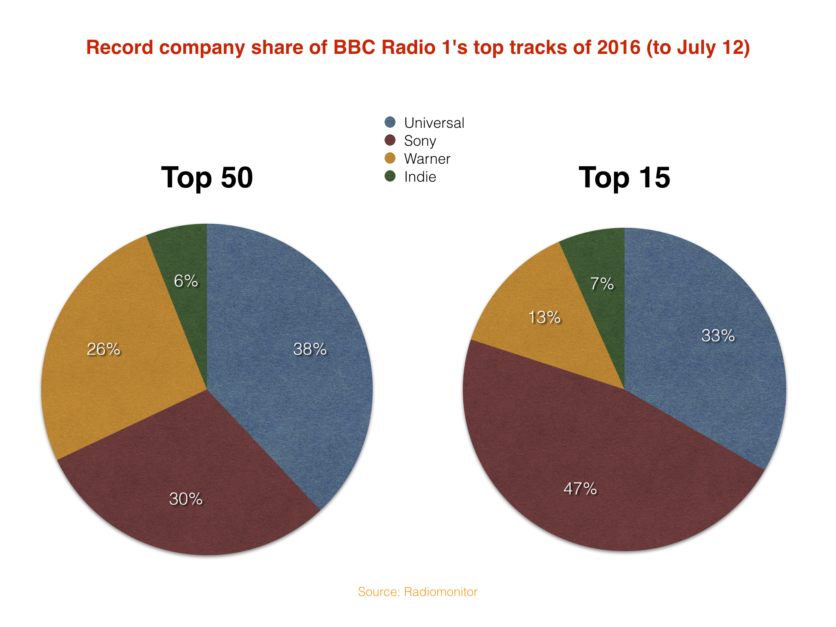 Music Business Worldwide