Instagram has unveiled new features aimed at enhancing user engagement and collaborative content creation, as well as a new partnership with music streaming giant Spotify.
The platform's new features include the integration of music into photo carousels and the introduction of collaborative Reels, allowing users to team up with friends to produce content.
With the new music integration feature, Instagram users can now infuse their photo carousels with soundtracks, according to a press release from parent company Meta on Friday (August 11).
This addition builds upon the Meta-owned platform's previous introduction of music integration for feed photos, offering a new way for users to evoke moods and enhance their visual storytelling.
Instagram introduced the music feature for photo carousels by partnering with Olivia Rodrigo. The artist showcased a photo carousel accompanied by her latest single, "bad idea right?" on Instagram.
The feature seemingly rivals TikTok's photo swipe feature that also lets users upload multiple photos accompanied by a soundtrack.
---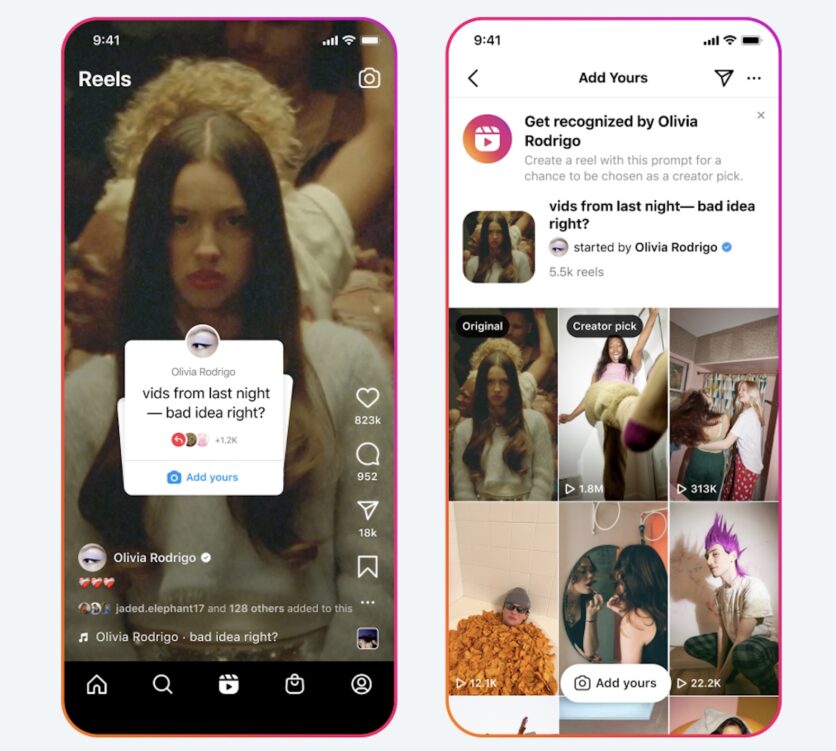 ---
Instagram said it is also working to expand its music library to additional countries in the coming weeks.
"Music is a key part of how people express their creativity and interests on Instagram. We're excited to bring our music library to more countries over the coming weeks," Instagram said.
"Music is a key part of how people express their creativity and interests on Instagram. We're excited to bring our music library to more countries over the coming weeks."

Instagram
Back in October, Meta started offering royalty-free music for advertisers to use in advertisements via Instagram Reels. That followed Meta's revenue-sharing deal with major labels including Warner Music Group and Universal Music Group that allows the labels and artists to receive a portion of revenue from the use of licensed music on Facebook creators' posts.
In addition to enhancing its photo carousels feature, Instagram hinted at its upcoming partnership with Spotify. The platform is set to partner with Spotify in Mexico and Brazil to introduce a 'Reels Music Chart' on the music streaming platform, featuring 50 of the most popular songs from Instagram Reels.
Meanwhile, Instagram has launched the 'Collabs' feature, which lets users invite up to three friends to co-author feed posts, carousels, or reels. Once the invitation is accepted, the content gains exposure to each collaborator's audience and appears their respective account profiles.
The feature is available for both private and public accounts. Private account holders can initiate collaborative posts or reels by inviting followers as long as they mutually follow each other.
Moreover, Instagram has introduced the 'Add Yours' sticker, a tool that enables creators and artists to engage their followers in prompts and challenges on Instagram Reels. 
Participating in the Add Yours prompts allows users to put their personal twist on creative challenges, with the added chance of gaining recognition from the original creator, Instagram said. 
Followers are notified if their reel is chosen as a favorite by the creator, and the wider Instagram community can view the submission by tapping the Add Yours sticker, provided the user's account is public.
The new music features came after Instagram in June started allowing users to share music on Instagram Notes, a feature that enables users to display a status message at the top of their inbox, visible to their Close Friends or mutual connections.
Music Business Worldwide