Recorded music trade revenues fell very slightly (-0.25%) in the first half of 2019 in Japan, according to MBW research – but there was brighter news for the business behind the topline numbers.
According to new data published by the Recording Industry Association of Japan (RIAJ) and analyzed by MBW, total industry revenues – including physical and digital formats, across audio and video – hit 149.093bn Yen ($1.35bn) in the six months to end of June, down from 149.468bn Yen ($1.37bn) in the prior year period.
However, this decline was mainly caused by a 10.8% year-on-year drop in sales of physical music video products.
Physical audio music (CD and vinyl) actually grew year-on-year, up 2.6% from 77.47bn Yen ($712m) in H1 2018 to 79.50bn Yen ($722m) in the first half of this year.
As for streaming? That was up too.
Subscription audio streaming formats grew by 23.8% year-on-year, up to 18.54bn Yen ($168m), while all streaming formats (including revenues from subscription plus ad-supported video and audio services) climbed 27.5% to 21.37bn Yen ($194m).
---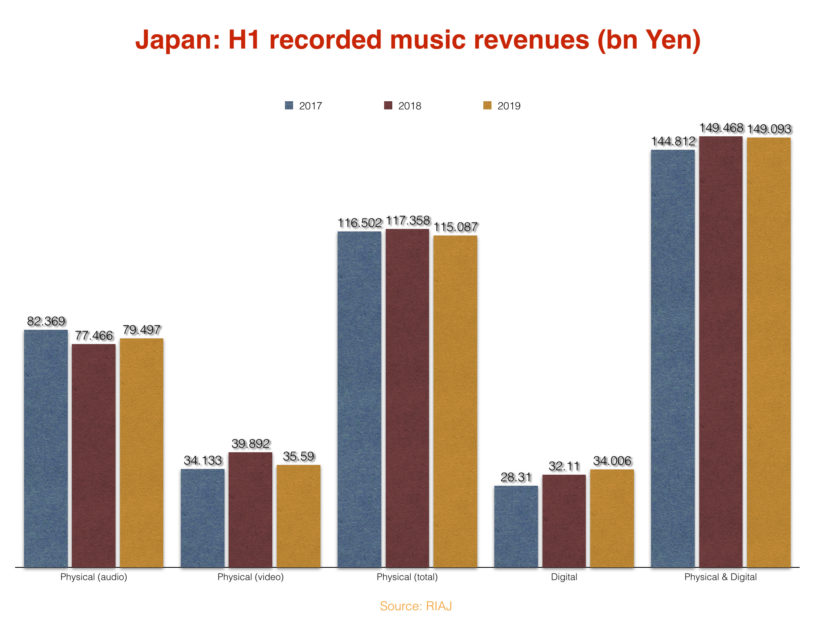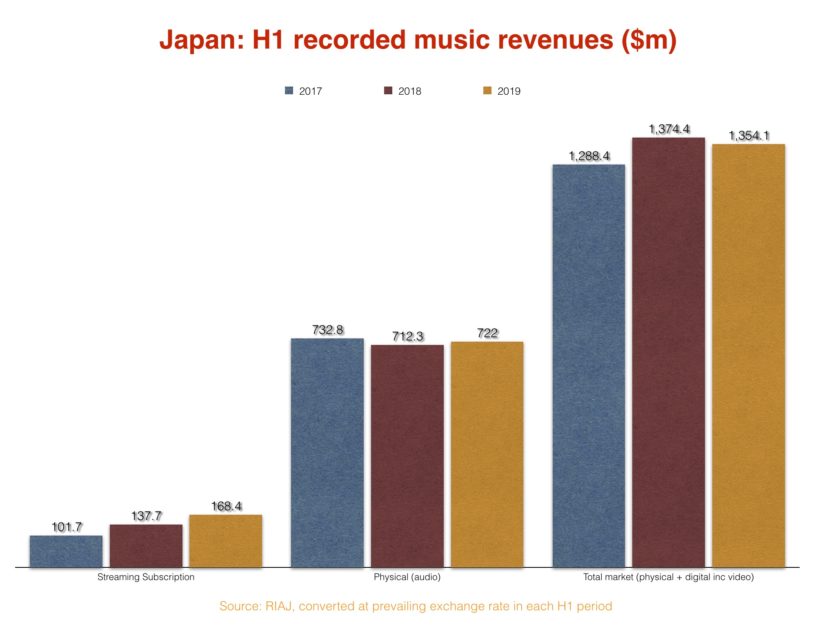 ---
Within these numbers, some extra good news for the global business: streaming revenues in Japan grew slightly faster year-on-year in H1 2019 than they did in H1 2018.
Subscription audio streaming revenues jumped by 3.56bn Yen in the six months to end of June this year, a very slightly larger margin than the 3.55bn Yen growth seen in H1 2018.
---
---
This demonstrates the opposite trend to that seen in both the US and UK, where – in both territories – MBW analysis shows that YoY streaming growth slowed down in the first half of this year.
(At the US dollar level, converted at the prevailing rate of each year, Japan's streaming revenue growth actually slowed down in H1 2019 too, but, hey, let's take the good news where we find it…)
Audio subscription revenues made up 12.4% of Japan's total recorded music revenues in H1 2019; physical audio formats contributed 53.3%.
According to IFPI data, Japan was the world's second biggest recorded music market in 2018, behind the US but ahead of the UK, generating $2.87bn in trade revenues.
RIAJ stats show that non-domestic (i.e. international) music made up 10.4% of total physical audio sales in the first half of this year.
[Pictured: A still from the video of NMB48's Bokou He Kaere!, which is currently No.1 on the Billboard's Japan Hot 100.]
---
Exchange rates applied here: H1 2019: $1 = 110.1 Yen;  H1 2018: $1 = 108.75 Yen H1 2017: $1 = 112.4 Yen.Music Business Worldwide