MBW's Stat Of The Week is a series in which we highlight a data point that deserves the attention of the global music industry. Stat Of the Week is supported by Cinq Music Group, a technology-driven record label, distribution, and rights management company.
---
Is Paris-headquartered distribution and services company Believe worth more than four times what it was in 2017?
That's the implication from a report, via Reuters, that TuneCore owner Believe is preparing an IPO in 2021 that will value it at around €2bn ($2.4bn).
Back in July 2017, Japan's respected financial newspaper Nikkei (rival to the Financial Times and Bloomberg) reported that Sony Music was about to acquire Believe for a price in the region of $350m to $450m.
Believe CEO Denis Ladegaillerie quickly set the record straight. He told MBW that Nikkei's story, and its headline valuation of Believe, probably emerged from a recent fundraising drive at the French company (a drive which presumably included preliminary conversations with Sony), but that no sale was actually on the cards.
Reuters now reports that Believe is working with Rothschild & Co on its planned €2bn IPO, which could take place in New York or Paris.
Its story quotes a source relaying that an IPO would allow Believe's "fast-growing, profitable" operation "to raise funds to accelerate its expansion plans".
---
MBW's Stat Of The Week: Believe (formerly known as Believe Digital) looks set for a $2bn-plus IPO next year – a valuation more than four times bigger than that slapped on Believe by Nikkei in 2017.
---
Earlier this year, MBW revealed that Believe generated approximately $700m in digital revenues in 2019, and experienced 40% annual group turnover growth in each of the past three years.
A report from Le Monde in France last month suggested that, despite the pandemic, Believe is on course to see another 25% rise in turnover in 2020.
If accurate, that would take Believe's annual revenues this year to over $850m.
"The billion dollar mark will be reached in 2021 or 2022," Denis Ladegaillerie (translated) told Le Monde, which reports that Believe is 49% owned by the US-based Technology Crossover Ventures (TCV).
Ownership of the other 51% of Believe, says Le Monde, is shared between additional venture funds and the firm's management.
---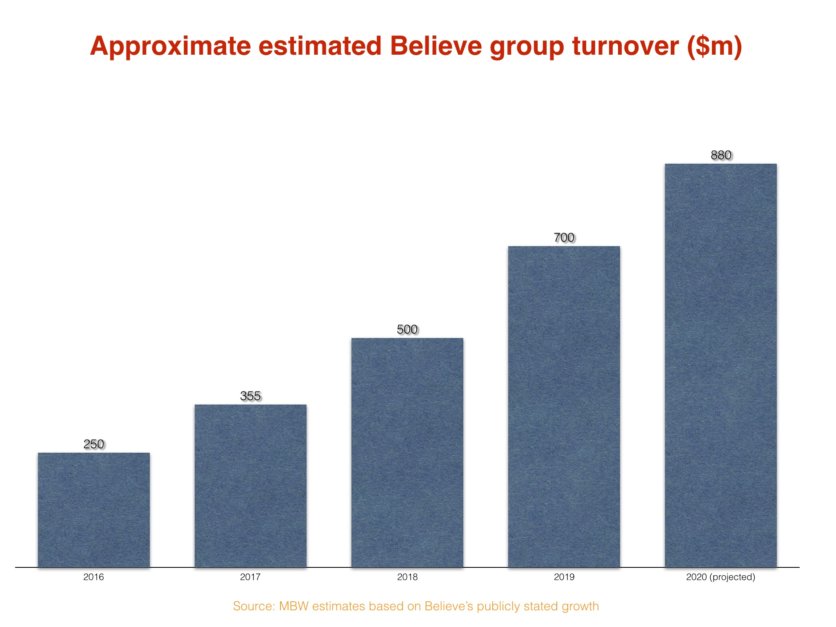 ---
Believe isn't the only modern music company fixated on the stock exchange, of course.
Round Hill last week successfully floated a new royalty fund on the London Stock Exchange (LSE), raising $282m in the process.
And Hipgnosis Songs Fund has revolutionized the modern music rights business after its trailblazing IPO on the LSE in 2018.
Another company flirting with the prospect of a public markets debut is New York-based Primary Wave, which manages nearly $1.5bn in cash and music assets – including interests in the song catalogs of Bob Marley, Ray Charles, Burt Bacharach, Whitney Houston and many more.
Primary Wave CEO, Larry Mestel, revealed on the MBW Podcast last week: "It's entirely possible that we will, in the future, raise money in the public market. We're discussing that and also other alternatives to to financing."
---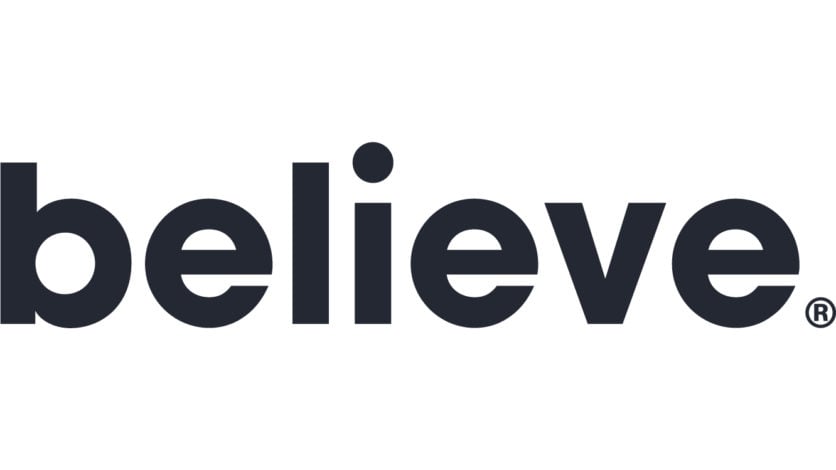 What separates Believe from the likes of Round Hill, Hipgnosis and Primary Wave is that these companies' businesses are rooted in the world of copyright ownership, while Believe's operation is heavily weighted towards servicing third-party copyright owners.
Those copyright owners include around a million independent artists using TuneCore, which is now paying said indie acts over $400m every 12 months, according to company figures. (TuneCore was acquired by Believe in 2015 for an undisclosed price-tag, which industry sources suggest was around $40m.)
---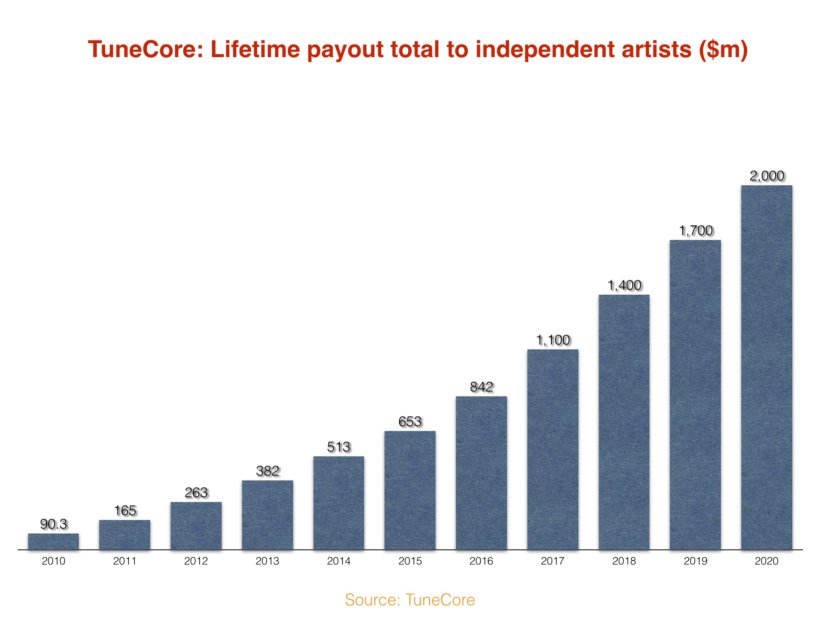 ---
Outside of TuneCore, Believe's clients include the likes of World Circuit, TruThoughts, and Brownswood Recordings, while Believe also owns labels in-house, including All Points, Naïve and Nuclear Blast.
In addition to Believe, music's indie distribution and services sector may soon be home to some other billion-dollar headlines.
Both Kobalt Music Group and Downtown Music Holdings are believed to be holding talks with potential investors that could result in either company selling up. Both could be seeking a ten-figure price-tag.
---

Cinq Music Group's repertoire has won Grammy awards, dozens of Gold and Platinum RIAA certifications, and numerous No.1 chart positions on a variety of Billboard charts. Its repertoire includes heavyweights such as Bad Bunny, Janet Jackson, Daddy Yankee, T.I., Sean Kingston, Anuel, and hundreds more.Music Business Worldwide