"I live by karma and I totally believe in doing right by this world. I'm in this job for the right reasons."
Julie Greenwald has long been determined to make a positive difference in people's lives.
Once upon a time – back when she was sure she'd end up a political lobbyist or human rights lawyer – that meant working in soup kitchens in New Orleans or educating underprivileged kids as part of the 'Teach For America' program.
Since meeting Lyor Cohen in 1992, though, she's channeled this advocacy for human decency (and refusal to be cowed by dodgy odds) towards the music business.
It's writ large in the devoted manner in which she talks about her artists and her staff at Atlantic Records, who are celebrating a golden year in 2016.
And it's literally writ large in her New York corner office – where, on the far wall from her desk, hangs a large canvas from local artist Michael Scoggins.
There, spelled out in repeated schoolboy scrawl, you'll find the affirmation with which Greenwald vanquishes the dark personality pitfalls of the entertainment industry:
'I'm still a good person. I'm still a good person. I'm still a good person…'
---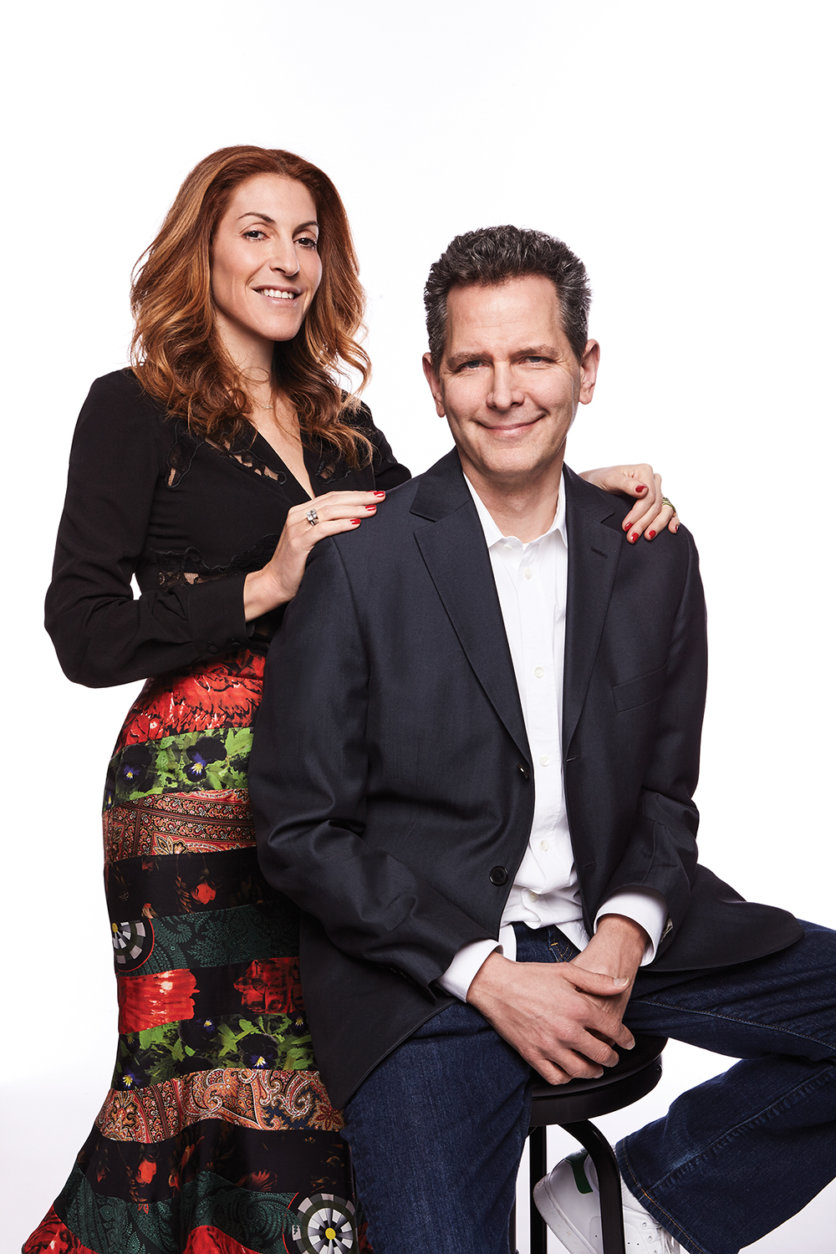 2016 marks Greenwald's 12th year running Atlantic in tandem with A&R supremo – and Ahmet Ertegun protégé – Craig Kallman.
It's been one for the history books.
Although Greenwald protests that she and Kallman (pictured) never look at market share figures, her bosses – Warner CEO Steve Cooper and owner Len Blavatnik – must like what they see.
Atlantic is the only label in the US this year to have had four albums across Gold & Platinum certified by the RIAA (Kevin Gates – Islah; Suicide Squad OST; Charlie Puth – Nine-Track Mind; and Panic! At The Disco – Death Of A Bachelor).
It's also had more singles certified by the RIAA in 2016 than any of its competitors.
In addition, Atlantic's got a big interest in the 2017 Grammys, with 18 nominations across acts such as Twenty One Pilots (Record Of The Year; Best Rock Performance; Best Rock Song; Best Pop Duo/Group Performance), Panic! At The Disco (Best Rock Album) and surprise Album Of the Year nominee Sturgill Simpson.
The blend of A&R specialist Kallman – intrepid discoverer, meticulous refiner – and marketing/promo specialist Greenwald – strategic loudspeaker, unapologetic champion – is paying dividends.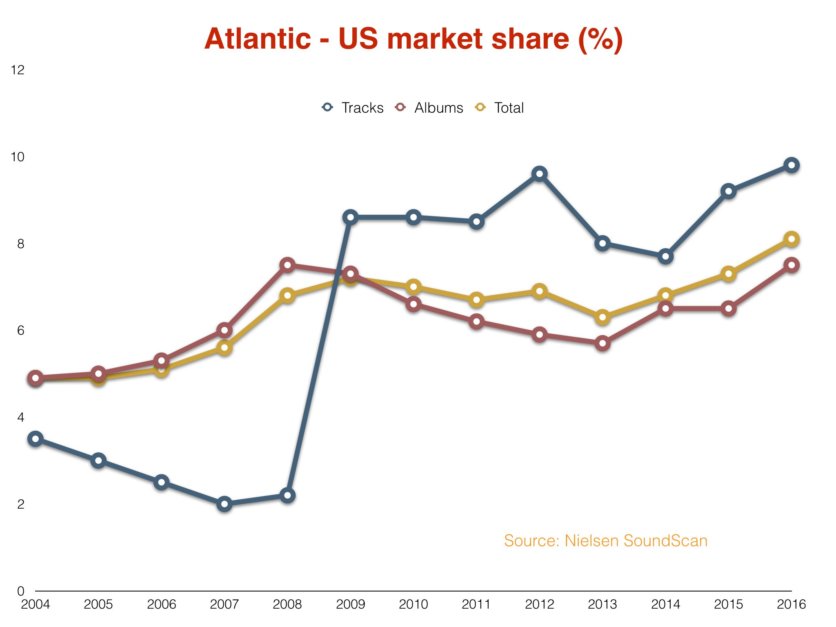 ---
If you'd have visited the Elka pharmacy in upstate New York in the mid-'90s, you wouldn't have been able to duck your reflection.
Julie Greenwald's parents ("Catskills Jews") spent their professional lives running medical retail outlets.
They were understandably apprehensive when Greenwald jacked in her political aspirations to work with Lyor Cohen – first at Rush Management and then Def Jam.
To reassure her folks this professional dalliance wasn't without merit, Greenwald began sending Gold and Platinum discs home in the post – from Redman to Jay Z, Method Man and DMX.
"He said: 'Daughter, there are only two types of people who carry beepers – doctors and drug dealers…'"

Julie Greenwald
One-by-one, they proudly began decorating Elka's walls.
"I came home to visit my parents and Lyor had just given me a numerical pager," Greenwald recalls of her early months in the music business.
"I put it on the table and my father says to me: 'What's that?' I said: 'Oh it's my beeper – I have to be accessible 24 hours a day.'
"He says: 'Daughter, there's only two types of people that carry beepers: doctors and drug dealers. And I know I didn't send you to medical school…'"
---

Greenwald found a kindred spirit in Lyor Cohen.
She initially worked a summer job as his assistant, before joining Def Jam's promotions department – and executing an instant impact.
"Def Jam was incredibly chaotic at that time," says Greenwald. "I saw an opportunity to make it more efficient. I programmed the fax machine so with one button you could hit every radio station. I also wrote a proposal covering why we should get computers; literally everyone was still writing reports on typewriters."
Before long, Greenwald had climbed to GM of Def Jam's promotions department, and, by 1994, was heading up marketing at the label.
"A lot of people were scared of Lyor but I wasn't."

Julie Greenwald
She says her and Cohen made an "incredible pair" – but it wasn't a relationship without some heavily audible run-ins.
"A lot of people were scared of Lyor but I wasn't," says Greenwald. "I loved his energy.
"We would get into crazy arguments – we didn't hold back. Neither of us wanted to spend money on something that would end up getting shelved. We would go down swinging!"
She adds: "I was 22 years old and learning about hip-hop music and artist development from the guy who was the road manager for Run DMC and The Beastie Boys. Best teacher ever."
---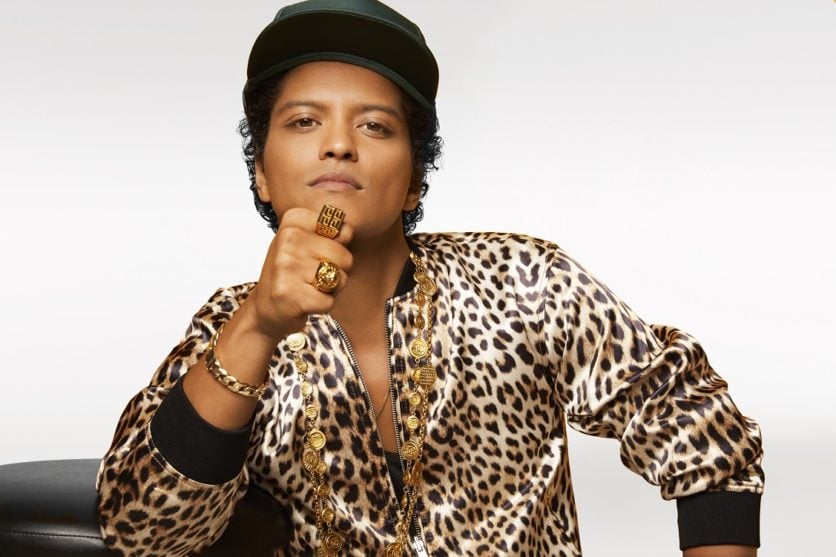 Greenwald stayed loyal to Cohen throughout Def Jam's transition into Universal/Polygram, where she eventually rose to President of Island / EVP of the Island Def Jam Music Group in 2002.
Two years later, she followed her mentor out of Universal to Warner Music Group, where she was named President of Atlantic Records.
Greenwald spearheaded a genuinely pioneering online-first strategy at the company, which became the first major label to cross the threshold of 50% digital revenue.
In 2006, Greenwald was named co-Chairman/COO of Atlantic, which has broken acts under her and Craig Kallman's guidance including Bruno Mars, Ed Sheeran, Wiz Khalifa, Trey Songz, Flo Rida, James Blunt and Cee Lo Green.
In our in-depth Q&A below, MBW asks Greenwald about the forces behind Atlantic's success, her long-standing partnership with Kallman, Lyor Cohen's attributes as a boss – and why streaming is sorting 'the men from the boys' when it comes to breaking acts…
---
Lyor Cohen clearly had a mammoth impact on your career. Is there anything tangible he taught you that still use today?
He's taught me so much. Signing stars, for example: he didn't believe you could Frankenstein together a star, but that you had to bump into one – then give them the tools and resources they need to develop.
Lyor didn't believe you could just take an attractive looking person, give them the right songs and then, voila, produce something great.
"Lyor didn't believe you could Frankenstein together a star."
He always wanted to sign real artists with a real point of view who could write. To this day I'm still attracted to artists like that.
A lot of times that means I'm attracted to stuff that's going to be really hard to break, but I love that challenge.
---
Does that sum up Atlantic: signing artists which look difficult to break on paper… and then breaking them?
Atlantic is about signing stuff that we love, however long the road is going to be.
Sturgill Simpson being up for Album of The Year [at the Grammys] with a magnificent record reaffirms what we believe: sign unbelievable artists, and let's go to work.
"it's never about market share for Craig and I."
Def Jam had 14 artists at a time when we were killing it, going Gold and Platinum all the time. It showed you don't need to be the biggest company in the world – you just need to be the best.
That's a mantra at Atlantic – it's never about market share for Craig and I.
---
Is that really true though? You don't even peek at market shares?
I never look at them.
---
It's no secret that Sony and Universal – corporately – are big into market shares, and their label heads all know about it. What about your bosses?
Steve [Cooper] and Len [Blavatnik] have never once asked me about market share. Ever.
I like the fact we don't have to worry about size.
When you're not the biggest, you don't talk about being the biggest. You talk about innovation and how you can get better.
---
Is it reassuring or scary that Len Blavatnik owns everything at WMG?
Think about this: he owns the company, hopefully he's going to have it in his family for his children and grandchildren. So what's important to him, then?
Longevity and having career artists right? It's not about flipping a quick profit.
"When you're not the biggest, you don't talk about being the biggest. You talk about innovation and how you can get better."
Don't get me wrong, I have to run a smart business – I want to keep hiring more people and I want to keep paying people.
But as far as making short-term decisions? No.
That's the nice thing about having one owner: he wants you to make long-term bets on quality copyrights that are going to affect his business forever.
---
In terms of building and breaking those artists, is streaming working out for you?
Yes. I love streaming. In 2013 we pulled the handbrake on this company and said: we need to learn everything there is to know about streaming.
We started re-organising ourselves, and it's enabled us to take a much longer view.
Streaming allows you to stay in the fight a very, very long time.
We're now monetizing artist development. Artist development used to all be one way [financially]. Now as soon as I put out a new song, we start to make money back.
---
The main criticism of streaming at the moment seems to be that it's hard to break new artists, particularly breaking new album artists beyond a song. How do you meet that challenge?
There are people who don't make compelling albums. And there are people who do make compelling albums.
Sturgill made one. Twenty One Pilots made one. Melanie Martinez made one. You cannot fool the public.
If you want to be an album artist on streaming [services], you have to make an unbelievable album.
It's separating the men from the boys.
---
Speaking of men and boys… the top of the music business is still uncommonly male-dominated. DOES IT EVER FEEL LIKE AN odd environment in that regard?
Listen, I'm 25 years in, and it's always been an odd environment. I've spent many board meetings with a ton of men – I'm talking about the intimate smaller meetings with the top brass.
Did I ever think it was a disadvantage? No, not for me personally. I only ever saw an opportunity to distinguish myself and be a different kind of leader.
"I'm instinctually a mother. I take care of people."
I'm instinctually a mother. I take care of people and I have great relationships with artists and my team.
I saw a label say recently that their thing is: 'We break artists'. And I thought: 'Well, Atlantic nurtures artists.'
It's more important for me to offer career longevity than to just split you open.
---
What advice would you give young executives who may have been inspired by your rise?
You're going to have to work your ass off.
We live in a day and age of instant gratification; everything is so available.
I devoted my twenties to working 7 days a week, 24 hours a day. I didn't get here by chance.
"You're going to have to work your ass off."
You're going to have to make serious choices if you want a career path like mine. It's not about just being smart and resourceful. You have to be smart, resourceful and out-hustle everyone.
As you get older in life as a woman, and you want to have the family conversation, that's where you come to a real challenge; oh sh*t, how do I balance it all?
Then you wake up one day and realize – there's no such thing as balancing it all. You just do the best job you can.
---
We interviewed APG boss Mike Caren (pictured) the other week – he's been with Atlantic for 20 years. Compared to some other major labels you don't seem to have a high staff turnover here. Why do you think that is?
The only way I can help my company grow is by having better and better executives – so it's partly about giving something back, but it's also in our interest to help raise self-confident executives.
I use every opportunity to teach my young staff to become my senior staff and it's worked fantastically; one of the reasons we're such a tight unit is because so many people here have been 'home-grown'.
I'm not trying to do stupid shit in the name of market share. I'm trying to run a very profitable company.
---
What did you learn from former fueled by ramen boss John Janick departing to Interscope?
I'm super-happy if the industry is populated with great thinkers who hopefully share our ethos.
It's a giant compliment when somebody takes one of your people and gives them a great job.
John's doing great and I'm super proud of him.
---
You've been working together with Craig since March 2004. Partnerships at the top of the industry don't always work out – especially when ego gets involved. Why hasn't that happened at Atlantic?
It's a wonderful partnership in the true sense of the word. We both need each other, we both complement each other – and we both like each other.
"I'm not trying to do stupid shit in the name of market share. I'm trying to run a very profitable company."
Craig's the nicest guy on the planet – he's very selfless.
There's no ego with Craig and I; it's really all about the company and the artists.
---
You don't ever have the thought: 'It would be nice if this was just mine'?
Oh my God, no way!
Listen, I grew up with Lyor and Kevin Liles [pictured] – there was always three of us. We had more fun than you could ever imagine.
It's so much better to have partners in crime. I never want to do this job by myself – ever.
"As I say to people: 'Just don't burn the f*cking building down.'"
We're a very flat organization at Atlantic – we all run it together. Everybody is making plays.
Both Craig and I allow our people to make good decisions but also to make mistakes. That's another thing I learned from Lyor: if you're gonna make a mistake, it's okay, just learn from it.
As I say to people: 'Just don't burn the f*cking building down.'
---
If you could give the 22-year-old Julie who joined Def Jam some advice, what would it be?
That it's okay to take the full amount of time for my maternity leave. You never get it back.
I'd also tell her that you can find a little bit more time for yourself. I really didn't have a personal life for a long time, it was just work, work, work.
It wasn't until my 30s that I realized I needed to have a personal life as well as a professional life.
---
ATLANTIC WAS A PIONEER OF THE '360' model. Does it still work for artists and for Atlantic?
Personally, I love it. Here's why: when I sign a new artist, I get to dream. I get to dream that if I keep investing, regardless of what it looks like on paper, I don't have to live by one P&L.
360 allows that first album cycle to look a little funky on paper; we get to 'over-invest' in artists who are building on the road.
"We sign our artists to 360 deals, but we pay it forward – it's not a land-grab."
We sign our artists to these deals, but we pay it forward – it's not a land-grab.
We have a full touring department, a tour marketing department, a whole merch company – we provide real services.
---
Has radio's influence been diminished due to streaming? Does radio take up less of your thinking time than it used to?
It's a different part of the equation now.
When I have a brand new baby artist we don't go straight to radio. First we build touring, streaming, YouTube… I want us to go in to radio with an army behind us, rather than just believing we have a hot song.
"When I have a brand new baby artist we don't go straight to radio. We build touring, streaming, YouTube…"
Ultimately radio is still a very important part of the equation.
But you can definitely have success without a – quote/unquote – 'radio hit', and we're not afraid of that.
---
Streaming exclusives are a hot button issue this year – not least post-Frank Ocean-Gate. What's your view?
If someone's paying $9.99-a-month and something's not there, I know how bummed out I would be.
I try to explain to our artists that we're too young of an industry to have consumers feel that way.
"If someone's paying $9.99-a-month and something's not there, I know how bummed out I would be."
The alternative is real quickly to go to [piracy]; it takes two seconds to go to that other website and get free stuff.
Let's reward the people who are throwing down the 10 bucks a month and leading the way.
---
What impact do you think Lyor Cohen's going to have on YouTube?
I think he's going to have a great impact.
He knows both sides; he knows how to run a business but he also comes from the artist and label perspective, and he knows what we need to continue to keep growing our industry.
"Lyor understands what the value proposition for artists and music is on YouTube."
He understands what the value proposition for artists and music is on YouTube – he knows we bring real value to the platform, and what value they can offer us to.
We've seen first-hand how we can use YouTube to break artists here. But Lyor also knows our artists need to be well compensated for the content they are creating.
---
What career ambitions do you have left?
It's interesting you ask that. A few weeks ago, after the election, I said I'll charter a bus if there are enough people from the label going down on January 21 to march on Washington.
I'm a woman, I have a daughter. Now is the time to not just be passive.
---
Presumably you're saying you're a little fearful of the political future of the United States?
I definitely have a lot of fears. We've just come off of eight years of a great president.
Also, I'm Jewish. I just bought a house in Brooklyn Heights and last month there were swastikas painted in the park just off it, right near where it said 'go Trump!'.
It's not that the guy's a racist, but all these feelings swirled up that weren't apparent before.
I worry about our rights as women, Jews and minorities – and especially about the rights of those who are less fortunate in our society.
---
Look out for an exclusive interview on MBW with Julie Greenwald's partner at the top of Atlantic, Craig Kallman, next week.Music Business Worldwide