If you read MBW yesterday, you'd have seen an analysis revealing the devastating decline in revenues of the worldwide record industry when you take into account inflation.
Yet it seems some players in the market are weathering this storm to a surprising degree.
As you can see below, Universal's annual revenue in 2014 was around half a billion dollars smaller than it was in 2007.
A significant drop, but certainly not one that follows the huge declines of the market.
Important to remember that in September 2012 Universal officially acquired – and subsequently ingested – the operation and catalogue of EMI Music in most territories around the world.
That will have accounted for a big chunk of its revenue boost in 2013 – the year in which it also had to sell assets to Warner, who paid £487m, in the shape of Parlophone Label Group.
Another significant recent one-off came with Apple's $3bn purchase of Beats in May 2014 – from which UMG pocketed US $404m (around €360m).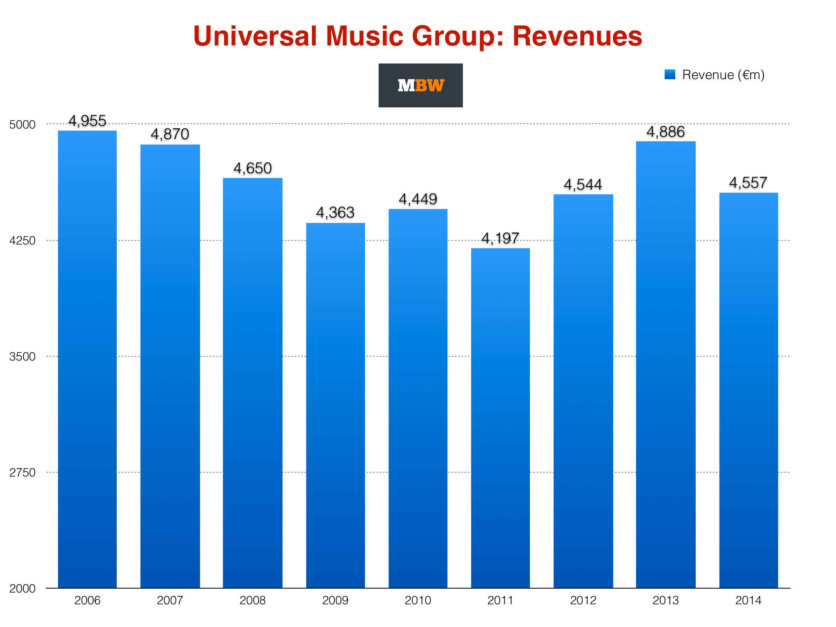 But here's where things get really interesting – EBITA.
This is the best indication we'll get of Universal Music Group's autonomous profitability under Vivendi's ownership.
For those not fluent in fiscal speak, EBITA is 'Earnings Before Interest Taxes and Amortization', which is a fancy way of saying profits before certain non-fixed costs are removed. It takes into account depreciation.
Once again, the impact of EMI seems to be clearly shown in 2012 and 2013, during which time Universal was attempting to make the label more efficient through lay-offs, integration and office consolidation.
But there's also something else going on here: Universal's revenue went down in 2014 but its annual EBITA went up – to the highest point (€565m), in fact, that the company had seen in five years.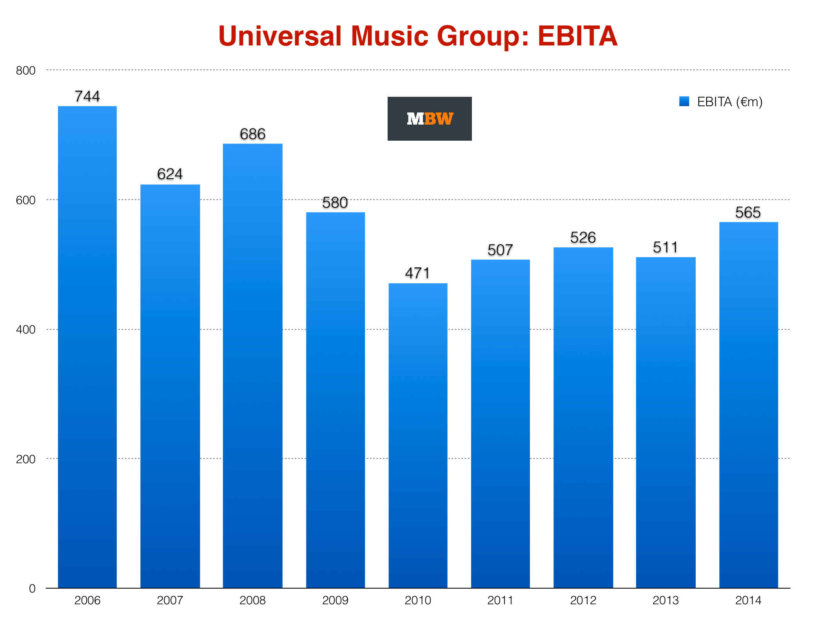 Neither of these charts – particularly the EBITA rise in 2014 – looks anything like the industry-wide income decline we saw on MBW yesterday.
Could this mean that, as well as the one-off successes, the overhead savings related to the rise and rise of streaming are making it easier for Universal – with its momentously large catalogue – to make money?
It certainly appears that way – and that's despite digital revenues falling at the company last year.
Where this theory gains extra weight is when we examine the Q1 results (Jan-March) in Universal's recent history.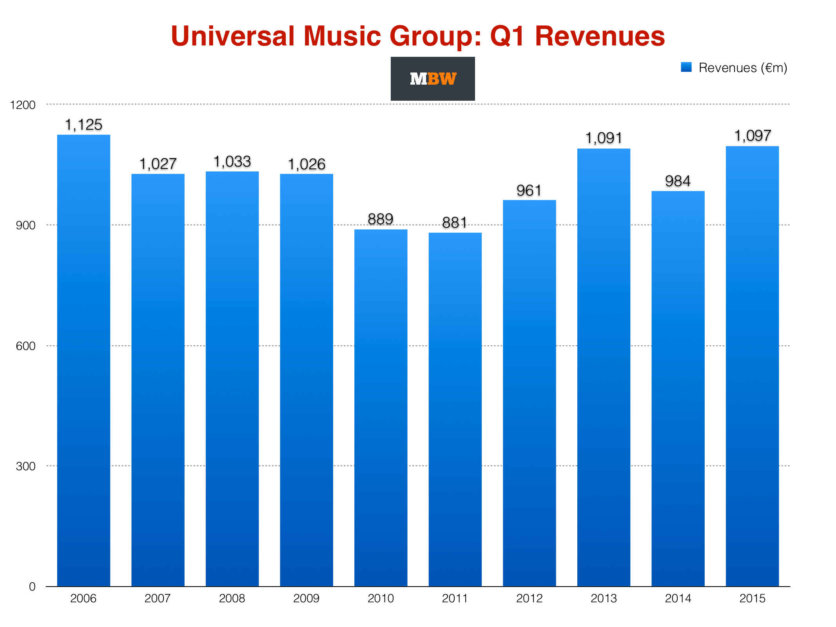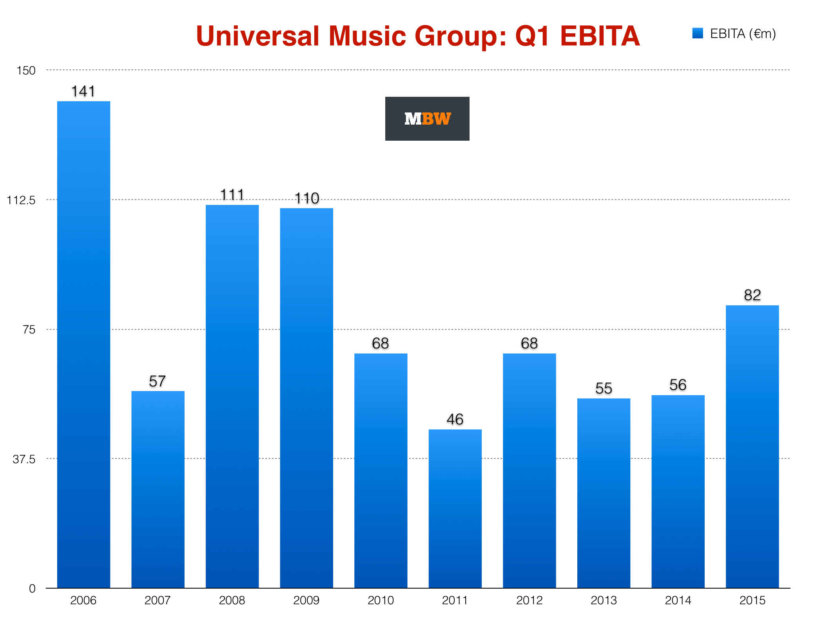 In Q1 of this year, Universal had a streaming stormer, driving an 8% YoY increase in digital income and bringing UMG's total quarterly revenue back above €1bn.
The impact on this flurry of Q1 revenue from the likes of Spotify – and its low-overhead cost to UMG – can clearly be seen in the above EBITA chart.
In Q1 2015, UMG's EBITA of €82m towers over every other equivalent quarter since 2010.
Very interesting, considering the harsh take of UMG boss Lucian Grainge (pictured) regarding on-demand freemium services, which he ironically expressed during… Q1 2015.
Cast your mind back: Grainge said at Re/Code in February that the freemium on-demand model was "not particularly sustainable".
Now, there are clearly some other factors behind the positive numbers here.
Universal Music Group's revenues/EBITA includes both its records and publishing companies, for one thing, as well as stakes in third-party business such as… Spotify.
But in a typically quiet release quarter like Q1, it's a fair assumption that Universal's catalogue was working overtime on Spotify et al, and bringing in revenue with a comparatively low cost of sales.
Which in turn could explain why a clipped but forthright Spotify released a telling message just after Universal's Q1 results earlier this year:
"Our model is working."
Universal, who lost freemium fan Rob Wells in January, is now locked in licensing renegotiations with Spotify, with a deadline of October/November to reach a deal.
And over the hill, here comes Apple Music – which launches on Tuesday (June 30).
Interesting times.Music Business Worldwide