"Globally, [K-pop] is not occupying much of the market. On the other hand, Latin music and afrobeats is very rapidly growing. So being where we are, it is more urgent to increase the exposure. For that purpose, I'm taking over labels and management companies in America to be able to build the infrastructure."
Bang Si-Hyuk, the chairman of HYBE, the company behind K-pop superstars BTS and rising stars New Jeans, recently explained his company's US M&A strategy in an interview with CNN.
HYBE needs to diversify its business beyond K-pop, and in the absence of its biggest revenue generator BTS, in order to compete with the world's biggest music companies, and keep investors happy.
The company's US expansion started with the USD $1.05 billion buyout of Scooter Braun's Ithaca Holdings back in 2021.
That deal brought successful non-K-pop properties including Big Machine Label Group, and Braun's own management company, SB Projects (home to Justin Bieber and Ariana Grande) into the HYBE fold. That same year, HYBE crossed the $1 billion annual revenue threshold first the first time.
HYBE's most recent acquisition, announced last month, was Atlanta-born hip-hop specialist Quality Control (QC), founded by Pierre "P" Thomas and Kevin "Coach K" Lee, in a deal worth $300 million.
As HYBE builds out its infrastructure in the US with headline-grabbing deals, details have now emerged of another K-pop giant with its eyes on:
The diversification of its business beyond K-pop via M&A;
Expanding its operations in the world's No.1 recorded music market.
SM Entertainment has revealed, via an investor presentation (see below), that it plans to acquire a music company in the US to speed up its global expansion.
SM says it is currently "reviewing companies appropriate for SM's genre spectrum" in the US and is looking to expand into hip-hop and R&B.
The company says that it plans to spend 200 billion South Korea Won on this investment strategy (see below), which converts at current exchange rates to around USD $150 million.
That could mean a few things, for example, that SM is willing to spend up to $150 million on one company, or it could be planning to spread out that investment allocation amongst those three to five companies under review.
Either way, this news will undoubtedly fire up the music industry rumor mill about who SM's acquisition target, or targets, could be.
---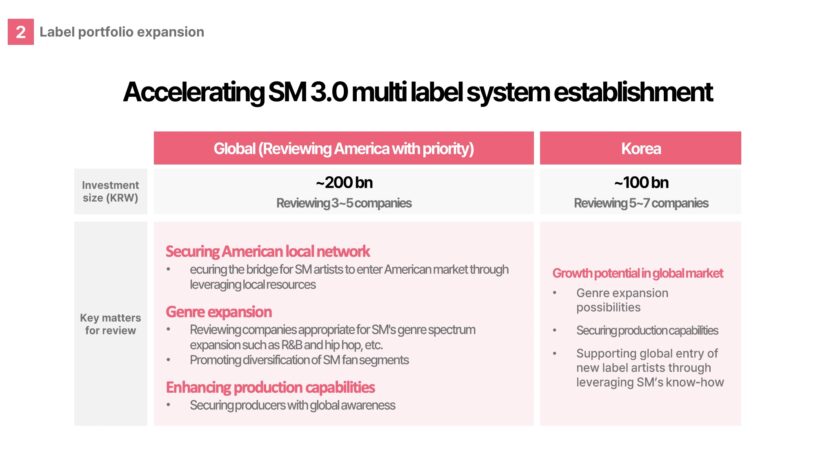 ---
The company revealed its M&A plans in an investor presentation setting out its global expansion and investor strategy.
This includes expansion in the US, Japan and South East Asia and the launch of multiple production centers as part of a multi-label strategy dubbed, SM 3.0.
On the US specifically, SM says in the presentation that the US is a "must-go' market and that by acquiring a company in the US it will establish a "bridge for SM artists to enter [the] American market by leveraging local resources".
Via its new US partner, it also plans to launch a US-based artist in the second half of 2024 and intends to make a "massive investment" in concert and promotion for this artist "to earn popularity in the early days".
---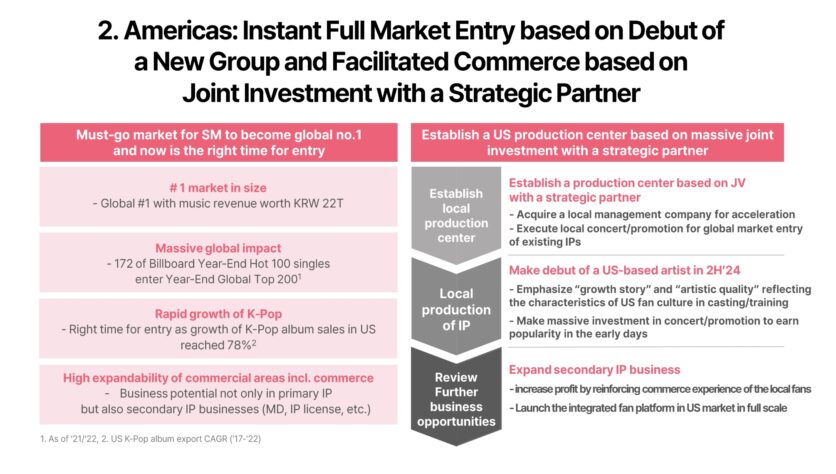 ---
SM Entertainment's acquisition ambitions don't stop there.
In addition to the US, SM says that it is currently reviewing between five and seven companies in its home market of South Korea, with a planned investment allocation of 100 billion South Korea Won (approx $77 million).
Plus, SM Entertainment says that it wants to acquire a music publishing company in order to establish a "music publishing specialized subsidiary".
---
SM says in its presentation that its music publishing operations will serve as "the engine" for its "high growth" and that it plans on spending up to 350 billion South Korea Won (approx $270m) on its publishing M&A strategy.
Included in that strategy is the acquisition of a company and the investment in music copyrights of "promising songs in Korea and global regions".
In total, SM's proposed global M&A strategy, across label and publishing, includes plans to spend 650 billion South Korea Won, which converts to $500 million.
Additionally, the company tells investors that it wants to build out its fan platform globally and will invest 200 billion South Korea Won to do so, bringing the company's proposed spending in the short term (around one year) to a grand total of 850 billion South Korea Won, (approx $655m).
---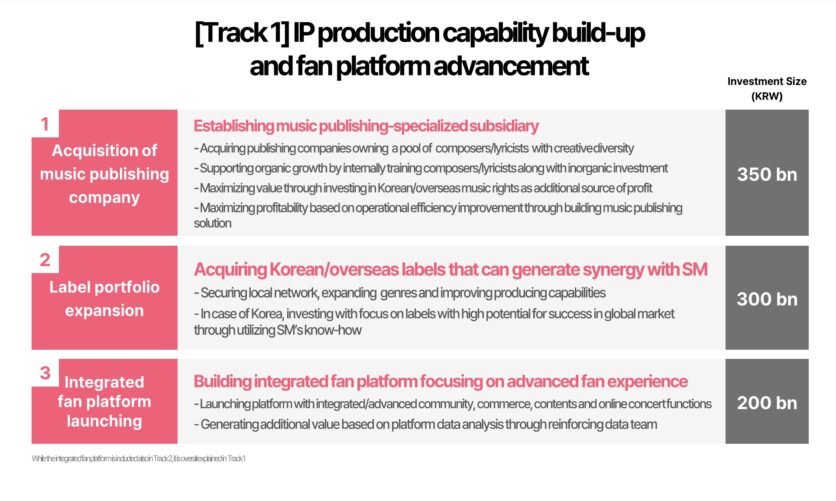 ---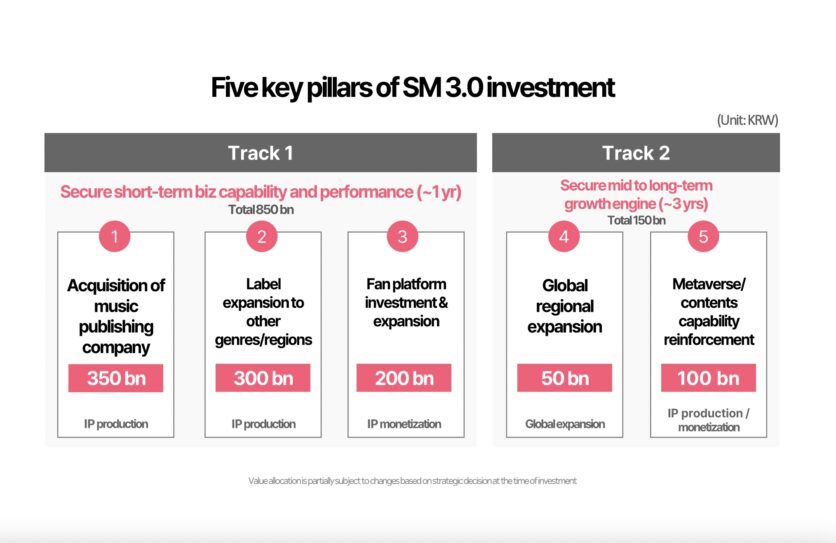 ---
SM Entertainment's investor presentation was published on Wednesday (March 8), a month after the company first revealed its plans to establish several production centers and a label system as part of its new SM 3.0 strategy.
The filing also arrives amid a period of corporate unrest in the upper echelons of the South Korean music business.
In February, South Korea-based Kakao Corp announced a deal to acquire a 9.05% stake in SM Entertainment. Reuters reported that SM was planning to use the funds raised through the Kakao deal will fund its new strategy.
A corporate battle broke out between SM Entertainment, rival HYBE and Kakao in the weeks following that announcement about Kakao's plans to invest in SM.
Last month, HYBE acquired a 14.8% stake in SM Entertainment for around USD $335 million, via the acquisition of shares from SM Entertainment founder Lee Soo-man.
HYBE then launched a tender offer to SM's minority shareholders to buy an additional 25.2% of SM Entertainment's shares – which would have taken HYBE's total shareholding up to 40%. If successful, the move would have seen HYBE spend another ≈$565 million on SM shares.
HYBE's takeover attempt has been strongly opposed by SM's management.
Kakao's deal to buy a 9.05% of SM in February via the purchase of bonds and newly-issued shares was successfully blocked by SM's estranged founder Lee Soo-man last week in a Seoul court via an injunction.
Last week, HYBE's tender fell short, and Kakao Corp then launched its own tender offer for SM shareholders at a higher per-share price than HYBE's bid. Kakao is looking to acquire up to 35% of SM Entertainment for approximately USD $960 million through the process.
This offer comes two months after Kakao secured 1.2 trillion South Korea Won (approx $966m) investment from what it said were "leading sovereign wealth funds".
Over the weekend,  HYBE officially ceased its attempt to acquire a 40% stake in SM Entertainment.Music Business Worldwide