Korea's HYBE, the company behind k-pop superstars BTS, has posted its financial results for Q2 2021 (the three months to the end of June).
According to a filing published today (August 5), HYBE generated revenues of 278.6 billion South Korea Won (approximately $244m) in Q2, an increase of 79.2% or 123.2bn South Korea Won ($108m) compared to the same quarter in 2020.
HYBE's Q2 2021 revenues of 278.6bn South Korea Won was up 56.2% compared to the prior quarter (Q1 2021), when HYBE posted revenues of 178.3bn South Korea Won ($156m).
HYBE's net profit in Q2 was 20.8bn South Korea Won ($18m), marking growth of 9.9%, or 1.9bn South Korea Won ($1.6m) YoY.
As first reported by Yonhap news agency, the company's album sales saw 105.4% YoY growth to hit 107bn South Korea Won (approx. $94m) in Q2.
That figure was up 96.2% compared to the prior quarter (Q1 2021), when HYBE posted album sales of 54.5bn South Korea Won ($48m).
Strong album sales in the quarter came from BTS' Japanese release The Best and Seventeen's Your Choice.
BTS' hit single Butter has also just spent nine weeks at No.1 on the Billboard Hot 100.
A primary driver of HYBE's latest results were the company's revenues from content such as online meet-and-greets. This content revenue grew 236.9% YoY in Q2 to 91.3bn South Korea Won ($80m).
Weverse, HYBE's fan-community app that pulls together content made by and for Big Hit artists including music videos, teasers, movies, merch sales and live streams, also grew in Q2 2021 – to 5.3m Monthly Active Users, which was up 9% compared to the prior quarter (Q1).
The average revenue per paying user (ARPPU) for Weverse was up 53% compared to the prior quarter (see below).
"We expect an increase in revenue and operating profit through artist activities in the latter half of this year," said HYBE CEO, Park Ji-won today, according to the Korea JoonAng Daily news outlet.
"We will keep on paving our path in the entertainment lifestyle market based on music, through competition and partnerships that will open up new opportunities."
---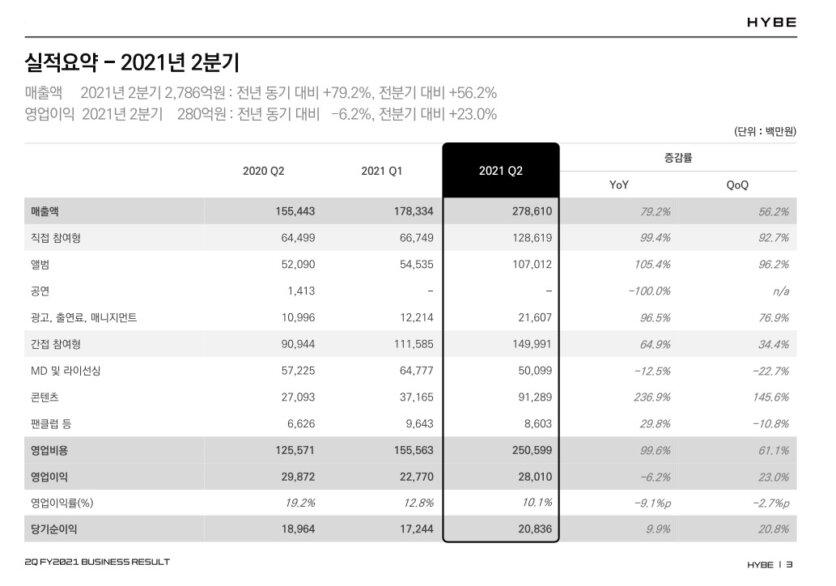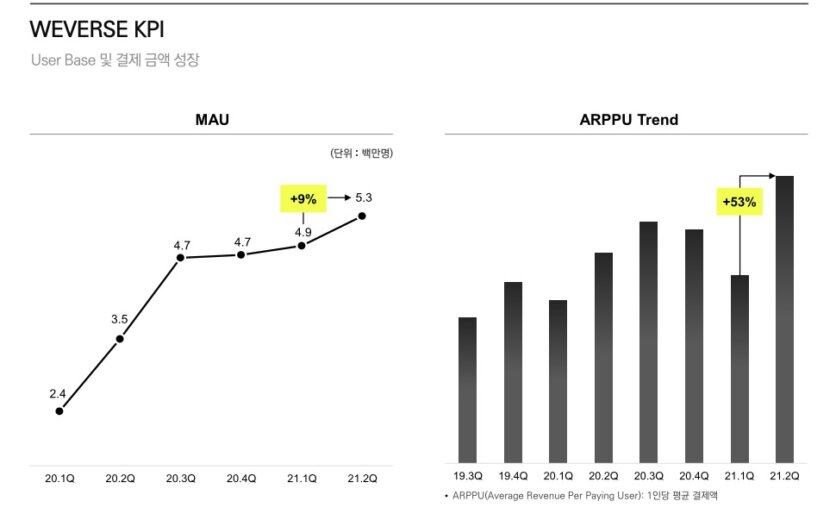 ---
The company's financial results come after last month's news that Bang Si-hyuk would be stepping down from his role as CEO of HYBE (formerly known as Big Hit Entertainment) as a part of a major leadership shakeup at HYBE.
Also known as the "Hitman", Bang Si-hyuk is remaining on the Board of Directors as Chairman, and will also focus on music production, which HYBE noted at the time is "his area of expertise" (Bang Si-hyuk is credited on tracks by BTS, as well as K-Pop stars such as ENHYPEN and others).
Bang Si-hyuk's exit from the role of CEO of HYBE followed the company's partnership and formation of a JV label with Universal Music Group in February and the acquisition of Scooter Braun's Ithaca Holdings in April for $1 billion.
The Korea JoonAng Daily reports that "legal fees and other expenses" related to the Ithaca acquisition totalled 10bn South Korea Won ($8.7m).
That sum ate into the company's operating profit, which was down 6.2% YoY to 28bn South Korea Won ($24.5m).
---
HYBE's new CEO, Park Ji-won, who joined the company in May last year, now oversees HYBE's overall management strategy and operations.
HYBE's US operations are led by HYBE America CEO (Lenzo) Yoon Seok-jun and Scooter Braun (CEO), respectively.
According to HYBE, the restructure was being implemented "to promote globalization through all-round deployment of top management leaders".
Music Business Worldwide