South Korea-based entertainment giant HYBE, the home of K-pop stars BTS, generated total revenues of 445.5 billion South Korea Won in Q3 2022.
That Q3 revenue figure converts to approximately USD $312 million at current exchange rates, and was up 30.6% YoY.
That's according to new investor filings posted by HYBE on Thursday (November 3), covering the three months to end of September.
Two of the biggest highlights during the quarter were HYBE's 'Merchandising and Licensing' and 'Artist Indirect Involvement' business segments.
HYBE's merch and Licensing revenues grew 49.5% YoY to 114.7 billion South Korea Won. That figure converts to $80 million.
---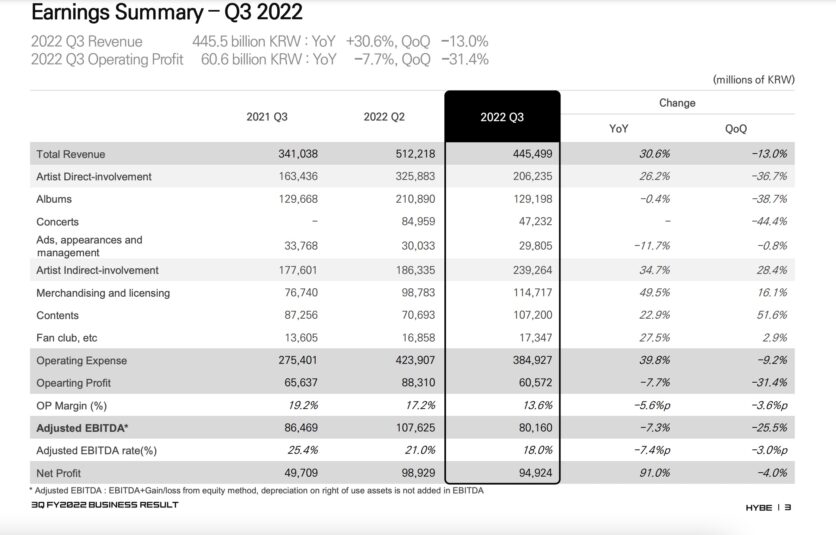 ---
HYBE's Artist 'Indirect-involvement' revenues, meanwhile, grew 34.7% YoY, to 239.2 billion South Korea Won (USD $168m), and was the company's biggest organic revenue driver in the quarter.
This business line sees HYBE use the name and likeness of its artists such as BTS without requiring the band's active participation.
HYBE's 'Artist Indirect-Involvement' business line becoming the company's biggest revenue driver in Q3 2022 marks a notable shift.
The company previously cited its "Artist Indirect" business – revenue-generating projects that use an artist's brand/likeness, without the actual artist needing to be involved – as one of the main reasons it did well during the pandemic in 2020.
These activities became HYBE's main revenue driver in every quarter of 2021, including Q1 (ending March 31), Q2 (the three months to the end of June), Q3 (the three months to the end of September) and Q4 (ending December 31).
It was also the company's biggest revenue driver across the FY 2021, generating 733 billion KRW ($640m at annual average exchange rates) last year – up 72.8% YoY.
It was then overtaken by the company's 'Artist Direct Involvement' business in Q1 2022, and has been the primary source of revenue for the previous two consecutive quarters (Q1 and Q2). In Q3, revenues from this segment grew 26.2% YoY to 206,235 billion South Korea Won ($144.5m).
That 206,235 billion South Korea Won figure was down 36.7% versus the previous quarter (Q2), however.
---
Elsewhere, HYBE's album sales, which generated revenues of 129,198 billion South Korea Won ($90.5m) in Q3, were down -0.4% YoY.
HYBE generated 47.2 billion South Korea Won from concerts in Q3, which converts to USD $33 million.
HYBE's Operating Profit of 60.5 billion South Korea Won (USD $42.4m) was down –7.7% YoY in Q3, versus 65.6 billion South Korea Won (USD $46m) in Q3 2021.
---
HYBE's latest earnings results follow the news announced last month that HYBE's flagship act, and biggest earner, BTS, will carry out compulsory military service in their home country of South Korea.
The group was responsible for nearly a third of the company's album sales (and AES streams) in the US market last year, according to HYBE's FY 2021 results. (That, of course, was the same year it acquired Scooter Braun's Ithaca Holdings (in a billion-dollar deal), including SB Projects and Big Machine Label Group).
BTS were also the world's biggest recorded music artist in 2021 and 2020, according to the IFPI.
In a letter issued by HYBE's CEO Jiwon Park to the publicly-traded company's shareholders, he said that the announcement "cleared the uncertainties surrounding BTS", and, seeking to reassure investors, added that, "we have long predicted and prepared for their military service in advance".
Within that letter, he outlined the business plan HYBE intends to implement in the absence of BTS. That plan includes a multi-label strategy, a focus on technology, and an expansion of the company's artist lineup.
The company reiterated this plan in its investor filing, noting that it is "Diversifying [its] artist IP with 9 distinct labels in Korea, Japan & US" (see below).
---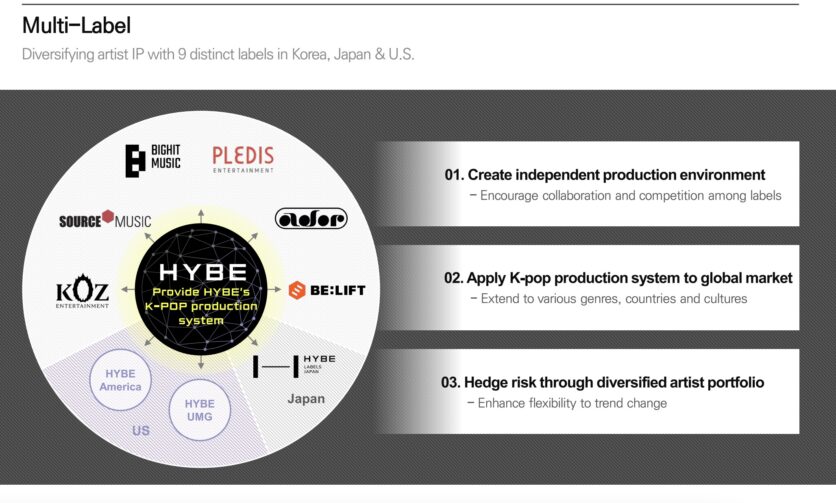 ---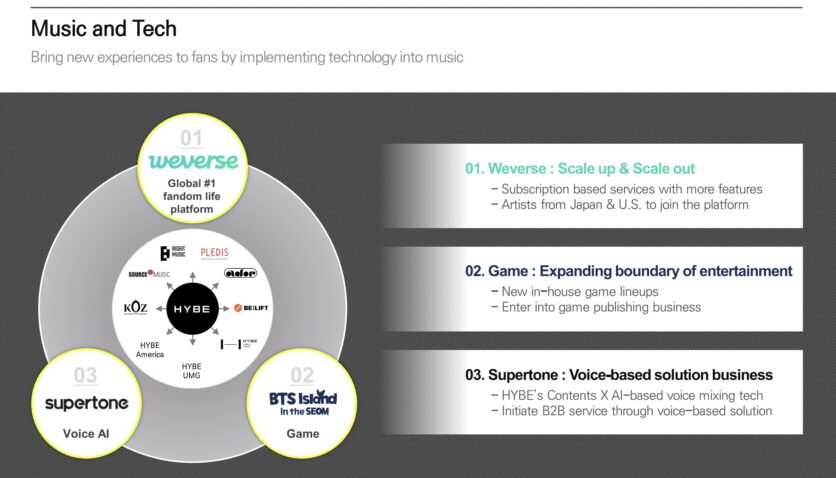 ---
HYBE also noted in its filing that it plans to scale up the subscription services within its fan community app, Weverse.
The app's MAUs grew 15.9% on the quarter to 7 million, according to HYBE.
Other significant areas of focus for the company going forward include Supertone, the fake-voice AI app recently acquired by HYBE, and an expansion into the game publishing business (see above).Music Business Worldwide