There's a fuzzy feeling around the topic of streaming cash at the moment, after Sony and Warner pledged to pay artists a slice of their profits from any sale of their stakes in Spotify.
Yet as MBW pointed out on Friday, the combined total payout to artists from the two majors' shares in Daniel Ek's company would, at current market value, likely only total somewhere around $100m.
It's not an insignificant figure, and the principle of money going to artists from streaming equity stakes (which have long left performers suspicious) can only be a good thing for the harmony of the music business.
But before we trumpet the important of Sony and Warner's announcement too much, we should perhaps turn our attention back to the area where artists are really missing out on streaming revenues: free content.
---
The so-called 'value gap' on free music platforms remains a very hot topic.
The 'value gap', if you need a refresher, is the gulf between the amount of consumption taking place on ad-supported platforms and the amount of money they're paying out to music rightsholders.
Just 29% of all revenues from streaming services came from free music services in 2014 (that's free Spotify plus free Deezer, SoundCloud, YouTube etc.) – despite YouTube alone boasting over a billion users a month.
That figure dwarfs the 41m people who were paying for a music streaming subscription in 2014, according to the IFPI.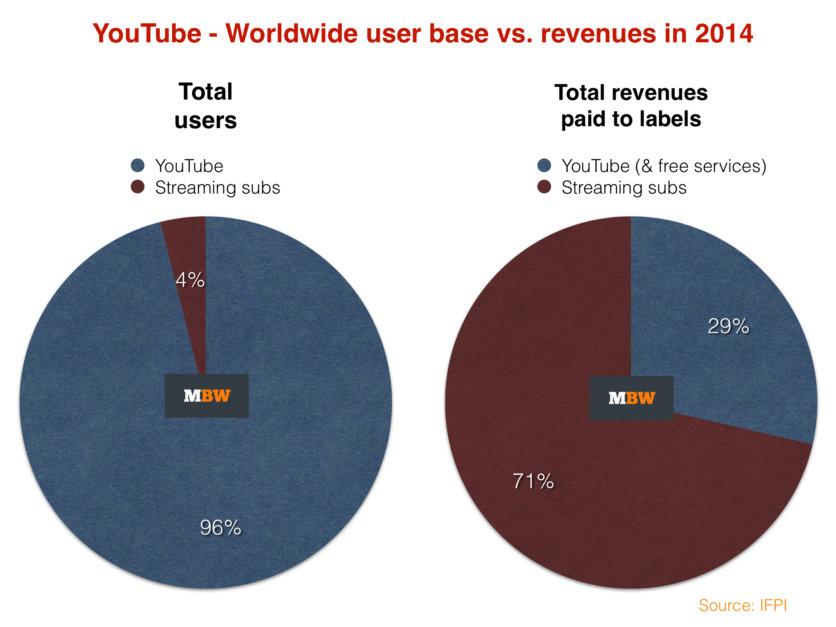 ---
Plenty of this 'value gap' ire has deservedly been directed towards YouTube, but it's worth bearing in mind that SoundCloud only began paying rights-holders ad money when it launched its On SoundCloud tier in the US in August 2014.
That's seven years after the platform first launched in Germany.
SoundCloud has now tied up licensing deals with two of the 'big three' – Warner Music Group and Universal Music Group – plus independent label body Merlin as well as publishers in the US and UK/EU, through the NMPA and PRS For Music respectively.
All of these deals have been secured on the back of two promises: that SoundCloud will pay rightsholders royalties through its OnSoundCloud ad-funded program, as well as launching a subscription service.
---
PRS sued SoundCloud last year following what it called 'five years of unsuccessful negotiations' over copyright licenses. The pair eventually settled out of court at the end of 2015.
So exactly how much money should SoundCloud have paid the music business as penance for all these years of building its business without paying rightsholders any ad money?
It's a tough equation to crack, but there's a useful broad starting point (one PRS may well have been ready to throw at SoundCloud had the pair made it to taking chunks out of each other in court).
Spotify claims that it pays approximately $0.007 per stream on its service to music rights-holders.
Meanwhile, NextBigSound reported last year that the number of streams on SoundCloud in May 2015 hit 4.9bn – up from 2.5bn per month the prior year and 0.7bn per month in mid-2013.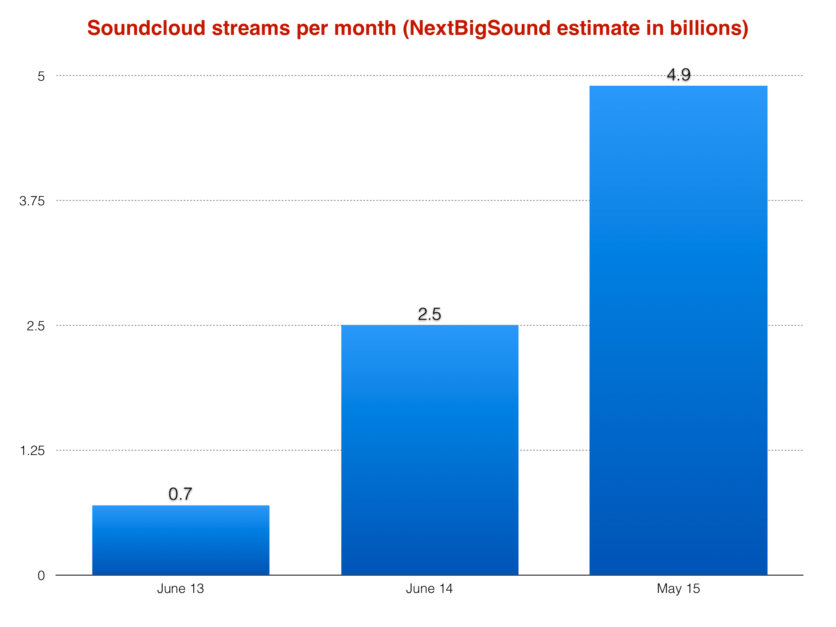 What you do next with this information probably depends on your view of copyright itself.
But if you take the perspective that every piece of music written and recorded has an intrinsic value, you can start estimating what SoundCloud should have been paying for all of this consumption on a market value basis.
---
No surprise: if you go off Spotify's per-stream payout figure, it's a pretty huge amount.
Using NextBigSound's figures, we can estimate that in the three years from 2013 – 2015, SoundCloud enjoyed somewhere around 97.2bn streams.
At Spotify's claimed rate of $0.007 per stream?
Well, let's just say if SoundCloud's usage had taken place on Spotify, it would have have shelled out $680m to music rightsholders on that level of usage alone.
(A minority of of these streams, of course, would not have been music content: they could have been podcasts, or audio blogs etc. But for now let's stick to the straightfoward notion that they all had a copyright, and deserved a royalty.)
Economically-smart Spotify sceptic (and, indeed, suer) David Lowery estimates that Spotify's truthful average per-stream payout to labels and artists (ie. minus songwriters/publishers) fell last year to $0.00408.
If SoundCloud was forced to match this, it would still have had to pay out $397m just to master rights holders – whether bedroom musician or major record label – from 2012-2015.
---
But then, perhaps Spotify's total outgoings to the music biz isn't a fair comparison to the SoundCloud of old.
Spotify is (a) in possession of a growing premium tier from which per-stream rates are far higher than ad-funded and (b) generally looked upon by labels – though certainly not by everyone – as a streaming service that plays fair with its royalty payouts.
So let's use an arguably purer comparison, pitting SoundCloud against something that, in and of itself, gets plenty of label teeth gnashing: Spotify's free tier.
According to Sony Music's leaked 2011 Spotify contract, the major signed up to a per-stream payout of $0.00225 from Spotify's ad-funded tier alone.
This figure formed the parties' usage-based minimum agreement, which came into play if this amount exceeded the usual revenue-share agreement in any given month.
(The amount would actually rise to $0.0025 per stream if Spotify missed its monthly growth targets, but for now let's stick to the lower number.)
Over SoundCloud's estimated 97.2bn streams from 2012-2015?
This rate would have been worth $219m.
Remember, that's over just three years. SoundCloud was formed another five years before these calculations begin.
And to this day, the company still hasn't turned an annual profit.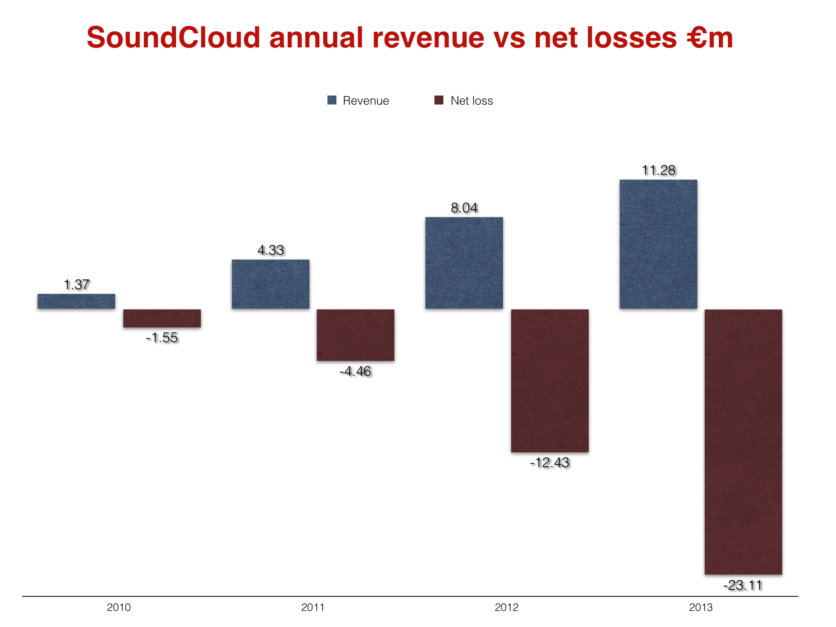 Food for thought, especially as we ponder the kind of equity stakes UMG and Warner have taken in SoundCloud (WMG's is believed to be 5% – UMG's will likely be higher) as penance for past misdeeds.
It's also a reminder that, while major labels paying slices of single-digit equity stakes is to be welcomed and applauded, there is an even bigger fight for the music business raging – making all players in music streaming ultimately pay what they owe.Music Business Worldwide