Where did Lewis Capaldi come from?
Alright, clever clogs, obviously he heralded from Scotland – specifically, Bathgate, equidistant between Edinburgh and Glasgow. Any mug with Wikipedia could tell you that (hi).
But, music industry-wise, as he leaves all other UK-born new artist projects in his commercial wake, and as Grammy chatter really begins to swirl around the singer/songwriter, where did Lewis Capaldi come from?
How did he go from being 'that guy nominated for the BRIT Critics Choice' back in January, to unleashing the UK's fastest-selling album of 2019 just four months later – an album which has now crashed through the one million global equivalent sales barrier?
One person who knows exactly how – having ridden sidesaddle with Capaldi during the British music industry story of the year – is the artist's long-term manager, Ryan Walter.
Walter, the founder of Interlude Artists, previously worked with Island-signed singer/songwriter Lauren Aquilina, before he signed Capaldi after discovering him on SoundCloud three years ago. After releasing his first track, Bruises, independently in March 2017, Capaldi went on to be named as one of Vevo's 'Artists To Watch' later that year.
"Someone You Loved, released in March, has now been streamed more than a billion times worldwide."
In 2018, he won public plaudits from the likes of Niall Horan and James Bay, and supported Sam Smith on the latter's The Thrill Of It All European tour across 19 dates. All the while, Capaldi's fanbase kept building – accelerated by the release of fan favourite tunes like Grace and Rush (feat. Jessie Reyez).
In 2019, though, things have truly gone bananas. Someone You Loved, released in March, has now been streamed more than a billion times worldwide. In the US, it currently sits at No.2 on the Hot AC chart and No.5 at Top 40 (Mediabase), as well as climbing to No.11 on the Billboard Hot 100.
In the UK, Someone You Loved was officially the biggest track – both in terms of streaming and all formats – in the first half of the year, while fellow Capaldi singles Grace (27) and Hold Me While You Wait (39) both made the midyear Top 40.
These tracks appear on Capaldi's debut album, Divinely Uninspired To A Hellish Extent, which has attracted more than 2 billion streams globally to date. It is signed to Virgin EMI in the UK, Capitol Music Group in the US, while Capaldi's publishing is looked after by BMG.
And as if all that wasn't impressive enough, Capaldi sold out a 2020 UK arena tour in ten minutes flat, with over 100,000 tickets now shifted in total.
Here, Ryan Walter talks us through his discovery of Capaldi, why he initially decided to sign the artist with Universal in Germany, and the craziness of being the biggest new British artist for years…
---
How did you find lewis Capaldi?
I initially signed Lauren [Aquilina], who then signed to Island with Darcus [Beese] and Louis [Bloom], which was a really good experience. She's now gone on to achieve some absolutely amazing things as both an artist and writer, post-major label.
After that I went to America for a break for a couple of months, then spent five months just looking for a special musical talent online. And that's when I found Lewis.
The bit I enjoy the least about [being a manager] is sitting, trawling through SoundCloud and YouTube for seven hours a day, but that's what I did. I would open – no joke – about 500 SoundCloud tabs at a time, listening to 10 seconds of each artist to get a read on it.
About four and a half months into that search, I was in my mum's house, and I stumbled across a recording of Lewis on SoundCloud singing into his iPhone in his bedroom. Immediately I thought: 'This is amazing, I'm in.'
---
How early was this in his career cycle?
Lewis had two songs up at the time, and they had less than 20 plays each. It hadn't been blogged about by anyone. One of them was called Burning In The Back Of Your Mind, which is still one of his best songs – that he wouldn't put on the album! I thought, 'Wow if this guy has this voice when he's 18 years old…'
I messaged him on SoundCloud and was on a plane the next day to Dumfries, where he was playing an open mic night. There was, like, two other people in that bar.
"I messaged Lewis on SoundCloud and was on a plane the next day to Dumfries, where he was playing an open mic night. There was, like, two other people in that bar."
Lewis did a 30-minute set and I recorded it all on my iPhone. I listened to it on repeat for two days non-stop after.
I called him, told him he was incredible, and then for the next six months, while he was still at college in Glasgow, I'd pay for him to fly down [to London] and stay at my house so he could do writing sessions.
---
What did you learn from your experience with Lauren and Island, in terms of the personal contribution you'd have to make to Lewis's career, and what you did and didn't want from a record label partner?
This is no way a disservice to major labels, because when they're good they can be incredible – I can't speak highly enough of what Ted [Cockle], David [Joseph], Frank [Briegmann] and Steve [Barnett] have brought to Lewis's career at Virgin/Capitol/ Universal, for example.
But the [Lauren experience] taught me more than ever that, as a manager, you have to get stuck in to a bit of everything. Major labels will definitely give you time, but, as a manager, sitting around and just expecting things to happen isn't good enough.
"Both Lewis and I understand that these folks are working long hours, make lifestyle choices around working for you, going the extra mile for you – and we pride ourselves on showing our appreciation for that."
Before Lewis signed with Universal we were selling 700-ish tickets up in Scotland, and I'd promoted his tour around the rest of the UK in small, 150-cap rooms. We knew we had to build a base ourselves, because you go on the website of any major record company and you'll find the artist you never hear spoken about [anymore]; you're always fearful of becoming one of those.
It helps that Lewis is incredible to work with. He's driven, he's kind and he's humble, but he's also willing to dig in when it comes to thanking people, spending time on social media; he totally understands the importance of that.
---
How did Lewis get signed initially – out of Germany, right?

Correct. I'd been friends with Daniel Lieberberg for years, and he remains one of my favourite people in music. [Lieberberg, who signed Capaldi to UMG, was head of Universal's domestic labels in Germany before jumping ship to Sony in October 2017.] Daniel's an incredible person to be around – he's one of the very few people in music at his level who takes such sensibility and pride in what he does. We were WhatsApp buddies.
When I spoke to Lewis initially, I was pretty against doing a major label deal. I felt I could build a team around us, speaking to Paul Hitchman [at AWAL] or whoever and do something outside the box. But I sat Lewis down and said, 'If [a major deal] is what you want then my job is to facilitate that.' I presented both sides of the argument. We brought in Berkley Edwards from Clintons on legal, who was incredible, and I explained who I would like to approach about Lewis's music.
"Word got out and the crazy money offers started coming in – this is before we put the first song out!"
At that point we hadn't played anyone any music – we didn't want to wind anyone up, and we didn't want anyone to get carried away with money and hype. I'd learnt from other experiences that, with Lewis, I wanted to sign a deal that was favorable in terms of excluding ancillary income, but put no pressure on the label at all – so they didn't feel on a timeframe with it. Daniel was the first person who came to mind.
I sent him some music at Christmas [2016], and he came back a few days later like, 'What the hell is this? When are you around? Come to Berlin!' Within a few more days we were over in Germany with Daniel and Frank [Briegmann].
Word got out and the crazy money offers started coming in – this is before we put the first song out! We wanted to put [Bruises] out through AWAL, which Daniel understood. And as soon as Lewis met Daniel and the [Universal Germany] team, it felt like a very natural fit.
---
Why sign Lewis to Germany rather than a UK label?

It wasn't a decision made in isolation: a tonne of UK male singer/songwriters have broken out of Europe in the past few years, whether that's Rag 'N' Bone Man, George Ezra, James Arthur. I wasn't writing the UK off. In my mind, I saw it as a great [plan] for Universal to do their thing in Germany while, within my remit, I could build the tickets in the UK – working with Alex Hardee at Coda – and [Lewis and I] could handle the socials.
After the switch to streaming five years or so ago, at first the UK took a while to find a way to properly break artists again. In Europe, the barriers to entry at radio were much lower; the gap between streaming and radio was smaller than the UK. At the UK [networks] it was like, 'You need crazy streaming numbers and your socials need to be on fire [before we playlist you].' We felt it was a helpful entry point to have Germany lead that.
"I love sad pop music and so does Lewis, and we're very honest about it not trying to be anything else."
I thought [Universal Germany] could open doors over there, and that some areas of the UK media might not be ready for an [artist making Capaldi's style of] music. I love sad pop music and so does Lewis, and we're very honest about it not trying to be anything else.
Some people ask you to do certain features, or to dabble in different worlds to try to get the angle right for UK specialist radio. That never felt right to us. Virgin EMI and Universal have never pushed us in that direction, to their great credit.
Lewis makes accessible pop music, and we knew we weren't going to get certain [UK] specialist [radio] looks on it. We didn't want to make it 'cooler' and compromise what it was Lewis does best. We had that conversation and our instinct was, 'We've just put out a really good ballad… now let's put out another really good ballad!'
---
And then Daniel Lieberberg leaves Universal for Sony…

To say I was gutted is an understatement. I wasn't angry with him at all. He's a brilliant man and a great friend in this business. You hear the story of numerous artists who struggle after a key A&R figure leaves the label, but I knew we were in a reasonably strong position – streaming was looking good, socials were starting to build. I was very honest with Lewis; I told him it might be a struggle for us that the guy leading [our campaign] was leaving. We had an open chat about it, and knew that, to weather it, we were going to have to dig in.
But I have to give complete credit to [UMG central Europe boss] Frank Briegmann: he was absolutely brilliant after Daniel left. I flew to Berlin straight away, sat with Frank, and he pretty 
much [agreed] to a list of [things 
we wanted], including personnel 
and A&R – [specifically], that 
Lewis and I would A&R the album,
 after Daniel was probably only involved in one song. Frank was incredible, he pretty much built 
the team around us exactly how
 we wanted it. Certain stuff is now
 run out of Germany, while other stuff, like international, is run out of the UK.
"It became immediately apparent that Virgin EMI would be the best partner for Lewis."
The other thing that was a huge help was having Ted and David so actively invested in the UK. That all came about after we put out the first song, Bruises [in March 2017]. We got a million emails when that landed; we met a few labels [in the Universal UK building] but I'd already worked with a few people in the Virgin system before who I knew were brilliant, like Andy [Knox], while Clive and Ted's reputations go before them.
It became immediately apparent that Virgin EMI would be the best partner for Lewis. We spoke about timelines, and that this wasn't going to be a quick burner. I can't rate Virgin highly enough – they gave us all the time we needed. Ted was like, 'Tell me what you need, tell me what you don't need.' And they have been on it the whole time ever since.
---
When was the moment you went to Virgin EMI and said, 'Okay, let's press the button and go?'

Towards the end of last year, September/ October time, I was sitting at home thinking, 'Is this ever going to happen how I believe it can?' We had great social numbers, great streaming numbers, amazing partners and all the rest – but we hadn't had a hit. Lewis and I kept believing that something would happen.
Then, one day, Lewis goes into the studio with TMS and writes two songs in a day; I heard a verse and chorus of [Someone You Loved] and just thought, Wow. When we put out that song, straight away, the early signs showed there was something in it. I'm a stat geek, and I could see the numbers.
As soon as we realised that, I called Frank, called Ted and we spoke to David Joseph. We saw [Someone You Loved] jump from 60 to 23 on the chart and I knew it was happening.
It went Top 10 on iTunes [UK] off the back off one radio play and when something's that reactive it was like, 'Okay, let's get the video right, get the mixes sorted and scale this up.'
---
You mentioned major label 'pitfalls' before, but when you reach this moment – when an act's career starts to 'go' – is that where they can come into their own?
Absolutely. Ted was pulling us to one side and helping make big decisions, David [Joseph] was emailing, Lucian emailed too – we could feel the support. Everyone had been doing an incredible job up to that point, but it went up a level. They try not to tell you how much money they're spending, but you have an idea!
You feel like, when something's in that position, they know the exact buttons to push and the conversations to have around the world; the international President of Streaming at Universal was now getting involved every day. And then, on live, Alex Hardee has been incredible, as has Kirk Sommer in the US.
One thing Universal has been amazing at is taking care of me and Lewis throughout, helping take pressure off and share the load. They've been brilliant at that, and that's come from the top down. Ted literally said to me the other day, 'What are Lewis's days off this year?' And he wrote them down on a bit of paper. They know this is a crazy life change for a young guy, and have been really good at staying sensitive to that.
---
Your determination to create an 'album' as an experience is obviously important to you.

Yes, and it comes back to me and Lewis having the belief that the album as a format should still be at the forefront of a campaign. We can brand the shows around the album, we can draw a line under it as a body of work. It helps with our branding, with our partnerships with DSPs and other things.
Maybe I'm old fashioned, but I don't believe releasing a 'playlist' as an album has the same weight. And I'd find it really hard to brand around that; how can you market a 'playlist' other than on-platform? How can you make that a tangible experience that leaks into other worlds? We believe the album has a right and a purpose to exist in 2019.
"If we can make this album count for something, we should only come with something else when we feel it's amazing, rather than just chasing the next New Music Friday."
Having a really good album that you can maximise [over a campaign] buys you more time. What worries me in the industry today is when you have artists – at all levels – who release albums and then quickly move on to new music. Some artists are releasing albums, and then three weeks later putting new music out.
We want to extend the life of the album as long as possible so it means something beyond a collection of songs. I feel you lose a bit of identity by just rattling through stuff. If you can hold your nerve and say, 'Look, we just spent a long time making an album and building an audience who will like it; what if we believe in it and push it enough that it hangs around for a bit?'
I don't want to be asking Lewis, 'When's the next song coming?' I don't want to put that pressure on. If we can make this album count for something, we should only come with something else when we feel it's amazing, rather than just chasing the next New Music Friday.
---
It's interesting to hear you talk so much about the album being core to an artist's 'identity'.

It's making it all stand for something. It's harder to break artists when you take away any physicality… when it all becomes a song-based thing. I get philosophical in my discussions with Lewis, and we talk about never only wanting to be as good as the next song we put out. We want lots of people to like the music – of course we do – but there's still room to be that classic artist.
Look at Adele; she can go away for three years, and she's earned it because she makes brilliant music with a timeless vocal. I'd 100% never dare put Lewis in Adele's category, but at the same time I like the idea of earning your space because people respect your craft.
---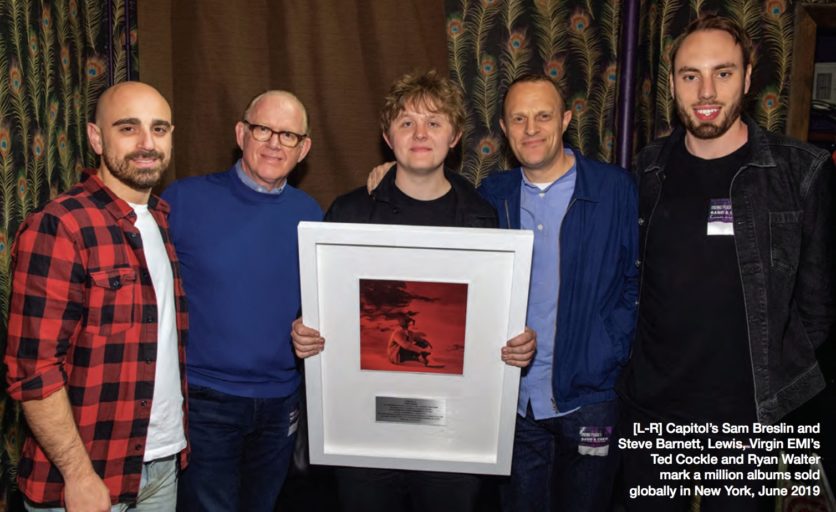 ---
Quite a lot, industry-wise, is on Lewis's shoulders as a fast-growing UK star in the US. Can you temper your ambitions in the States, while remaining ambitious?
Absolutely. Capitol came on at the same time Virgin came on board. I had lunch with Ashley [Newton] and then picked things up with Steve and Michelle [Jubelirer]. It was the easiest decision to make.
There were some lovely other offers, but Capitol was right. Having two British people at the label helped, as it felt like home. More than that, I'd heard lots of great stories about Capitol, how they will work – and are now working – an artist when there is very little story in the US.
Sam [Breslin, Senior Marketing Manager] has been excellent, and the Head of Radio, Greg [Marella] has been phenomenal. We're starting to put in real time in the States; Steve and Lucian have been absolutely brilliant, and it's a genuine honour for us to have their attention at such an exciting time in the campaign.
"Someone You Loved is already showing some very encouraging signs and is climbing the Billboard Hot 100 each week. I dare not dream it, but there's a feeling it could go all the way."
Someone You Loved is already showing some very encouraging signs and is climbing the Billboard Hot 100 each week. I dare not dream it, but there's a feeling it could go all the way.
We know we're going to have to deliver [Capitol US] a massive story [out of the UK] to give them something to run with.
The industry hasn't had a huge British artist over there for a while, and Capitol can see a potential massive market for the right story [with Lewis].
In the UK, I definitely set me and Lewis targets – be that units, tickets, or stream counts etc. Over there, it's more, 'Let's just do everything Capitol ask of us and see how far it goes. Let's not burden ourselves with the pressure of having to be huge.' It's such a difficult thing to achieve, especially as we're in the middle of all this craziness in Europe, but we're going to give it our all.
---
What marks Lewis out for you?
I could speak for hours about what makes Lewis amazing as a person. He's genuinely humble. He's turned from the laziest person I've ever met to an absolute machine within two years – I didn't use to be able to get him out of bed!
He wants to do well for himself, but also wants to do well so everyone around him can [succeed]. He's very self-aware; he hates falseness and pretentiousness, which obviously comes across in his social media. He's got a great family around him who keep him grounded and protect him.
"Musically, Lewis is my favourite artist of all time. I know that probably sounds lame, but it's true."
More than anything, he's just incredibly talented – and because of that I really, really trust his view. The most rewarding thing for me is the honesty and trust I have with him. I can very openly say, 'I don't like this song' for [a given reason] and he never takes it to heart. Likewise, I can tell him other [tracks] that he hates are my favourites! Either way, if he loves a song, at the end of the day, that song goes on the album.
Musically, he's my favourite artist of all time. I know that probably sounds lame, but it's true. I love his songs, his voice is incredible, and I have no doubt that when he plays those arenas, he's going to more than hold his own.
---

This article originally appeared in the latest (Q2 2019) issue of MBW's premium quarterly publication, Music Business UK (pictured), which is out now.

MBUK is available via an annual subscription through here.
All physical subscribers will receive a complimentary digital edition with each issue.Music Business Worldwide