Arriving in 2015, Chartmetric could never claim to be (and would never describe itself as) a pioneer in the digital data analysis sector.
Indeed, one of the first barriers it faced was the music industry in general, and major record companies in particular, saying, 'It's okay, we already got this, thanks'.
The firm's founder, Sung Cho, was undeterred. He fully accepted that, as he puts it, "there wasn't a big gap to launch into", but he also believed that none of the companies and tools crowding the space had yet delivered a fully integrated, comprehensive and cost-effective solution to a discipline that was rapidly becoming the most important factor shaping A&R and marketing strategies across the business.
Instead of arguing, however, he decided to target managers and small indies, clients who could afford Chartmetric's sub-$100 per month subscription and would become the technology's evangelists.
It became the story of a scrappy start-up, winning hearts, minds and accounts one-by-one, eventually infiltrating the majors via individual word-of-mouth rather than formal corporate channels.
---
Cho was well-prepared for the battle, having been employee number one at Korean video game company, Gamevil.
He says he still utilizes lessons learned during his seven years there at the start of the century. "I wasn't exactly sure what I was doing. Everything was hectic, and at the time I didn't think I was learning anything, it was too chaotic to reflect like that at the time.
"But looking back, what I learned was the importance of leadership and how to manage people. Of course I made a bunch of mistakes, but some great things happened as well, things that I really cherish.
"And so when I think about people joining Chartmetric, I think about what I wanted to do, what I experienced. And as a result I try to give our people more authority, more freedom to make choices and more opportunities to learn leadership"
After Gamevil (which is now known as Com2uS and has a market cap of over $500m), Cho experienced corporate life as a Principal Product Manager at Oracle. Life was comfortable, but his entrepreneurial instincts remained on high alert and he knew he had to "go and find my passion".
He says "fear of failure kept me there longer than I should have stayed", and reveals that it was actually a life event that usually makes people more career-cautious that prompted him to go it alone.
"When you have kids, you are supposed to become more risk-averse, but for me it didn't work that way. When I looked at my kids I had the urge to do something before they got much older. I also thought, what story will I tell them when I'm older? I wanted to tell them that I took a chance and tried something rather than, I stayed there, 10 years past, then 20 and now here we are.
"I was also influenced by my father who stayed in the same job, in the Air Force, for 40 years. He was respected and recognized, and I appreciate everything he has done, but it seemed boring to me! [laughs]. I wanted to tell my kids different stories."
Courage and motivation in place, all he needed was an idea. He already understood the importance of data analytics from his time in gaming, and the global rise of K-Pop had inspired him to look towards music. It seemed like as good a place as any to start his story…
---
Why did you decide to launch Chartmetric? What did you think was missing from the data analysis sector at that stage of the game?
It wasn't that tools did not exist, but they all served different functions. There wasn't a tool that tracked everything and did it really neatly and professionally. In fact, what was available seemed to make things quite hard for labels, managers, etc. rather than make life easy.
I thought at least I could solve these problems, I could offer better UI and better engineering efficiency at a lower cost. It wasn't groundbreaking, it wasn't brand new, but I thought I could improve in lots of different areas, streamline, offer something that wasn't a revolution but would help people use data more efficiently and more cost-effectively.
---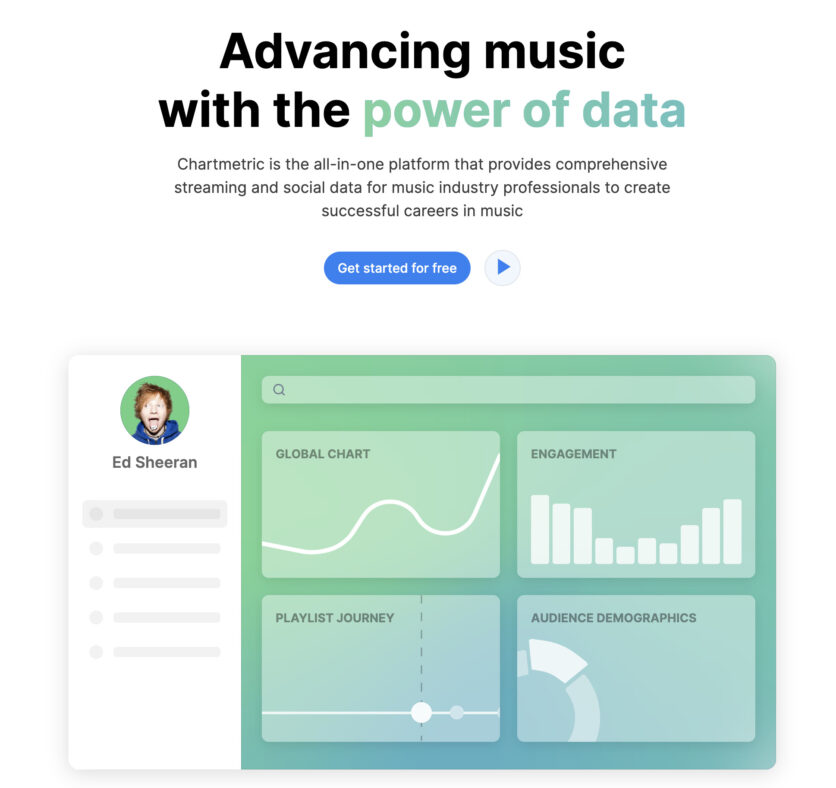 ---
And what sort of reaction did you get? Because at this stage, the music industry, as is its way, probably thought, you're okay, thanks, we've got data sorted…
That was part of the feedback I got from people, especially those working at big labels, yeah: we have internal tools already for monitoring our artists, we've got the processes in place, we have interns helping us assemble reports, etc.
My first thought when I heard this was, is that really cost effective? And what is the value in looking at how your own artists are performing, if you're not looking at the rest of the market to see how everyone else is performing?
But what I actually did was say, okay, let's set those big three record companies aside for now. They say they have what they need, so how about we create something for the under-served part of the industry, who don't have what they need, at least not all in one place, and that was artists, management companies and small or medium sized independent labels.
If we could serve them really well, it could still be a meaningful business, and we'd definitely be doing some good in the world.
---
And were they the first clients to come on board?
Yes, independent labels, distributors and management companies were the first to come aboard, although we also found that we were getting lots of users in other parts of the industry, in particular publishing, where people were wanting to discover new songs earlier.
---
How quickly did the business scale up from there – and when did the majors come on board?
I'd say it took a little while for the major labels to recognize us. But we were not in a hurry, we were on a mission and were growing quickly. We really focused on listening to our user needs, to anyone who came to us.
We listened and we improved the product. I began with only a few engineers, so our cost was not that high. I myself was spending 60% of my time coding, all day long. So we were able to survive without those big checks.
While we were doing that, some employees at the major labels began to recognize us. It wasn't at a corporate level, it was some switched on individuals who began to be aware of us and aware of what Chartmetric could do.
This was also down to Chaz [Jenkins], our Chief Commercial Officer [and a former VP of International Marketing at UMG], who already had good connections, decades-long connections, with many people in the major label sector.
Slowly, we were getting out there, growing a substantial number of users across major labels as well, even if it wasn't by the front door.
---
Can you give us an idea of the client base now in terms of how big it is, how global it is and how it splits across the different sectors?
The number of distinct companies is now more than 3,000. In terms of paying customers we have more than 50,000, plus huge numbers of artists who use our free tier. Geographically, we have about 50% in North America, 30% in Europe and 20% in the rest of the world.
Record labels are the biggest sector, but it's quite diverse. We work with lots of artists and managers, agencies, tech companies, radio stations, the live sector and also more and more companies who are investing in catalogs. And increasingly, many new users are outside the music industry, from movie studios and fashion brands through to advertising agencies and the financial sector.
---
What are the areas of functionality that clients are finding most useful right now?
The breakthrough moment for us was when we began to track playlists. But we've added so many new features. More recently we're hearing from people that TikTok tracking and insights are really useful to them. We track more than 10,000 different charts every day, so it's very diverse.
But the data that most users are really interested in are insights into the demographics and geography of audiences for each artist, as well as the ability to rank and segment artists based on data from multiple services to get a far clearer picture of how audiences are engaging with artists across every DSP and social networks.
That functionality is being used by every type of user, whether they work on marketing or especially in A&R.
---
How are you looking to evolve and improve Chartmetric?
We really just want to continue to serve the industry. And to do that I think about companies like Dyson. They don't have to dramatically change their product, but they have to be really, really good at constantly improving it.
So we want to stay really good at data tracking, data delivery and data insights, we need to keep improving incrementally so that we can constantly serve our clients better.
And we want to serve, for example, the publisher and songwriter sector. They have great tools out there, but I still think what we can provide can  serve them better.
Most recently, we launched the Artists plan, which now is only $10 per month. That is a potentially huge market and early impact is a proof of that.
---
Is one of the headline goals to use data more and more to accurately predict hits and trends and breakthrough artists as well as track and report on what has already happened?
Absolutely, that's something we always think about. But we also know that inaccurately predicting the future is how we could lose trust very fast.
So we are not claiming or boasting that we know the future. But we do believe that people who are using Chartmetric can get a better sense of what will happen in the future over time. We constantly work with our A&R users to help them better understand trends in the marketplace and to help them to more accurately identify emerging talent.
---
Is that a general trend in data insight, shifting more towards prediction than analysis?
That's a big question. I don't think we can ever use the word 'accurately' when we talk about the future. And with the advent of technology like AI, it's such a delicate issue.
There are efforts to analyze hit songs, to find those secret components, and there is some science factored in here, for sure.
"Chartmetric: it's not a crystal ball for the music industry, but it gives people more information, more insights and puts more power in their hands."
Similarly, when you talk about career growth, there are some formulae known to the industry, and with better data tracking run those formulae more efficiently.
But in the end it's about the effort and skills of the artists themselves, and the people around them, the whole village.
Prediction is something that helps people to make their own destinies better. It's not like fate. That is how I want people to think about Chartmetric: it's not a crystal ball for the music industry, but it gives people more information, more insights and puts more power in their hands. The knowledge you can get from Chartmetric helps you make better decisions.
---
What do you think is the most practical use your clients get from Chartmetric?
If I had to pick one, I would say it is the comprehensive and multi-faceted nature of how we track an artist. Not just on streaming services, and radio, but also TV shows and movies. Plus what's happening on Instagram, Twitter or Facebook or even somewhere like genius.com
For someone in marketing, they can discover opportunities they might not have been aware of. For someone in A&R, it can really help with signing decisions, because when you see the whole picture, maybe they're not quite as popular as you thought.
I heard one story, and I'm sure there are a lot of them, when an A&R exec was saying, Look at what this song is doing, they were super excited.
And on the other side, the data/science side, his more analytical minded counterparts were saying, I don't think it's sustainable, I think it's a one-time thing – the track is getting streams, but the artist is not acquiring or retaining engagement.
The A&R gut-feel side won, and sometimes that can be huge, but in this case it didn't work out, and a lot of money was spent on something that was a one-off.
That is just one story of how having that multifaceted view gives you more objectivity, and guards against getting over-enthusiastic about career growth potential or life cycles. It helps stop overspending, which is something the music industry has always done a lot.
"I would say we help people optimize. And that usually means saving money."
Or, the other way round, you might find an artist and you had no idea how much was going on, and there's more excitement around them than you would have realized unless you looked deeper and saw every aspect of what's happening and who is talking about them.
I would say we help people optimize. And that usually means saving money.
---
As data affects more and more big decisions, how concerned are you about the misuse and deliberate manipulation of that data and how confident can you be that you can combat that?
The first thing to say is that it is happening. It is always going to happen. And it's everywhere. It's in video games, it's in Amazon reviews, it's on Yelp.
But this goes back to the same point: if we offer a really multifaceted view of an artist or a track, if something happens in one area only, that will be seen as suspicious. If your Instagram followers grow overnight by 10x, but the needles aren't moving anywhere else… watch out.
Some of my favorite metrics that we track at Chartmetric are things like Wikipedia page views, and Google searches, and Shazam tags. Because people aren't buying those. Either they can't or they don't think to. And so what you see is a discrepancy between follower numbers and actual engagement.
---
Does Chartmetric make it easier for artists and managers to self-release and stay outside of the major label system for longer?
Most artists these days who become successful do so because they acquire and retain the engagement of audiences across multiple services and socials from a really early stage in their career, and using Chartmetric can most definitely help them from day one.
And in the long-term, whether they sign with somebody or continue following a DIY route, Chartmetric is going to be used by the label, distributor and artist teams to help them continue to acquire and retain audience engagement.
---
How relevant and useful do you think traditional data and chart companies are in the modern landscape?
There's always going to be an interest in charts that measure revenue performance of the top tracks. However, so much engagement takes place on platforms that don't have a directly measurable revenue impact, that only looking at the official charts can give a completely misleading perspective on the market place and what audiences are really interested in.
---
You raised $2m in seed money last year. What are the plans for that?
We are expanding our marketing efforts this year, and we also hired more engineers. We wanted to build the team and scale up.
We have been super scrappy for like our first five years, with pretty much no marketing, no sponsorship we stayed under the radar, heads down, building the product.
But now we have a product that is solid and reliable, and that can serve more people, and so we want to let more people know.
---
And are you looking to raise any more capital in the future?
Oh, yes. We want to grow even further and we want the right investors to help us with that.
---
Okay, I've got a million dollars going spare, I get in the lift on the ground floor and we're heading for the rooftop bar: why should I invest in Chartmetric?
If you invest now you will help us to become established as the default data analysis tool for the global music industry.
---
We didn't even get clear of the lobby!
[Laughs] It's a simple message – and our ultimate goal.Music Business Worldwide