Last week, rapper Cardi B told her 72 million-plus Instagram followers that she would be launching a new $4.99-per-month fan subscription on OnlyFans.
Fan subscriptions for artists are nothing new, with the likes of Patreon, Twitch and Bandcamp already letting artists monetize content via monthly fees.
Cardi B's decision to launch on OnlyFans, however, sparked a few fleeting smirks in the music business, due to the NSFW content the platform is famous for.
The Atlantic-signed artist made very clear in an Instagram post announcing her OnlyFans association that "I WONT BE SHOWING P**SY, T**TIES AND ASS… It will be a place for only me and my fans." (Asterisks MBW's own.)
So what does she intend to use OnlyFans for?
Cardi B says that the first thing she will be make available exclusively via the subscription platform is behind-the-scenes footage from her controversial video for WAP (feat Megan Thee Stallion), in addition to "day to day content".
According to OnlyFans' owners, there are three different ways musicians can monetize their content on the platform: Exclusive Content, Lifestyle Content and "Communication and Loyalty".
One of the top fan comments posted on Instagram in response to Cardi B's announcement states: "You make enough money. Why can't you continue to post content here?"
The answer to that question can be discovered by taking a closer look at just how much Cardi B stands to earn from her OnlyFans subscription.
"OnlyFans allows you to consolidate the most loyal part of your fanbase by providing opportunities for the kind of deep connection that benefits both them and you."

OnlyFans
Let's say that a creator with 1 million followers across social media sites like Instagram, Facebook and Twitter sets up an OnlyFans' subscription account that charges fans $4.99 per month.
According to OnlyFans' own earnings calculator, this individual could earn between $49,900 and $249,500 per month from its platform, based on an estimate that between 1% and 5% on of their social media fans on other platforms will subscribe.
This potential earnings figure, says OnlyFans, does not include income from tips and chargeable PPV messages.
---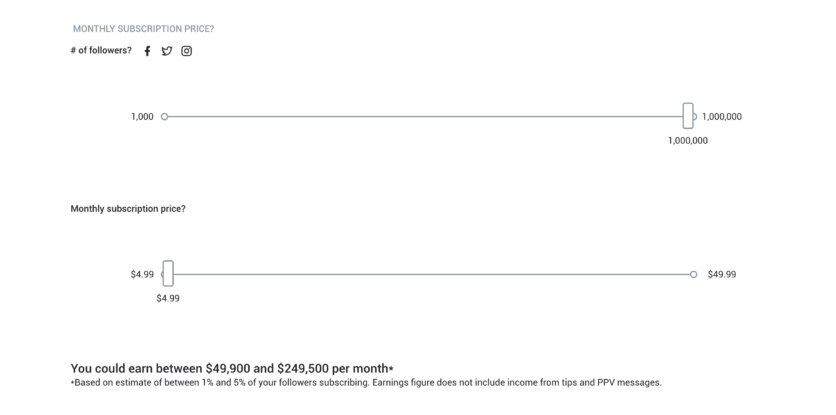 ---
If we take Cardi B's Instagram following alone, which at the time of writing is 72.5m, and apply the same formula, she could potentially earn between $3.6m and $18m per month from OnlyFans right now.
This doesn't take into account the 13.4m followers Cardi B has on Twitter, nor the 19.6m followers she has on Facebook.
OnlyFans claims that "many musicians are finding success and artistic freedom" on its platform, while the company's entire publicly-stated USP concerns the monetization of superfans.
Again, D2C online monetization this is not a new concept in the music industry, but it is something OnlyFans is super keen to communicate.
---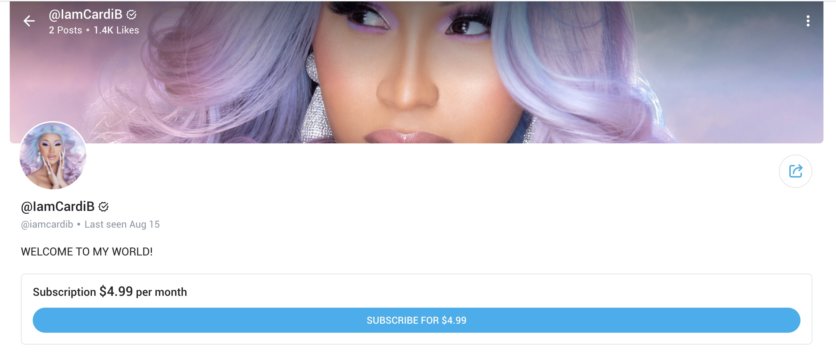 ---
"The music industry is waking up to the value of superfans – a core group of dedicated fans who are willing to give more for a closer relationship with their favourite artist," writes OnlyFans on its website.
"OnlyFans not only allows you to generate revenue from these superfans but also connect with them and build loyalty as well. You can chat in real time on livestreams and private messaging options allow you to communicate directly, all while staying safe and in control.
"It's superfans who will show up to your concerts again and again, buy your next album, share your music with their friends and donate to your crowdfunding campaign.
"OnlyFans allows you to consolidate the most loyal part of your fanbase by providing opportunities for the kind of deep connection that benefits both them and you."Music Business Worldwide