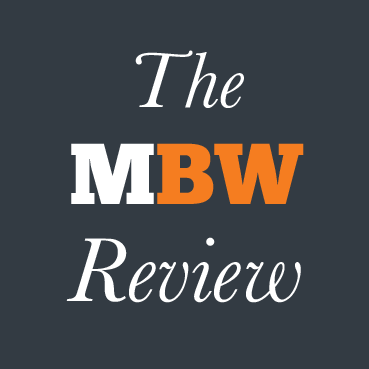 The MBW Review is where we aim our microscope towards some of the music biz's biggest recent goings-on. This time, we read Hipgnosis Songs Fund's latest annual trading update for the year to end of March 2020. The MBW Review is supported by Instrumental.
---
Ever since Hipgnosis Songs Fund floated on the London Stock Exchange in summer 2018, the aggressively acquisitive firm has become one of the global music business's most talked-about companies. Yet it's also faced the same skeptical question from financial circles: is it too reliant on songs released over the past decade?
The logical query at the core of this question: Tracks like Ed Sheeran's Shape Of You, Camila Cabello's Havana or The Chainsmokers' Closer are doing huge business today, but will people still be listening to them in 20 years? And, therefore, is Hipgnosis spending the majority of its money on the right kind of songs?
Hipgnosis founder and CEO, Merck Mercuriadis, directly addressed this idea in a podcast interview with MBW in April.
Firstly, he made clear that Hipgnosis actually boasted part-ownership of "many classic, evergreen songs" from decades past, including the most streamed track from 1981 (Don't Stop Believin' by Journey), from 1982, (Sweet Dreams (Are Made Of This) by Eurythmics), and from 1986 (Livin' On A Prayer by Bon Jovi).
Yet Mercuriadis also suggested that around a third of listening on streaming services today is "younger people, consuming hits [released in] the last seven or eight years, [and their consumption] is concentrated on about 500 different songs" – songs which he said Hipgnosis had carefully targeted in its acquisitions.
---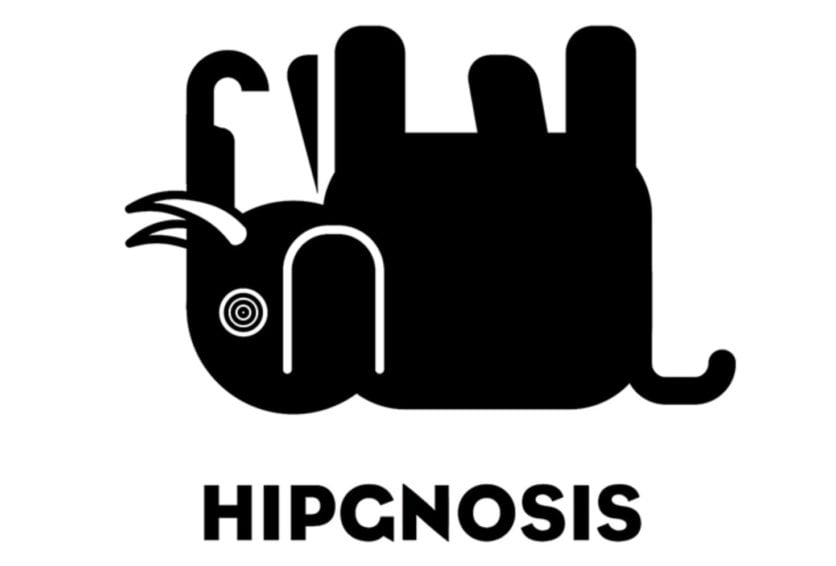 Today (June 3), Hipgnosis gave an unaudited trading update to the London Stock Exchange that sent its stock price bouncing upwards. At market close, Hipgnosis shares were up 6.6% today to 113.50 GBX, representing a market cap valuation of £699m (approximately $880m).
This trading update, concerning the firm's fiscal year to end of March 2020, contained a string of interesting information. For example:
Hipgnosis owned 54 catalogs containing 13,291 songs as of the end of March. Hipgnosis previously confirmed that, as of mid-December last year, it owned 11,225 songs. Therefore, the firm's catalog grew by some 2,066 songs in the subsequent three-and-a-half months, a period in which it made major catalog acquisitions from the likes of Bon Jovi's Richie Sambora and Blink 182's Tom Delonge;
Hipgnosis says its portfolio of those 13,291 songs was recently independently valued at £757m (approx. $953m, thus the "nearly $1bn" in our headline). Hipgnosis says this £757m valuation represented an increase of 8.6% at constant currency on the total amount it paid for said 13,291 songs, at £679m;
Hipgnosis offered good news for investors worried about the economic impact of COVID-19. It said: "[Our] investment strategy of building a portfolio with a core of vintage proven hit songs, which have a high exposure to streaming and low exposure to live music, leaves [us] well positioned in the COVID-19 world. Overall, [we expect] that the income growth from streaming will exceed any lost earnings from Public Performance and Live Income [this year]." It added that "feel good hits such as Sweet Dreams (Are Made Of This) and Livin On A Prayer have performed particularly strongly during the pandemic."
Hipgnosis revenues from its catalog in the year to end of March 2020 were £64.7m, ahead of expectations. The firm said that "cash receipts from royalty statements [were] on average 2% higher than expected at the time of catalog acquisitions". The firm's adjusted operating costs in the year stood at £10.0m;
Hipgnosis says it's in "active discussions on a pipeline with an acquisition value of over £1bn", but has told shareholders to expect "costs related to acquisitions [to] decrease" when the day finally comes when the company "reaches stabilisation/steady state".
---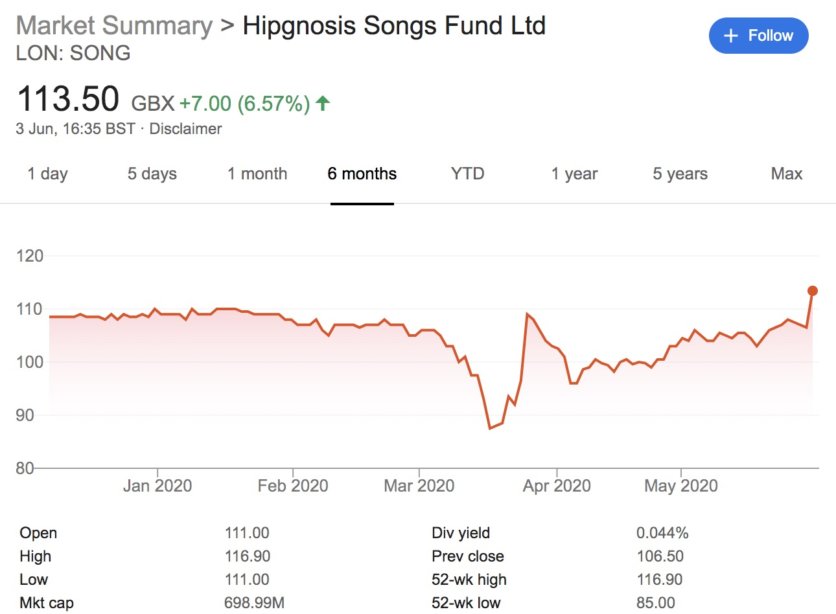 ---
On the specific topic of "evergreen classic" songs versus modern pop smashes, there was another important revelation made in Hipgnosis' new trading update  (which you can read in full through here): the company has recently been paying higher multiples to lock down vintage hits from yesteryear.
Hipgnosis said today that the £679m it paid for its 13,291 songs represented a blended acquisition multiple of 13.9-times historic annual earnings.
Yet Hipgnosis previously confirmed that, as of end of September 2019, it had acquired its then-portfolio for a "a blended acquisition multiple of 12.84-times historical average net income".
Why did that blended multiple rise from 12.84-times to 13.9-times in the subsequent six months?
Hipgnosis explains: "The increase in the acquisition multiple since 30 September 2019 reflects the acquisition of some of the finest vintage catalogs of all time during the period including those of Journey, Richie Sambora, Timbaland, Brendan O' Brien, Tom Delonge (Blink 182), Brian Higgins, 10cc, Fraser T Smith, Al Jackson Jr and Mark Ronson."
---
According to Hipgnosis, classic songs amongst these "vintage catalogs" included Amy Winehouse's Back To Black, Eurythmics' Sweet Dreams (Are Made Of This), Justin Timberlake's SexyBack, Journey's Don't Stop Believin', Cher's Believe, Al Green's Let's Stay Together, Adele's Set Fire To The Rain and Bon Jovi's Livin' On A Prayer'.
These and other enduring hits have actually changed the shape of Hipgnosis' portfolio significantly in the past year, as revealed in its trading update, and reflected in the charts below.
---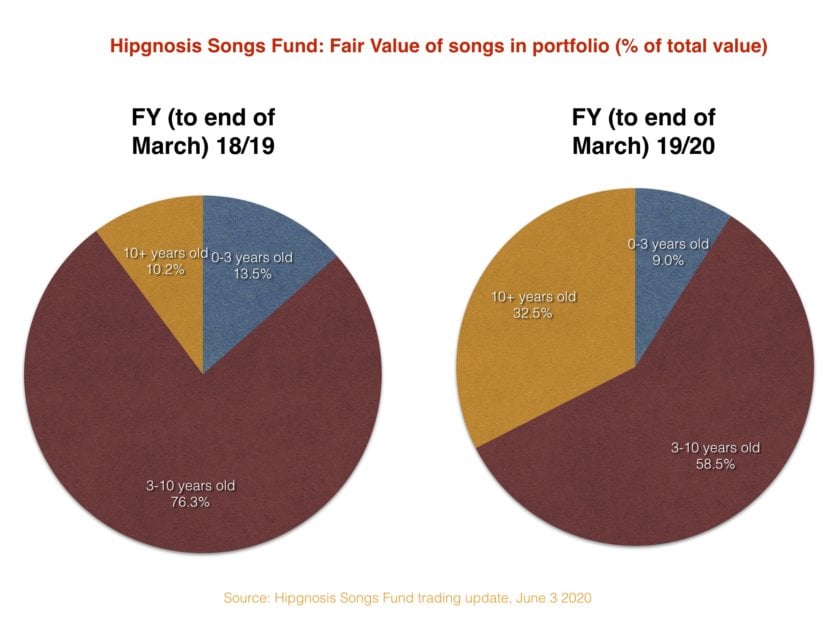 ---
As you can see, in the 12 months to end of March 2019, some 76.3% of the value in Hipgnosis' catalog was derived from songs that were 3-10 years old, with just 10.2% coming in the 10+ years old bracket.
But by the end of March 2020, the picture had changed: songs that were 3-10 years old still made up 58.5% of Hipgnosis' catalog, but its portfolio was far more balanced, era-wise, with 32.5% of the value of its repertoire derived from tracks released over a decade ago.
This shift was further reflected in the fact that some 49.6% of the fair value of Hipgnosis' portfolio of songs at the close of March 2019 came in the Pop music genre. By the end of March 2020, Pop's share had fallen to 45.2%, while the share of Rock songs grew year-on-year from just 4.8% to 29.1%.
---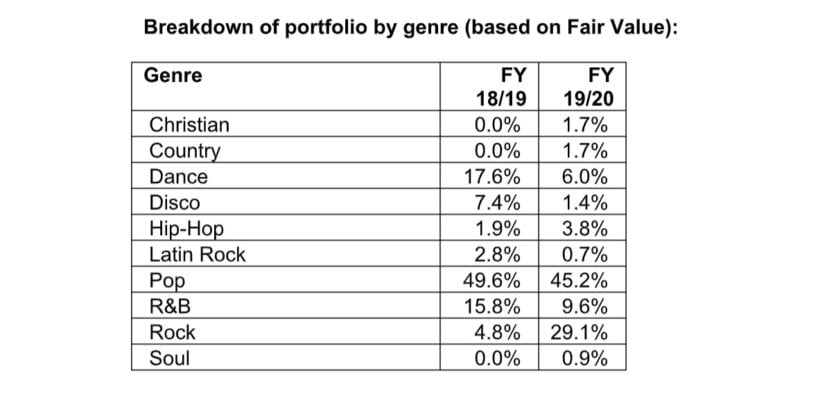 ---
Judging by Hipgnosis' share price jump today, the market is fully behind Mercuriadis' mission to become less reliant on modern pop hits as time moves on.
This is no doubt helped by Hipgnosis' observation that during COVID-19 lockdown, there has been a "surge" in streaming consumption of "vintage songs".
In a statement to shareholders today, Merck Mercuriadis said: "We are very excited about these results and we are particularly proud that everything we have promised our investors over the last two years has either come to fruition or been exceeded. We have bought amongst the finest songs of all time against a backdrop of dramatic streaming growth and we are adding significant value by actively managing these great songs and bringing efficiencies to collection.
"A core part of our thesis is that song revenues are uncorrelated as, whether in good times or challenged, music is always being consumed. While we would not have wished for a pandemic to demonstrate this it has indeed done exactly that and that has been reflected in our strong performance.
"A core part of our thesis is that song revenues are uncorrelated as, whether in good times or challenged, music is always being consumed. While we would not have wished for a pandemic to demonstrate this it has indeed done exactly that and that has been reflected in our strong performance."

Merck Mercuriadis, Hipgnosis Songs Fund
"We have become a FTSE 250 company in only 20 months, which I'm told is the fastest of any company ever on the index, and we are now the number 23 biggest yielder on the FTSE 250 meaning there are only 22 companies paying a bigger dividend than we are at a time when many have had to cancel their dividends altogether.
"I would sincerely like to thank all of our investors for their belief in helping us to establish proven songs as arguably the strongest of new asset classes which is not only great news for all of us but the wider community of songwriters, artists and producers as a whole."
---

The MBW Review is supported by Instrumental, which powers online scouting for A&R and talent teams within the music industry. Their leading scouting platform applies AI processes to Spotify and social data to unearth the fastest growing artists and tracks each day. Get in touch with the Instrumental team to find out how they can help power your scouting efforts.Music Business Worldwide