Hipgnosis Songs Fund (HSF), the UK-listed entity that owns stakes in over 65,000 songs, saw double-digit growth in its latest fiscal year – in what the firm calls its strongest FY performance since its IPO five years ago.
HSF today (July 13) published its financial figures for FY 2023 (to end of March 2023), revealing that its like-for-like net revenues grew 10.9% YoY in the period.
That 'like-for-like' clarifier is important, as HSF's published net revenues actually dipped in the period YoY, due to the one-time impacts of three non-recurring events:
A non-recurring Right To Income (RTI) recognition in the prior year (FY 2022) with a +$14.1 million impact;
A non-recurring change in the way revenue accrual was recognized in the prior year (FY 2022) – now said to be "in line with other major publishers" – that led to a +$36.0 million impact;
A $21.7 million accrual from the 'CRB III' streaming royalty ruling in the US, recognized in the FY 2023 year, of which +$16.1 million is considered by HSF as 'retroactive' i.e. money that was 'earned' in years previous to FY 2023. (The 'CRB III' ruling, if you remember, uplifted mechanical royalties for publishers across five years: 2018-2022. After the new rates were finalized by the CRB last summer, HSF applied some of its accrued revenue boost from the ruling to 2022, and the rest to the 2018-2021 period).
What does all of that mean when you feed it into the calculator?
Hipgnosis Songs Fund's published net revenues in FY 2023 (to end of March this year) were USD $147.2 million, down from $168.3 million in the prior year.
However, when those three one-times are discounted (+$14.1 million and +$36.0 million in FY 2022; +$16.1 million in FY 2023), HSF's' like-for-like/underlying net revenue lands at $131.1 million in FY 2023 vs. $118.2 million in FY 2022 – a 10.9% YoY rise.
---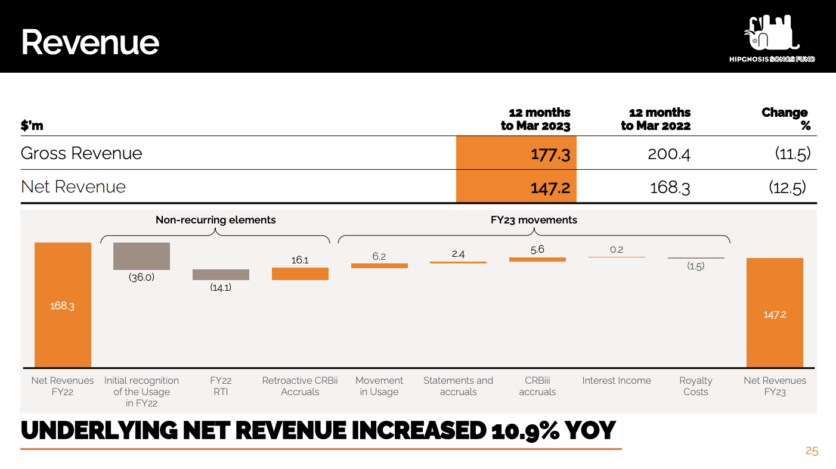 ---
Thankfully, Hipgnosis Songs Fund has also today published a much simpler take on its underlying revenue performance – but for the 2022 calendar year.
That simpler take is PFAR ('Pro Forma Annual Revenue') which is described by HSF as showing "the royalty revenue earned by Catalogues in a calendar year largely based on royalty statements received, irrespective of whether the songs were owned by [HSF] over the period analysed".
In other words, HSF takes the catalogs it owns at a given point (in this case, end of March 2023), and retrospectively looks at what that same catalog would have earned from royalties had HSF owned it, in its entirety, in prior periods.
(PFAR, the company further explains, "does not include any revenue accruals under IFRS".)
So: in calendar 2022, Hipgnosis Songs Fund's pro-forma revenue (PFAR) came in at USD $130.2 million, up 12.1% YoY (vs. $116.2 million in calendar 2021).
---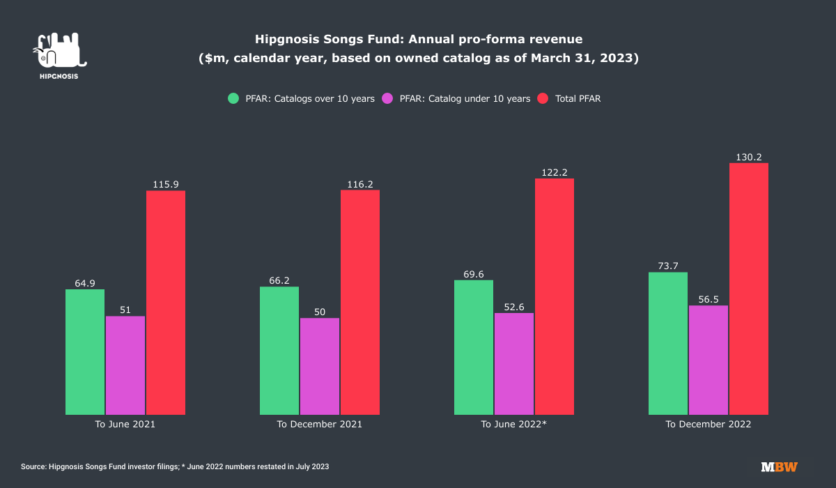 ---
What drove this double-digit pro-forma revenue increase?
Streaming played a big role, generating $52.1 million in PFAR in calendar 2022, vs. $45.4 million in the prior year – up 14.8% YoY.
Merck Mercuriadis, founder and CEO of Hipgnosis Songs Fund, explained in his company's new FY report: "Streaming is a key driver of [HSF's] income growth and grew by 14.8% year-on-year in 2022, making up just over 40% of our PFAR income. Income from Synch revenue continues to show strong growth of 24.7% year-on-year in 2022.
"Significantly, Performance income, which had been suppressed since the Covid-19 lockdowns is now demonstrably coming back as consumption returns to even greater than pandemic levels. A small year-on-year decline [in performance income] in the first half of 2022 was more than offset by a 41% [YoY] increase in the second half.
"Taking into consideration the time lag inherent in the payment of performance income, this is a very positive indicator for the future and [gave] us a 9% year-on-year increase for 2022."
---

HSF's PFAR results by category in calendar 2022 vs calendar 2021
---
Mercuriadis further noted that HSF's 12.1% YoY PFAR increase in calendar 2022 happened "despite the US Dollar's very strong performance against almost all other major currencies during the year".
If precise constant currency calculation was available to HSF, says the company, it would have had a material positive impact on that 12.1% YoY figure.
HSF's annual report explains: "Although the Company receives 85% of its revenues in US Dollars, the original source for around half of revenues is non-US-Dollar denominated. Since third parties in the collection chain are converting currency, a precise constant currency calculation is not possible.
"However, based on average FX movements of the US Dollar in the year against Sterling, Euro and Yen, we estimate that the impact of the strong Dollar in 2022 was the equivalent of approximately 6 percentage points of increased differential compared to 2021, further emphasising the strong underlying growth."
---
Other key takeaways from HSF's FY 2023 results include the fact that the company's independent valuer – US-based Citrin Cooperman – slapped a USD $2.80 billion 'fair value' on the company's portfolio of songs as of the end of March 2023.
That valuation represented a 4.0% YoY increase, with Citrin Cooperman determining that the discount rate used in its calculations of fair value should remain unchanged at 8.5%.
Hipgnosis Songs Fund uses calculations from Kroll to monitor the appropriateness of the 8.5% discount rate applied by Citrin Cooperman to its fair value.
HSF said today: "The [HSF] Board will continue to keep all assumptions in its valuation methodology under review.
"Having considered all the available information, the Board believes that the assumptions applied by the [Citrin Cooperman] remain appropriate and that this represents a reasonable assessment as to the value of the Portfolio."
---
Summing up his company's FY 2023 performance, Merck Mercuriadis said: "Today's results are an important validation of Hipgnosis Songs Fund's investment thesis delivering the best like-for-like income growth in our short 5-year history."
He added: "Despite our strong numbers, I am aligned with Shareholders in believing that the fundamental value and opportunity of the Company fails to be reflected in the current share price. As a result, we have been working with the Board, following consultation with many of our largest Shareholders, on a number of options to enhance Shareholder value. We look forward to updating the market prior to the AGM and the Continuation Vote.
"Today's financial results, being released two days after the 5th anniversary of our IPO, offer the perfect milestone to re-consider Hipgnosis' investment case and its ongoing opportunity."
"Today's results are an important validation of Hipgnosis Songs Fund's investment thesis delivering the best like-for-like income growth in our short 5-year history."
Continued Mercuriadis: "Looking forward, I believe there is continued reason for optimism. Despite the global economic challenges, our markets continue to grow with strong earnings being reported by the administrators that sit ahead of us in the payment chain.
"In addition, the increasing adoption of streaming not only continues strongly but has also demonstrated its pricing power with price rises introduced by several DSPs in the year signifying the excellent value that music streaming delivers to the consumer, even in a high inflation environment. As a result, Goldman Sachs, in their recent 2023 Music in the Air report, increased global music publishing market annual growth expectations to 7.6% from 5.9% through to 2030.
"Hipgnosis Songs Fund, with its portfolio of iconic, culturally significant Songs, is uniquely placed to benefit from this backdrop and deliver superior Shareholder returns and substantial Net Asset Value growth. Both the Board and I are determined to deliver this."
---

---
Hipgnosis Songs Fund is one of three Hipgnosis-branded companies led by Merck Mercuriadis.
A second, private fund, Hipgnosis Songs Capital, is bankrolled by over $1 billion in capital from Blackstone, and has acquired catalogs created by the likes of Justin Bieber, Nile Rodgers, Leonard Cohen and more.
A third company, Hipgnosis Song Management, acts as the investment advisor for both funds.
A Financial Times story from earlier this week revealed that large Hipgnosis Songs Fund investors are now encouraging the company to sell a small portion of its copyrights in order to 'bake in' a portfolio valuation that would boost HSF's public share price.Music Business Worldwide