MBW's Stat Of The Week is a series in which we highlight a data point that deserves the attention of the global music industry. Stat Of the Week is supported by Cinq Music Group, a technology-driven record label, distribution, and rights management company.
---
It's been a big week for stats regarding publicly-traded music companies. First came Spotify, which reached an all-time share price high of $325 on Wednesday lunchtime (ET), resulting in a market cap of just over $60 billion. Spotify's market cap valuation (currently at $59bn) has therefore more than doubled since the start of 2020.
Today (December 4) brings another set of blockbuster numbers from a public company: the Merck Mercuriadis-led rights house Hipgnosis Songs Fund, which floated on the London Stock Exchange in summer 2018.
The first of those blockbuster numbers comes from Mercuriadis himself: "We've been one of the FTSE 250's biggest yielders and have now reached a £1.25 billion market cap."
In US dollar terms, that puts a market cap value on Hipgnosis – a company that's less than three years old – of approximately $1.68bn.
There are many more interesting figures within Hipgnosis' new half-year interim report, covering the six months to end of September 2020.
The first pertains to Hipgnosis' revenues. Hipgnosis generated £50.04m (approx $67m) in gross revenue the six months to end of September, more than double the £22.64m it generated in the prior year's equivalent period.
Some £5.29m of that £50.04m was subsequently paid out in royalty costs during the six-month 2020 period, which – when interest is also considered – resulted in £44.80m (approximately $60m) in net revenues.
Obviously, that puts Hipgnosis on course to generate over $120m in net revenues across the 12 months of its current fiscal year, ended March 31, 2021.
---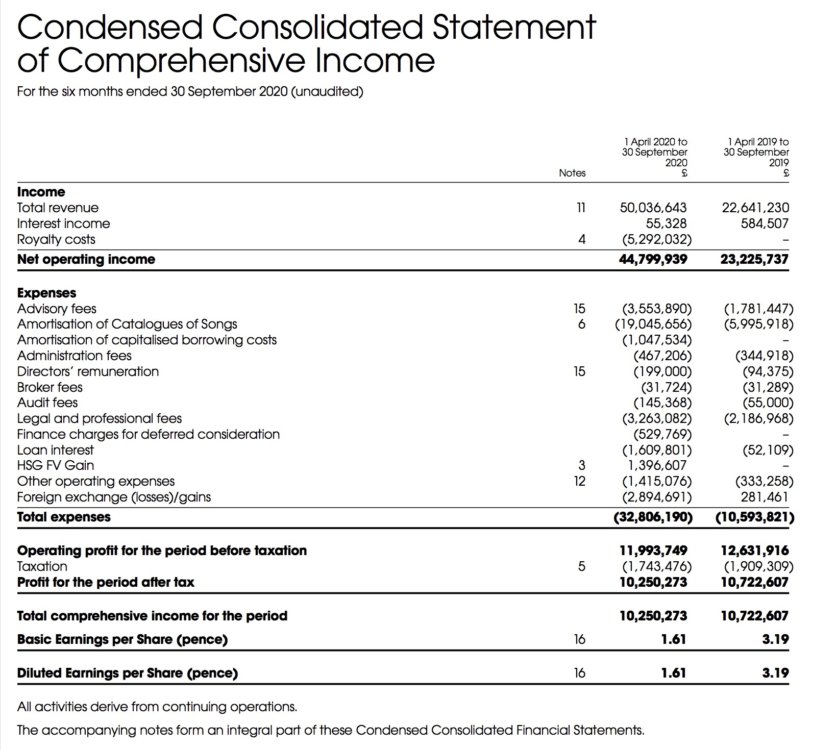 ---
Some more intriguing stats for Hipgnosis watchers: largely due to the company's recent $323m acquisition of a Kobalt catalog of over 33,000 songs, Hipgnosis ended September with 57,836 songs in its portfolio.
That was up by 44,545 on the 13,291 songs Hipgnosis owned (or owned cuts of) at the end of March this year.
According to Hipgnosis' six-monthly report, the company spent a total of approximately £1.18bn on 117 catalogs between the point of its 2018 IPO and the end of September this year.
Catalogs acquired by Hipgnosis during the pandemic period (i.e. during April-September this year) included music and/or revenue streams from the likes of Nikki Sixx, Chrissie Hynde, L.A Reid, RZA, Rick James and No ID.
The report confirms: "Since launch we have now acquired 117 Catalogues, comprising over 57,836 Songs, for an aggregate consideration of £1.18 billion, representing a blended acquisition multiple of 14.76x historic annual income."
---
MBW's Stat Of The Week

: Hipgnosis Songs Fund spent £1.18bn on songs in the two years to end of September 2020 – and is on course to generate $120m in revenues in the 12 months to end of March 2021.
---
One of Hipgnosis' biggest moves in the six months to end of September was its acquisition of US-based Big Deal Music Group, which not only brought Hipgnosis the rights to 4,400 songs, but also meant it could launch its own in-house publishing administration service in the States, all under the Hipgnosis Songs Group brand, led by Big Deal founder Kenny MacPherson.
Hipgnosis' report doesn't put a price on the Big Deal acquisition, but it does reveal: "The consideration for this acquisition was funded from the proceeds of Hipgnosis' equity fundraise in July 2020 [in addition to] the issue of 17,609,304 new Ordinary Shares ("Consideration Shares") issued at a price of 120.65 pence per Ordinary Share."
The total value of the 17.61m 'Consideration Shares' handed to Big Deal's owners was therefore £21.25m (approx $29m), with the additional cash part of the buyout remaining an unknown figure.
Hipgnosis' report further clarifies: "6,248,351 of [these] Consideration Shares were subject to lock up restrictions to 1 October 2020, with 10,123,219 Consideration Shares subject to lock up restrictions to 1 April 2021."
---
In a section of the interim report praising the team behind Hipgnosis, Merck Mercuriadis says: "During the period we have transformed our Song Management expertise, notably making three appointments of the highest calibre at the Investment Adviser in Ted Cockle, Amy Thomson and Nick Jarjour who have joined as President, Chief Catalogue Officer and Global Head of Song Management respectively.
"Further to this, our acquisition of Big Deal Music, now re-branded Hipgnosis Songs Group, in Los Angeles, gives us Kenny MacPherson, CEO – who is one of the most respected song men in our industry over the last 35 years as well as Co-Presidents Jamie Cerreta and Casey Robison, Dave Ayers EVP in New York and Pete Robinson SVP in Nashville.
"We have subsequently also appointed Tony Barnes, former Virgin EMI Director, as our EVP of Digital and Innovation. We now have more than 70 people globally, including our Advisory Board."
---
In the interim report, which you can read in full here, Mercuriadis adds: "The recent news of a vaccine(s) has given us all hope that the pandemic will soon be behind us, which will improve performance further still, but for the moment we have to be cognisant that there are important challenges ahead.
"I believe that we are well positioned to weather them all and to continue to establish ourselves as not only an essential opportunity for investors but also as one of the most important catalysts transforming the Song industry and the Songwriter's place in it globally."
---

Cinq Music Group's repertoire has won Grammy awards, dozens of Gold and Platinum RIAA certifications, and numerous No.1 chart positions on a variety of Billboard charts. Its repertoire includes heavyweights such as Bad Bunny, Janet Jackson, Daddy Yankee, T.I., Sean Kingston, Anuel, and hundreds more.Music Business Worldwide