Hipgnosis Songs Fund saw its revenues grow to £64.7m (approximately $81m at current exchange rates) in the 12 months to end of March 2020.
The stat, revealed in the company's new annual report, is up by many multiples on the £7.2m it generated in the year to end of March 2019 (though it should be noted the firm floated on the London Stock Exchange in July 2018) .
Studiers of the music publishing world may find the following quote from Hipgnosis founder and CEO, Merck Mercuriadis, interesting for obvious reasons: "When compared with the three major song companies [in the same annual period] we have achieved between 7% and 12.5% of their revenue on between 0.5% and 0.9% of their number of songs."
Adds Mercuriadis: "Our small catalog of 13,291 Songs, albeit with an extraordinarily high ratio of success within it, is earning £4,868 per song vs something less than £150 per song for our competitors."
You can see the full list of catalogs that Hipgnosis has acquired to make up those 13,291 songs below.
---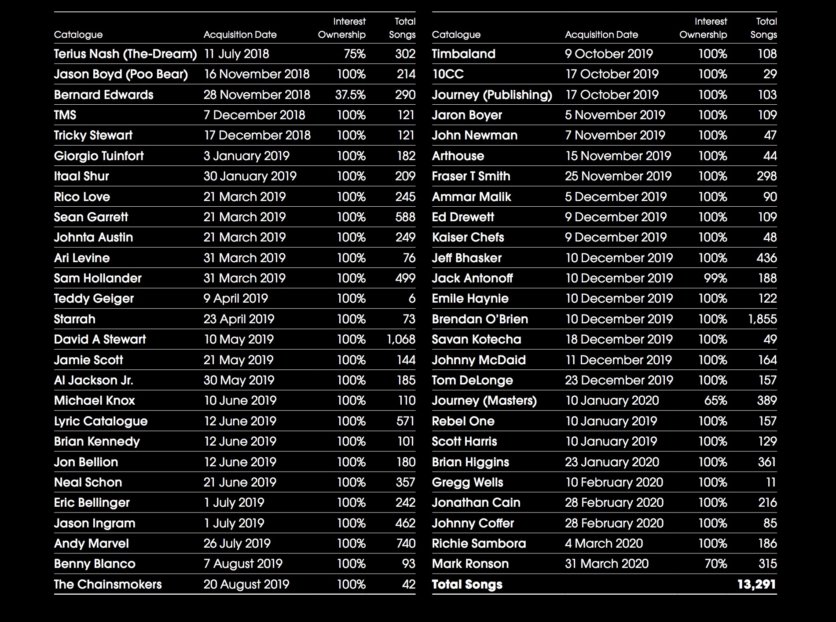 ---
Don't expect Hipgnosis Songs Fund's catalog to remain capped at that size for much longer, however.
Yesterday (July 2), the firm notified its investors on the London Stock Exchange that it is now looking to raise another £200m ($249.3m) with which to acquire songs.
Hipgnosis says that, via its investment adviser, The Family (Music) Limited, it is currently in active discussions regarding the acquisition of "a pipeline of catalogs with an acquisition value of over £1bn", and had therefore decided to explore "raising additional funding for further investments".
As a result, Hipgnosis says it's raising £200m by making available a tranche of new C shares at an issue price of £1.00 each, slightly below the firm's current share price on the LSE (£1.17 at time of publication).
To date, Hipgnosis has acquired 54 catalogs, building a music rights portfolio which was recently independently valued at £757m (currently: $944m).
Said Mercuriadis of the new £200m proposed share sale: "Having invested over $1 billion dollars in some of the most extraordinarily successful songs of all time in the last 24 months, we are now a FTSE 250 company and the 58th biggest yielder on the index. This has firmly established songs as a new uncorrelated asset class.
"This capital raise provides us with the opportunity to continue growing our portfolio of culturally important proven hit songs, which currently offer significant value."

Merck Mercuriadis, Hipgnosis (pictured)
"Our recent [results] have demonstrated that our access combined with the growth of streaming, increased songwriter royalties thanks to the CRB ruling, our active management, efficiencies in collection and songwriters first strategy can deliver great uncorrelated returns for our shareholders even during the course of the pandemic.
"This capital raise provides us with the opportunity to continue growing our portfolio of culturally important proven hit songs, which currently offer significant value."
In the 12 months to end of March, Hipgnosis's annual report reveals, it spent £560m ($698m) on 42 catalogs. Those catalogs provide Hipgnosis with a share of income from hits such as Eurythmics' 'Sweet Dreams (Are Made of This)', Journey's 'Don't Stop Believin', The Chainsmokers' 'Closer', Al Green's 'Let's Stay Together', Ed Sheeran's 'Shape of You' and 'Castle On The Hill', Mark Ronson's 'Uptown Funk', Amy Winehouse's 'Back To Black', Lady Gaga and Bradley Cooper's 'Shallow', Bon Jovi's 'Livin' on a Prayer', P!nk's 'What About Us', Justin Bieber's 'Love Yourself' and Shawn Mendes' 'Stitches'.
You can see Hipgnosis' consolidated income statement for the 12 months to end of March 2020 below. The company says in its report that its £64.7m revenue haul in the year was ahead of management expectations by 2%.
---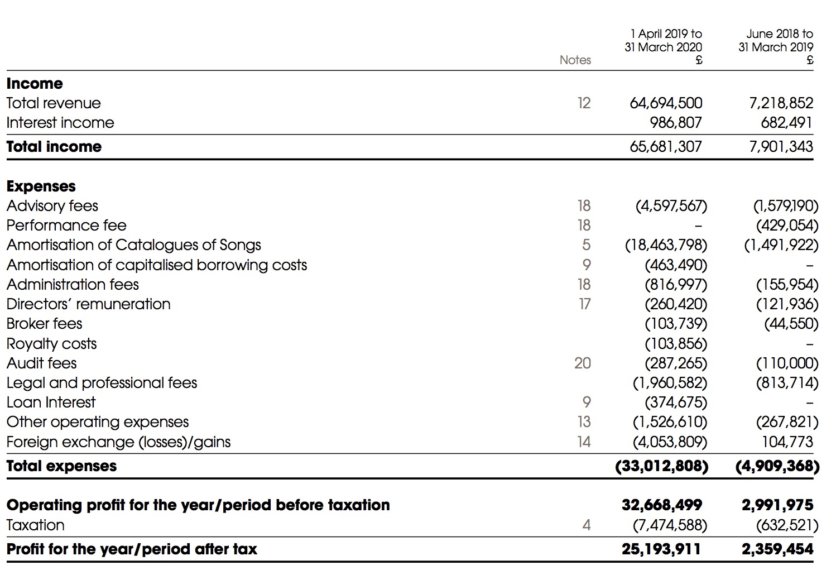 ---
In its latest report, Hipgnosis says it had raised a total of over £625m in gross equity capital via its Initial Public Offering on 11 July 2018, combined with subsequent share placings in April 2019, August 2019 and a further C Share raise in October 2019.
In April this year, Hipgnosis secured a £150m (approx $188m) revolving credit facility (RCF) via its subsidiary. The money is being put up by a syndication of seven banks, including JP Morgan.
Regarding the impact of COVID-19 on its business in the current fiscal year, Hipgnosis says in its new report: "Hipgnosis' investment strategy of building a Portfolio with a core of extraordinarily successful proven hit Songs, which have a high exposure to streaming and low exposure to live music, leaves it well positioned in the COVID-19 world.
"Overall, we expect that the income growth from streaming will exceed any lost earnings from Public Performance and Live Income."Music Business Worldwide