Hipgnosis Songs Fund went close to a billion-dollar valuation earlier today (July 6), as its share price reached an all-time high.
The rally in the UK company's share price, on the London Stock Exchange, followed two bits of big news from the firm last week: (i) The announcement that it's looking to raise £200m ($249m) via the sale of a new tranche of class C Shares; and (b) The release of its annual report for FY2020, which showed Hipgnosis having generated some $81m in revenues in the 12 months to end of March.
The company's share price finished trading on the London Stock Exchange today at 119.50 GBX, having risen to 120.50 at its peak.
According to Google Finance, that day-end share price translated into a company market cap of £735.9m (approx $920m).
Hipgnosis's lowest day-end share price to date came at the height of COVID uncertainty, on March 20, when it finished trading at 93.50 GBX.
From then to now, the company's share price (and market cap) have grown by 27.8%.
According to MBW's calculations, in order to surpass the magic billion-dollar market cap milestone, Hipgnosis's share price would need to rise to approximately 130.00 GBX – just ten and a half pence higher than it is right now.
---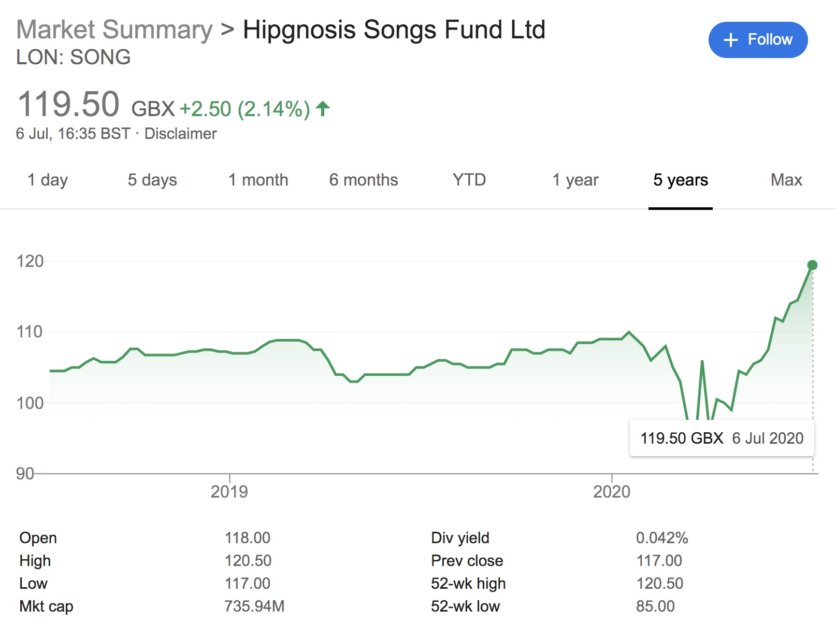 ---
As of end of March, Hipgnosis says it owned 13,291 songs.
Those songs were made up of catalogs including hits written by the likes of Mark Ronson, Richie Sambora, Johnny McDaid, Savan Kotecha, Journey and The Chainsmokers, amongst many others.
Hipgnosis says that, via its investment adviser, The Family (Music) Limited, it is currently in active discussions regarding the acquisition of "a pipeline of catalogs with an acquisition value of over £1bn", and had therefore decided to explore "raising additional funding for further investments".
In its annual report, Hipgnosis founder and CEO, Merck Mercuriadis (pictured with Nile Rodgers), said: "When compared with the three major song companies [in the same annual period] we have achieved between 7% and 12.5% of their revenue on between 0.5% and 0.9% of their number of songs."
Adds Mercuriadis: "Our small catalog of 13,291 Songs, albeit with an extraordinarily high ratio of success within it, is earning £4,868 per song vs something less than £150 per song for our competitors."Music Business Worldwide