Hipgnosis Songs Fund announced today that it has acquired the music publishing catalog (including writer's share) of Carole Bayer Sager.
It's not the biggest deal Hipgnosis has struck – although it contains many classic songs like Nobody Does It Better and A Groovy Kind of Love. But it represents a major first for Hipgnosis in another, important way.
Following recent promises from the company that it would disclose more data about the prices paid for assets to its investors, Hipgnosis today confirmed some granular detail about is buyout of the Bayer Sager catalog.
One of those details was the catalog's annual revenue history for the past three years, which revealed it earned $521k in 2018, $548k in 2019, and $652k in 2020.
Knowing these figures means we can apply Hipgnosis' most recently-stated blended multiple acquisition average, as it reported in January (15.63X), to estimate the purchase price.
Combining this multiple figure with the largest and smallest of the declared annual earnings tells us what the catalog likely cost Hipgnosis: somewhere around $8 million to $10 million.
(Obviously, Hipgnosis could have paid a higher or lower multiple depending on circumstances, and the company hasn't confirmed what it spent – so take this as educated guesswork.)
---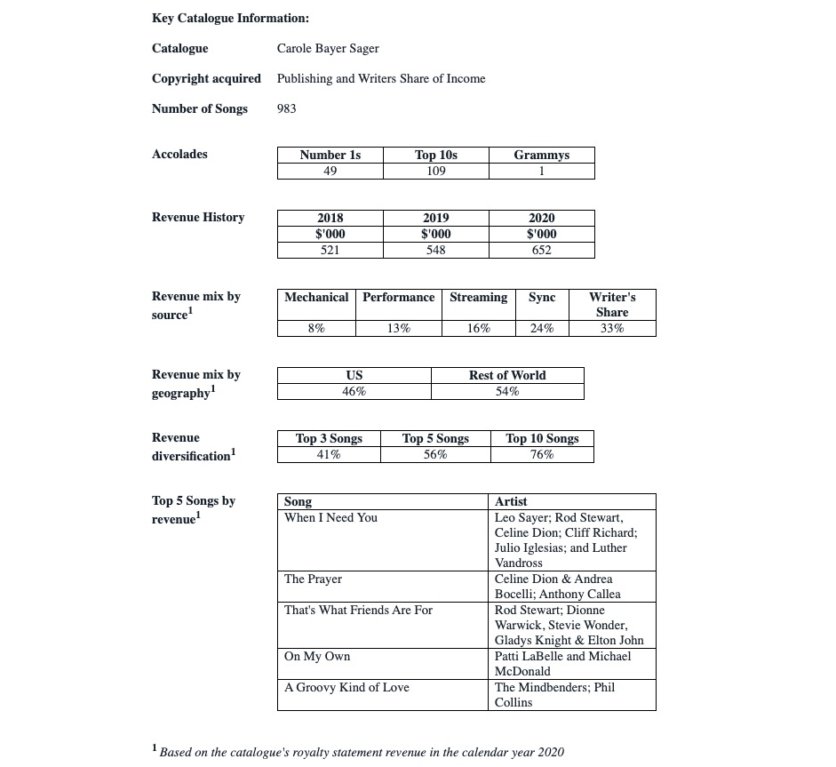 ---
The Carole Bayer Sager catalog bought by Hipgnosis includes songs such as A Groovy Kind Of Love, When I Need You, Nobody Does It Better, That's What Friends Are For, Heartlight, The Prayer, Don't Cry Out Loud, On My Own, It's The Falling In Love, Arthur's Theme (Best That You Can Do) and Heartbreaker.
Carole Bayer Sager is an EGOT (Emmy, Grammy, Oscar, Tony) nominees and has been decorated with Oscar, Grammy and Golden Globe wins.
She worked as a songwriter and producer for artists such as Carly Simon, Barbra Streisand, Michael Jackson, Frank Sinatra, Bob Dylan, Whitney Houston, Ray Charles, Dolly Parton, Aretha Franklin, Neil Diamond, Bette Midler, Celine Dion, Phil Collins, Rod Stewart and Reba McEntire.
Her songs have been performed by artists including Andrea Bocelli, Aretha Franklin, Barbra Streisand,  Bette Midler, Bob Dylan, Carly Simon, Carole King, Céline Dion, Diana Krall, Diana Ross, Dionne Warwick, Dolly Parton, Dusty Springfield, Elton John, Frank Sinatra, Kanye West, Kenny Rogers, Luther Vandross, Michael Jackson, The Monkees, Neil Diamond, Phil Collins, Ray Charles, Stevie Wonder Whitney Houston, and many more.
"This is one of the most important deals we have ever made. Carole's iconic songs have been making the world go around for more than 55 years."

Merck Mercuriadis, Hipgnosis
Merck Mercuriadis, Founder of The Family (Music) Limited and Hipgnosis Songs Fund Limited, said: "This is one of the most important deals we have ever made. Carole's iconic songs have been making the world go around for more than 55 years. She has an elegance with words that has made these songs universal and they are not only enormously successful but truly beloved all over the globe.
"It's very special to welcome Carole to the Hipgnosis family and it's an honor to now be the custodians of these incredible songs that are of genuine cultural importance."
Carole Bayer Sager said: "In speaking with Merck, I was surprised to find how intimately acquainted he was with my catalogue of songs. Hearing his plans to keep these songs alive and bring them to a new generation of listeners, excited me and convinced me now was the right time to allow a new custodian to take charge of their future.
"With Merck and his Hipgnosis family I feel my songs are going to be nurtured and cared for. I look forward to yet another wonderful collaboration."Music Business Worldwide