Subscription streaming movie service Netflix announced earlier this week that it has reached 62m users around the world – almost exactly the same number as Spotify.
Big difference is, four times as many of Netflix's customers pay a subscription each month: 60m of them, or 97% of its total consumer base.
According to Spotify's last announcement earlier this year, 15m of its 60m total active customers pay a monthly sub. That amounts to 25% of the Swedish firm's total consumer base.
MBW has compared the audience growth figures of both companies over the past four years: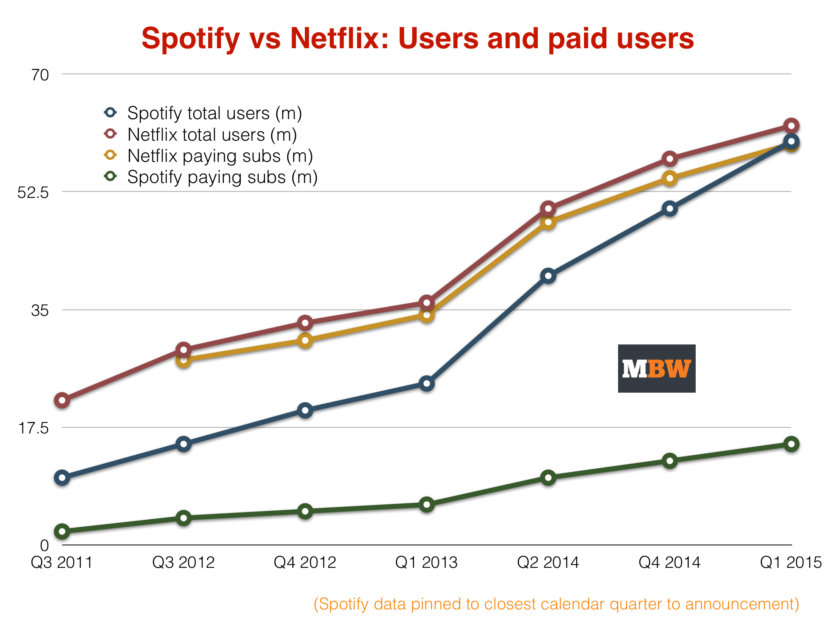 Netflix, of course, doesn't offer a free tier like Spotify – it only gives consumers the option of a free trial and then a monthly fee –  which explains why its 'paying subs' line sticks so close to its total users line: the difference is merely the number of people taking a month's free trial at any given period.
Spotify, however, can claim more success than Netflix regarding a different objective: total global user growth.
The Swedish firm's overall user numbers have exploded since Q1 2013 – a quarter when Netflix boasted 36m streaming consumers worldwide, a full 50% bigger Spotify's 24m.
In just two years, Spotify's total user base has nearly trebled, and it is now neck-and-neck with Netflix.
At current rates, Spotify should reach the glowing figure of 100m active users comfortably ahead of Netflix, which added 4.9m net users in the first three months of 2015.
However, the biggest difference between the two, predictably enough, is financial.
In Netflix's last fiscal year, to the end of December 31 2014, it posted revenues of $5.5bn, from which it derived a net profit of US $267m – a 138% rise on the $112m net profit it recorded the year before.
In Q1 of 2015, announced earlier this week, Netflix recorded an unusually low net profit of $24m, which it partly blamed on marketing costs associated with launching in new territories and on unfavourable exchange rates. However, its Q1 revenues leapt up 24% year-on-year to $1.4bn.
Spotify's revenue reached €746.9m ($805m) in 2013 – less than Netflix amassed in just the first three months of 2015.
But Spotify,  which is famously yet to post a worldwide profit, also posted a net loss of €57.8m ($62.3m) in FY2013. Almost 90% of its revenue in the year was derived from that 25% of its audience who paid a monthly subscription.
Yet to simply pin the fact that Netflix is a more profitable company than Spotify on the idea it charges consumers to access its service – a hot topic in the music industry right now – would be irresponsible.
Music already has plenty of its own premium-only services, including Tidal, Rhapsody/Napster, Google Play All Access and Beats Music.
Yet even when these are combined with Spotify and Deezer's premium tiers, the global music industry only attracted 41m paying streaming subscribers in 2014, according to the IFPI.
In that regard, the entire music business is behind Netflix, and showing little sign of overtaking its subscriber numbers in the future. (See below: remember this chart doesn't show Q1 2015, when Netflix reported 60m paying subs from 62m total users.)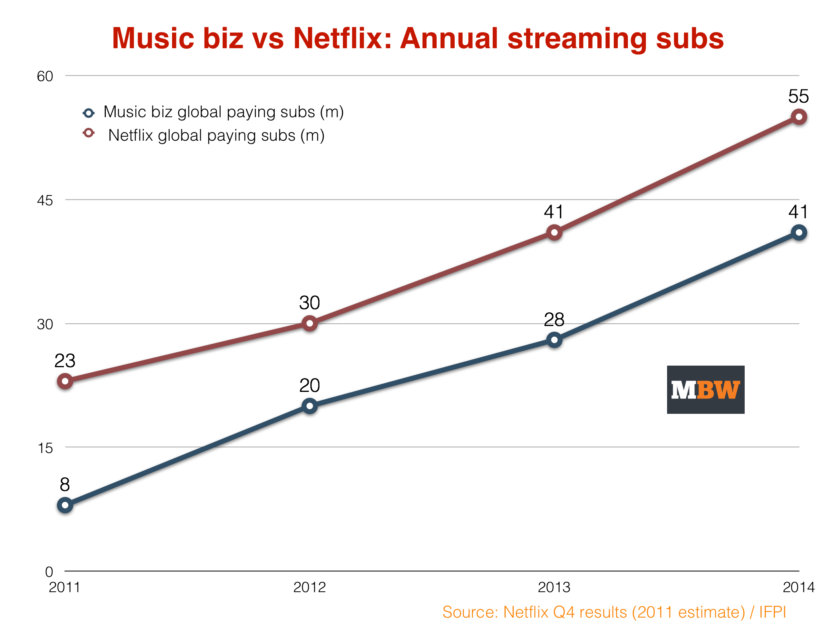 In a sad reflection of music's pulling power, Netflix only offers a limited selection of licensed movies and TV shows to consumers, while Spotify et al pride themselves on offering 99% of all music ever released.
There are a few key reasons why Netflix might be putting the music industry to shame when it comes to getting people to pay a monthly sub, but two above all others stand out:
Pricing. The typical Netflix subscription has historically sat at $7.99 or £5.99 – comfortably cheaper than the premium option of Spotify, Deezer, Rdio, Rhapsody etc. However, last summer, Netflix increased the monthly fee by $1/£1, which brought the US cost close to the standard streaming music sub price ($8.99 v $9.99). Crucially, this doesn't appear to have impacted on Netflix's paying user growth. Meanwhile, Netflix is experimenting: a subs option to take advantage of new HD hardware, 4K televisions, costs $11.99 per month and was recently introduced.
Historic conversion: This may be the most depressing element for the music industry. Despite facing corrosive piracy influences that are arguably worse than the music business's – Popcorn Time is essentially a free, copyright-infringing version of Netflix – the digital streaming movie business has never really been hampered in the same way as music's 'Napster years'. One reason for this is the movie business's tiered release model – cinema, DVD, terrestrial – but another is simply its bravery. Since 2010, Netflix has aggressively attempted to move consumers of its old-world business – DVD rental – to its new-world business of streaming, through a combination of direct-to-consumer offers and the fact it has hardly publicly marketed its DVD rental arm at all. Interestingly, its streaming service launched as 'Starz Play' in 2008- the same year Spotify was born.
Netflix's strident mission to move its rental consumers to streaming showed an early confidence in transitioning from a lucrative but dying format (DVD) to a future-proofed digital alternative.
It is hard to conclude anything other than the fact that the music industry (and, by association, Apple) has largely resisted doing the same, maximising the boom years of CD and iTunes while refusing to slay its golden goose by pushing consumers to paid-for streaming too early.
Between the cracks, users have become attracted to illegal free downloading alternatives, and are now being lured back – for better or worse – via models such as Spotify's 'freemium' proposal.
However, all that may be about to change: hundreds of millions more music consumers are potentially set to be nudged from the download world towards a paid-for streaming one.
All eyes on June 8, when Apple is expected to unveil its new, paid-for-only Spotify rival. And whether the Cupertino giant can, or is willing, to 'do a Netflix'.
[Note: Since the end of 2012 Spotify has released its customer data as 'active users' rather than 'registered users', meaning figures after this point will not fully reflect any inactive Spotify users.]Music Business Worldwide