If you live in Europe, Guvera doesn't want to tell you much about itself.
According to its website, it's mysteriously 'coming soon'. It's also apparently 'much more than a music service'. And that's about it.
But Music Business Worldwide has found out rather a lot about a streaming platform that looks set to emerge as one of the most talked-about modern music business brands.
Shorthand: it's Australian, it's ambitious… and it's poised to have a heck of a 2015.

The FT reports that Guvera is on the verge of becoming the surprise new owner of Tesco's popular UK streaming radio platform Blinkbox – as well as its million-plus registered users.
Guvera is reported to be paying around a third of the £12m-plus pricetag that Tesco splashed out on Blinkbox in 2012, back when it was known as We7.
But what even is Guvera? Where did it come from and what – if anything – is its USP in one of the most crowded markets in entertainment?
Music Business Worldwide spoke to people close to the company to get the skinny. And we found out plenty.
Here's seven things you need to know:
1) guvera is really big in India. and india's really big.
Guvera launched in India in November 2014. It's already become the third biggest music app on Android in the territory, with a licensed catalogue of 12 million songs – a size that embarrasses most local competitors.
Offering free, ad-supported music via online radio on iOs and Android, it's perfectly placed to become the biggest music app in the region very soon. A region, that is, of 1.3 billion people.
2) It's in at least 28 different markets – and it's coming for Europe
As you can see in MBW's handy timeline below, Guvera expanded across the world at a frightening pace in 2013 and 2014.
It just happened to do so outside of the US and UK.
Offering both a free radio tier ('Play') and a subscription tier ('Platinum') in most markets, Guvera tailors content and advertising (more on that in a second) to local territories.
Depending on where you are in the world, Guvera's technology is either based on a white label solution from Omnifone (18 markets – including Russia, Indonesia, The Philippines and across Latin America) or, more recently, a rival product from 7Digital (10 markets – including India and across the Middle East and Africa).
"We are pleased to see Guvera continue to break new ground in terms of its aggressive global rollout," Omnifone CEO Jeff Hughes told MBW.
"It stands out for offering users in the new high-growth markets a global streaming service fine-tuned to local music tastes at an affordable price point. We believe it will be one of the winners in the digital music space."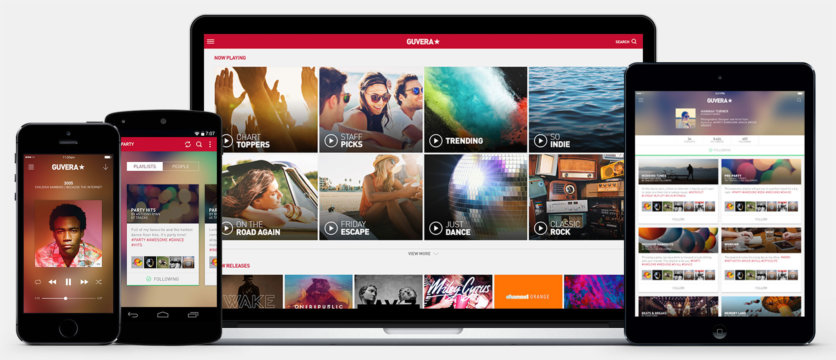 The FT reports that, should the Blinkbox deal be signed, 7Digital will power Guvera in the UK and Europe. If that's true, the transition will likely involve some pain: Blinkbox already runs its own respected tech system from London.
(For whatever reason, Tesco never decided to license this technology platform to others as a white label API, despite paying through the nose for it. Instead, the supermarket just used it to run Blinkbox. Which, one insider tells us, is "rather like buying an entire corner shop because you want a pint of milk".)
3) It does ads like radio does ads
Some record label execs are becoming increasingly unconvinced by the meagre royalties that they're seeing from the free tier of streaming services such as Spotify.
Free activity, as explained through here, makes up just 10% of Spotify's total revenue, despite claiming 75% of its active user base.
Guvera, though, reckons it's cracked this problem.
It argues that the ads on other streaming services aren't currently attractive enough to get commercial partners to pay good money in good numbers. Because, it believes, the offering to advertisers rarely makes sense.
Whatever you think of that, Guvera must be doing something right: it claims that its click-through rates on ads are above industry standards for video and display placements. And it's licensed by all three major labels.
The Aussie platform offers commercial partners 'contextual advertising' – just like you'd find on TV and commercial radio. Theoretically, only ads suited to a certain demographic will be played when that certain demographic listens.
How does it work? Advertisers tell Guvera the key attributes of the music they want associated with their brands, and Guvera's Pandora-like algorithm filters those songs into specific streaming radio channels – both in terms of audio advertising and display commercials.
"Out of all the streaming services, Guvera has come the closest to creating a platform where the advertising respects the context and vice-versa."

Simon Cole, CEO, 7DIGITAL
So, for example, in Australia and the Far East, you'll currently find a Red Bull channel on Guvera packed with what an enthusiastic marketing person might call "hi-octane" music.
And it gets even more sophisticated: travel company Kuoni's in-app Guvera ads seamlessly lead users to digital brochures for their premium getaways.
So when you're listening to evocative sunny reggae, you're also browsing holidays that you can buy, right there, in the Guvera app.
Will this music leave you suggestible enough to splash out on a week in Jamaica? Not important.
Will advertisers pay a premium for that kind of user engagement – and will labels and artists ultimately benefit?
Yes, Guvera says, almost certainly.
Simon Cole, CEO of 7Digital – and a commercial radio veteran – told MBW: "Streaming music services are in their infancy, and the ad-supported model is going through a rough patch at the moment because a lot of record companies seem to be against it. In reality, I don't think they are; what the music industry is really against is bad advertising models.
"You've got to have a service where the advertising respects the context – and where it delivers for the advertiser precisely because it respects the context.
"That's the right model. And out of all the streaming platforms to date, Guvera is the closest to getting it right."
And if Guvera can 'get it right' in the people-dense, spend-poor regions of Latin America, Russia, Spain etc., that could mean seriously big bucks for the music industry.
4) It doesn't need Apple or Google's hardware
In March last year,  Guvera signed a deal with Lenovo to get its music streaming service pre-installed on the firm's new tablets and smartphones across the world.
Lenovo is available in 160 countries, paving the way for an instant market footprint for Guvera all over the globe – wherever and wherever it wants to launch.

PC giant Lenovo is a heavily profitable company and the No.4 smartphone maker in the world, with a 5.2% market share.
According to research firm Strategy Analytics, Lenovo's market share in the global tablet business jumped in the third quarter of 2014 – up to 5.4%.
5) It's raised big bucks. All thanks to one man…

AMMA Private Equity (AMMA) is an Australian private equity house with offices in Sydney and Singapore. It's owned by Darren Herft, who also happens to be the Chairman & CEO of Guvera Limited.
According to his own LinkedIn page, Herft (pictured) has 'overseen the investment of (Aus) $60 Million-plus into Guvera' through AMMA.
6) … but it's needed them
Guvera began, like many tech start-ups, as a clever idea.

In 2008, Guvera founder Claes Loberg (pictured & still the company's head today) noticed that Australian broadband wasn't fast enough across the country to really serve HQ streaming efforts, so he innovated – creating a free ad-funded download service that was licensed by EMI and Universal. It launched in Australia in March, 2010 and in Beta in the US in the same month.
A lot of money was spent. According to Reuters, Guvera's 2010 New York launch party boasted performances from Alice Cooper and Mos Def, as well as "a 45-foot-tall ice sculpture of the word 'revolution', sequined burlesque dancers, and, naturally, a station of cigar rollers".
Over the next two years, the expenditure in these two territories didn't stop, but it didn't buy success: according to SMH, in the 2012-13 financial year Guvera recorded a loss of (Aus)$7.2 million on comparatively weeny revenues of (Aus) $149,000.
Obviously, that strategy couldn't continue. So in 2013, Guvera changed tack, looked into the markets that the music industry usually ignores, and thought big.
The company began setting the groundwork for quick expansion into Asia. And, by leaving the technical back-end to 7Digital and Omnifone, it freed itself to concentrate on nailing its contextual advertising USP.
Guvera now boasts comfortably in excess of a million users worldwide. Add Blinkbox to that equation and it's heading towards 2.5 million users –  becoming a serious player in the rarefied world of Spotify, Deezer and Rdio.

7Digital's Simon Cole (pictured), who struck his deal with Guvera in mid-2014, recalls: "I really liked two things about Guvera: the fact that they were embedded on all Lenovo phones – knowing the price point advantage that Lenovo have over the current market leaders – and also their clever ad-supported model.
"I came to 7digital from radio and have been surprised to see some of the relatively clumsy and unsophisticated ad supported models in streaming music."
He adds: ""There is no doubt in my mind that the Lenovo handsets will take the legs out from many of the high price incumbents.
"Guvera's move into Blinkbox, if confirmed, gives them a powerful existing platform to work from.
"We powered Guvera first in the Middle East and India, then Africa. And now… well, that would be speculation."
Wouldn't it just. Please, allow us…
7) It's taking the UK market

very

seriously. In fact, it's already set up shop.
It hasn't been officially announced, but Guvera has already established a European HQ in London.
A quick Google search for job listings in the city tells us all we need to know.

Clearly, Guvera has been ramping up its staff in the UK for months – and ramping up fast. Sources suggest it's aiming for a sales-heavy UK team of around 30 people by mid-2015.
If its buyout of Blinkbox goes through, Guvera's first task will be one it knows well: taming the balance sheet.
According to the FT,  Blinkbox made a loss of £4.5m on turnover of just £300,000 in the year to February 2013.
However much of that expense will have been racked up by Tesco's multi-million pound marketing campaign, plus the cost of running its own bespoke technology platform.
If Guvera can bring that under control, it could have just nabbed itself one of the biggest bargains in digital music history – and signalled its impressive potential in the hotly-contested global streaming race.
Game on.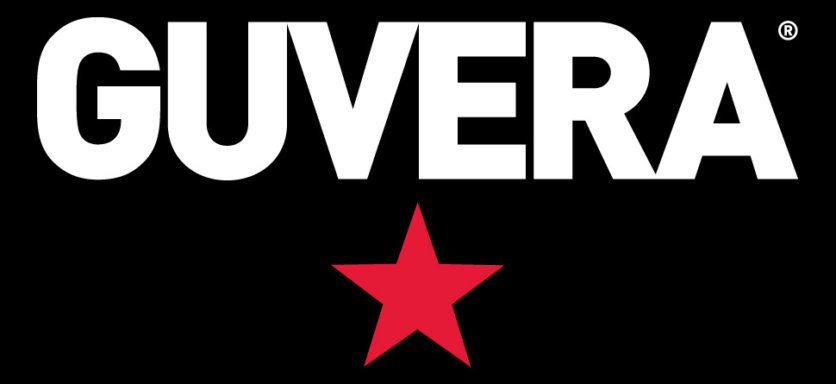 GUVERA: A story OF experimentation, then EXPANSION: 2008-2015
2008: Guvera is founded by Claes Loberg in Australia.
March 2010: Guvera launches in beta in Australia, as a service offering free music downloads. These downloads are legal – licensed by major labels Universal and EMI, but not Sony or Warner – and carry advertising. It appears to be a smart move in Australia, where broadband limits HQ streaming.
March 2010: Launches in the US with a flashy launch party. Only 100,000 users are allowed to trial the service. The platform has been quiet ever since in the States, but appears to still be available in some form. It's still in Beta.
August 2011: Appoints former Warner Bros, EMI and Virgin exec Phil Quartararo as its Global Head of Music.
January, 2013: Relaunches in its home territory of Australia as a free ad-supported service on Android and iOS. Other than Spotify, it's the only free streaming service in Australia – and the only service to offer free streaming on mobile.
May, 2013: It's announced that Guvera will now be based on Omnifone's cloud-based music platform MusicStation in new territories, as the company eyes expansion into Asia.
Feb, 2014: Guvera expands into Indonesia, partnering with local IT giant Skybee as well as Omnifone. The platform is billed as 'the first global unlimited subscription music service to offer a comprehensive domestic Indonesian catalogue as well as international content'. It's available on web, Android and iOS devices. In contrast to its freemium model in Australia, Guvera Singapore is a subscription service thanks to a restrictive 'agreement the team made with local Indonesian labels'.
March, 2014: Guvera inks a huge worldwide deal with Lenovo, meaning its app will be pre-installed on all new Lenovo devices in countries that Guvera is available.
June, 2014: Guvera signs new deal with 7Digital for an API to help bring Guvera to India and Middle Eastern territories and to 'rapidly expand' elsewhere.
July 2014: Shortly after launching its free tier, Play, Guvera teams with carrier billing specialist Codapay in Indonesia. The partnership means that users only need enter their phone numbers on Guvera's subscription page to enable the carrier billing option.
August, 2014: Launches in Malaysia, Singapore, The Philippines and Hong Kong. This takes its total markets up to 12: Australia, Hong Kong, Indonesia, Malaysia, the Philippines, the US, India, UAE, Saudi Arabia, Peru, and Chile.
The company now claims to have more than a million users globally. In Singapore, it hosts an exclusive pre-stream of two singles from local singer-songwriter Gentle Bones' latest work and offers two models: Play and Platinum. At US$9.59 per month, its Platinum tier is slightly pricier than Deezer and Spotify's local equivalents
November, 2014: Launches in India, powered by 7Digital. 12 million free tracks are made available via an ad-supported radio service on iOs and Android. "The Guvera service will offer millions of legally licensed tracks for both on-demand and ad-supported radio style streams." says Vice Chairman of Guvera, Michael de Vere.
November, 2014: Powered by Omnifone, Guvera also expands into Russia and Ukraine.
January, 2015: Reported to be buying Tesco's Blinkbox platform for somewhere in the region of £4m.Music Business Worldwide