With physical music sales grinding to a halt and the likes of Lady Gaga, The 1975, Alicia Keys and Sam Smith all pushing back major album releases in the past couple of weeks, the record industry is even more reliant on streams in a COVID-19-hit world than it would be usually.
As such, the week-on-week volume of streams worldwide has become a crucial indicator of the general popularity of music. (Although, it must be stressed, and stressed again, that a fall in volume of streams on platforms like Spotify and Apple Music doesn't equate to a fall in revenues from subscription streaming… so long as people aren't also cancelling their subscriptions.)
So, then, to last week:
The good news: Cumulative global streams of Spotify's Top 200 tracks in the last chart week (Fri, March 20 – Thurs March 26) actually increased by 3.0% week-on-week.
The not-so-good news: This small upturn was still the third lowest stream-count of 2020 so far, despite the blockbuster release of The Weeknd's After Hours album (pictured) on March 20.
The bad news: Italy – which, remember, was placed on Government-mandated lockdown on March 9 – posted its lowest Spotify Top 200 stream-count of 2020 last week, with 91.7 million plays in the seven days. That was down 4.9% week-on-week.
(All data here and below pulled from SpotifyCharts.com and analyzed by MBW.)
---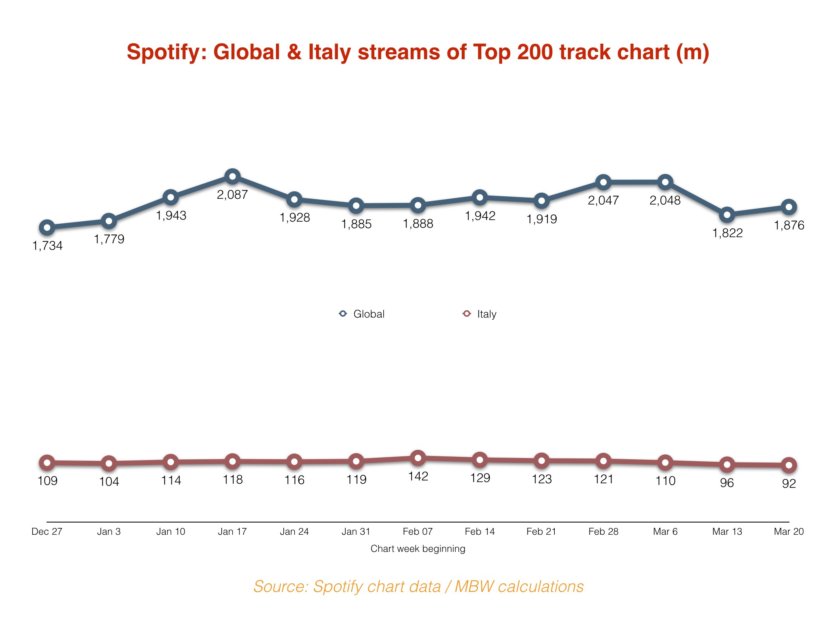 ---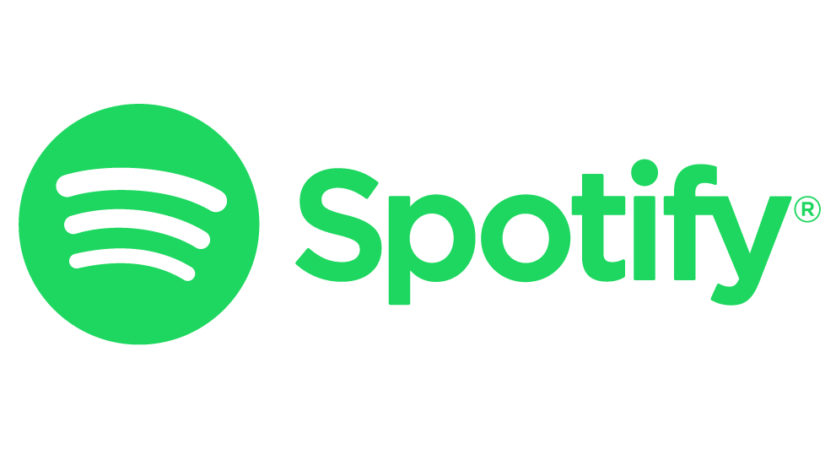 That global stream count in the last chart week (1.876bn) was up by 54m streams on the prior chart week (Friday, March 13 to Thursday, March 19).
However, some 171.29m of these chart eligible streams came via 11 previously-unreleased tracks from The Weeknd's After Hours album. (The arrival of the 14-track After Hours LP was preceded by the release of three tracks from the record – Blinding Lights, the album's title track and Heartless.)
Without these 11 new releases from The Weekend on Spotify's global chart, the week-on-week stream-count would have fallen by 9.1% to 1.705bn – the smallest of the year so far.
At this point, it's worth reminding you: this data is strictly of Spotify's Top 200 weekly tracks, and so offers us a useful indication of how the biggest hits are performing on the platform. It doesn't, however, show us data beyond this 200 list, into less popular releases and catalog, which is where the majority of Spotify's consumption actually takes place.
With that caveat ringing in your ears… let's look at the world's biggest recorded music market, the USA.
---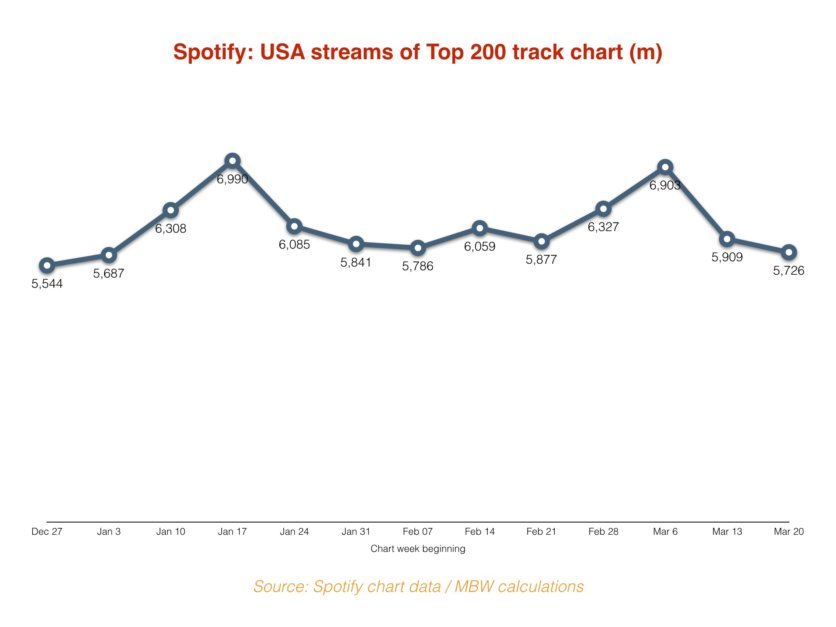 ---
As you can see, despite the release of The Weeknd's After Hours (and other big records from J.Balvin and Childish Gambino, amongst others), Spotify Top 200 streams in the United States fell last week, down to their second-lowest point in 2020 so far.
The week-on-week drop of 183m streams – or 3.1% – arrived in the first full week where US states such as New York were placed on full Coronavirus lockdown.
---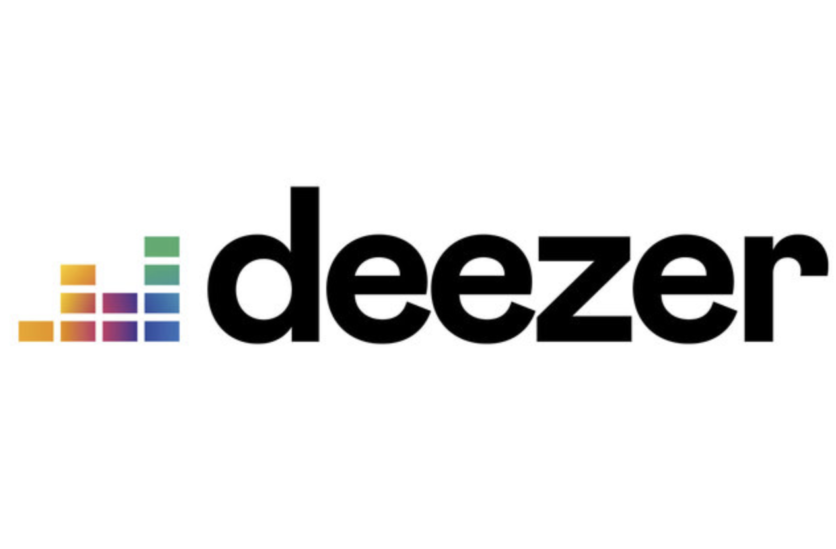 Any good news out there amongst this gloom? According to Spotify rival Deezer, yes – and it's all about waiting things out.
Deezer's data team have today published stats based on the streams of music, podcast and radio across the world between March 2 – March 22.
In a statement to media today, Deezer wrote: "We've seen from our data that people need around ten days to adapt to their new solitary life. Our data in Italy showed that although engagement levels dropped initially, it leveled out after the first week of lockdown.
"Elsewhere, countries like France are following a similar pattern. Following the lockdown announcement by President Macron on March 16th, we saw an initial decrease. However, around a week later, engagement levels have started to increase again. The UK may possibly follow this trend too."
The firm's research suggests that live radio listening overall boomed globally by 19% in the last two weeks, and that, in the last week, it increased globally by 2% again.
It also concludes that typical global peak listening in each territory on weekdays has shifted from 7am to 9am/10am.
"Peak streaming now happens one to two hours later than our normal morning time. And the difference between weekends and weekdays is more or less gone – every day looks like Sunday now."

Aurélien Hérault, Deezer
Deezer Chief Data & Research Officer, Aurélien Hérault, observed: "Home isolation means that people have to adapt to a totally new life. You have to keep your kids entertained, make sure to stay fit and still balance work and personal time. Our data shows us how people are adapting. Home devices are taking up the job of streaming audio.
"Peak streaming now happens one to two hours later than our normal morning time. And the difference between weekends and weekdays is more or less gone – every day looks like Sunday now."
He added: "The channel we've created to help people stay at home contains everything you need, from sports to meditation. And listeners have been embracing streaming as part of their wellbeing routine. Our editors are working non-stop to make sure that listeners always find fresh and relevant content on Deezer, no matter what day of the week it is."
Hérault noted three short-term future trends during the COVID-19 lockdown, and those of you left a little deflated by the graphs above might want to heed them:
Globally, we're relying less on our mobiles and more on home devices. This will probably continue to increase, especially in our European markets.

After an initial decline in the 'shock' stage, streams are expected to start increasing again. It will probably be some time before we are back to pre-crisis levels though.  

Contextual playlists and podcasts will continue to boom as they assist with our daily indoor life. Subjects like cooking, culture and fitness are set to become even more relevant.
Music Business Worldwide