Global music royalty collections were up for the second year in a row to €7.5 billion ($7.9bn) in 2015.
That represented an increase 8.5% on 2014, according to the International Confederation of Societies of Authors and Composers (CISAC) – although this figure was significantly boosted by favourable currency. (The increase stood at 3.5% at constant currency.)
Music accounted for 86.8% of CISAC's total royalties collected (€8.6 billion) — a figure that was also up 8.9% year-on-year.
Money collected in 2015 came from CISAC's 239 member societies, on behalf of the four million creators they represent around the world.
For the first time, mechanical rights data from Harry Fox Agency was included in the figures. 
The US firm, which represents 50,000 music publishing clients, was acquired by SESAC in 2015.
As such, the Canada/USA region posted a 33% rise year-on-year – 13.2% at constant currency – with a significant chunk of income derived from Harry Fox.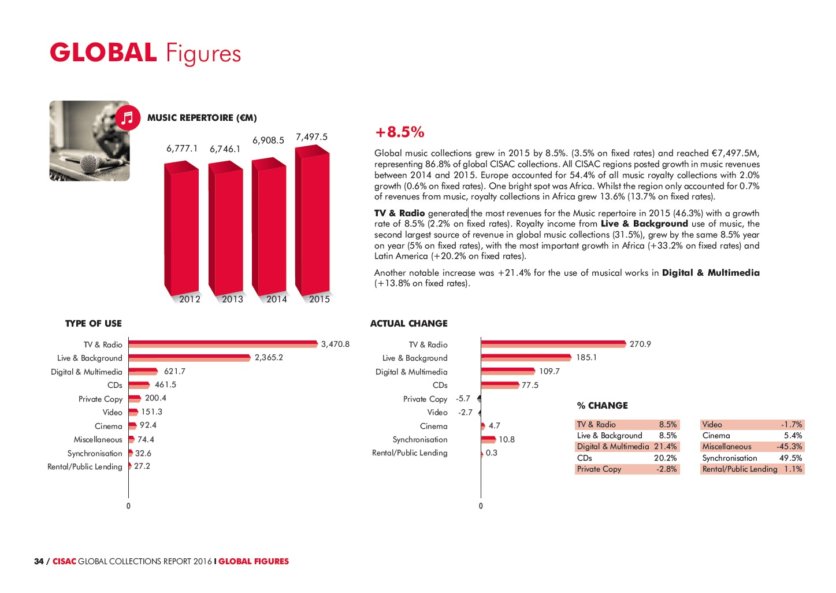 ---
The CISAC report features a special focus on the online market, bringing consolidated data from societies and music publishers in six key markets (US, Canada, UK, France, Germany and Sweden).
Collections from ad-supported digital audio and video platforms are included alongside subscription digital audio services and paid download services.
The report shows that subscription services is the prevailing model in terms of royalties paid to creators and music publishers in the US, UK, France and Sweden, while download services dominate digital income in Germany and Canada.
Collections from digital services jumped 21.4% last year and account for 7.2% of total royalties collected worldwide.
In the US, ASCAP, BMI and SESAC collected:
€65.5m from ad-supported audio services

€76.6m from ad-supported video services

€116.3m from subscription services

€95m from download services
Royalties for public performance rights posted a growth rate of 9.1%, climbing to €6.8 billion and accounting for 78.8% of overall collections.
Other repertoires also experienced strong growth with audiovisual royalties up 15.1% and royalties for visual art increasing 27.4%.
Music Business Worldwide