Influential financial group Credit Suisse has released a very optimistic report on the future of the recorded music business – in which it suggests Universal Music's valuation should be raised to 10 billion euros.
In its new Global Music report, Credit Suisse says it expects "a rapid shift in music consumption towards paid streaming will drive a period of structural growth in the industry and refocus investors on the value of owning music content".
Credit Suisse's analysis suggests that the global recorded music industry will return to sustainable growth in 2016 thanks to the proliferation of streaming services. It says this assumption is "based on streaming penetration rising to 20% of the adult population in the top 10 music markets, not aggressive given Sweden and Norway are already at 19%-24%".
It adds that, when investors have looked at entertainment media content markets in recent years, they have been drawn to TV and film.
"This is partly because it appears the owners of music content IP (record labels and music publishers) have many years of migration from physical to digital formats in front of them, and look weakly positioned to control the economics of digital distribution because they currently rely on a single digital aggregator, ie. Apple," says Credit Suisse.
"[But] we think a major change in music consumption is under way – the emergence of paid music streaming services – which will substantially enhance the competitive position and profitability of the three remaining music majors."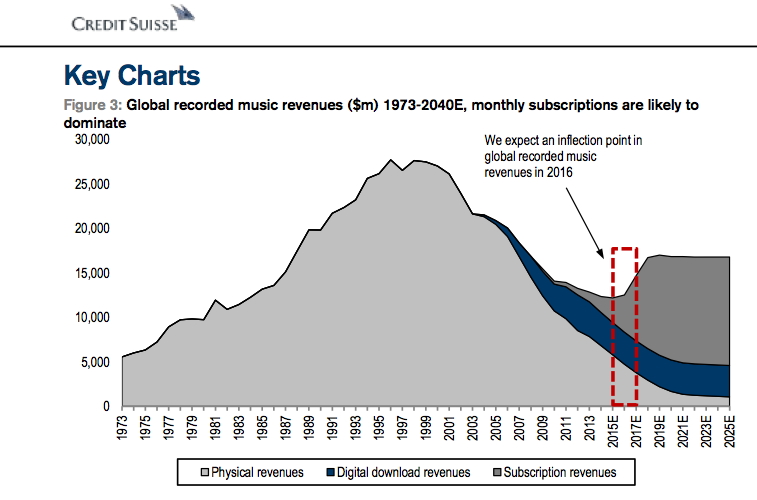 Later in the report, Credit Suisse explains the three main reasons it's so optimistic for a streaming future:
A subscriber to Spotify, Deezer or Beats Music generates 2.4x the annual revenue ($120 pa) for the industry than that generated by the average purchaser of physical or digital music ($50) (source: BPI);
Because margins earned by the music industry on paid streaming revenues are substantially higher than both physical and digital download revenues, a migration of music consumption towards these platforms should be significantly accretive to music industry margins;
The 'access' model offers more utility to the consumer, including music discovery at zero marginal cost and access to shared playlists – we think this model stands a good chance of encouraging some of the 50% of consumers in developed markets who pay nothing for music today to do so for the first time.
The upweighted Universal valuation is a conclusion from a sister report, whose name says it all: Music – The Forgotten Content Growth Story.Music Business Worldwide