The following MBW column comes from Eamonn Forde (pictured inset), a long-time music industry journalist, and the author of The Final Days of EMI: Selling the Pig. His new book, Leaving The Building: The Lucrative Afterlife of Music Estates, is out now via Omnibus Press.
---

Can you put a value on just how much you like The Beatles?
Is it an Alan Partridge-esque "The Best Of The Beatles" way?
Or an "everything between 1965 and 1969" way?
Or an "all the albums – in mono and stereo" way?
Or an "I am happy to pay £725 for a pair of Get Back joggers that, if worn in public, would lead people to think that I actually despise The Beatles and I am using my legs to mock them" way?
---
2021 was unquestionably a big year for The Beatles (or, more specifically, The Beatles' brand) and, given the scale of the operation, it was no surprise that at every turn there was a cash register ready to ring out.
Peter Jackson's Get Back has rightly been hailed as a triumph, achieving the impossible by making a band – a band that has not existed (let's gingerly skip over Free As A Bird) for half a century and yet are omnipresent in our culture – seem utterly fresh and even more relevant.
One does not wish to criticize an act for making money yet the vertiginous scale of the commerciality on display here has given cause for one's jaw to drop so regularly in recent weeks that gravity may now have permanently (Pete) bested it.
The warning signs were all there before the Get Back bonanza really got started.
"Given the scale of the operation, it was no surprise that at every turn there was a cash register ready to ring out."
In April, a deluxe edition of John Lennon/Plastic Ono Band went on sale for a whisker under £100. 
In July, Paul McCartney released his reworking of McCartney III in a £60 box set that came with dice, pencils and a notepad.
Not to be outdone, the estate of The Quiet One were less than quiet in August when selling a raft of different iterations of the reissue of George Harrison's All Things Must Pass that reached a crescendo with a version that sold for £859.99. That is a hell of a fan tax, man.
Ringo's solo career, it should be said, was not held upside down by the ankles this year, all the better to shake out anything that could pad out an expensive box set. Small mercies.
Then there was Paul McCartney's hefty lyrics book that went for an equally hefty £75. 
These were all, however, a mere commercial amuse-bouche before the main banquet which was the Get Back three-part documentary on Disney+.
That, of course, coincided with the reissue of Let It Be across multiple formats, like a picture disc LP version for £34.99, a super deluxe CD version for £109.99 and a super deluxe LP edition for £129.99. (They missed a trick by not selling a version for £919 because that, as a price point, is the one after £909.)
Oh, and there's a tie-in book for the Get Back documentary that will set you back £40.
---
Yet even these were all a bagatelle compared to the clothing line created around Get Back by Stella (unusual surname, this) McCartney.
This is where The Beatles are pushing the notion of D2C to breaking point.
Goodness knows I am not well versed in the sartorial, but I am left scratching my head as to: (a) who would ever have the money for anything in this "capsule" collection; (b) who would ever want anything in this "capsule" collection; and (c) who would ever wear anything in this "capsule" collection.
The cheapest – the cheapest! – item you can buy is a pair of socks that cost £70. Seventy pounds. Not seven. Seventy. Seven. Zero.
"The cheapest – the cheapest! – item you can buy is a pair of socks that cost £70. Seventy pounds."
There is a silk scarf for £225. There's what is termed a "cropped cardigan" for £895. A pair of sweatpants (that looks like a TV that's been dropped so often the picture won't align) for £475. How about a tote bag – a tote bag! – for £495? Could you be tempted by a bucket hat for £225?
Or, if you are feeling flush (!), there is a panelled knit coat for £1,350 or a satin bomber jacket for £1,795. A snip.
Were you to buy one of everything in this collection, it would cost you £12,840.
---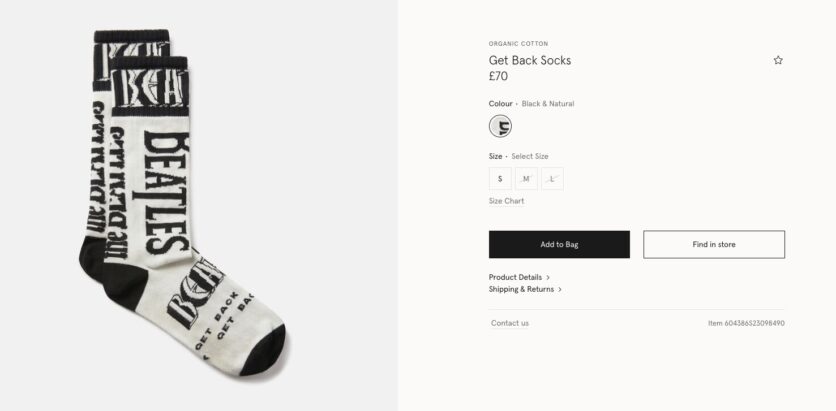 ---
There are a lot of people in the Beatles cinematic universe and nothing gets done without full approval from all the partners. Just chew over that for a moment. Everyone – everyone! – in the Beatles world thinks these are things fans could and should buy.
Why should anyone care? People can buy whatever they want and artists can sell whatever they want, right? No one is forcing anyone to buy anything here. Welcome to capitalism, noob.
Yes, that is all entirely and eminently true. But it is what this represents that is important here. It is not about a money grab by The Beatles per se, but rather that they – as in so many things – act as a lightning rod to tell us where exactly D2C is and how the edges of it are being stretched. In this case, we can see The Beatles (or, more precisely, their D2C strategy) as a metonym for D2C in general.
"The Beatles are not exactly late to D2C, but they are showing just how far it can be pushed."
The Beatles were pioneers in their time but everything that has followed their split has been done cautiously. They typically only move into new areas when they are well established and commercially proven. Musically in their time they were glorious outliers and fearless pioneers, constantly smashing boundaries; in their afterlife it is about, in business terms at least, joining the consensus.
They were famously (or fashionably) late to the CD, not reissuing their albums on the format until 1987. They were also late to downloading, not arriving on iTunes until 2010, seven years after Apple started selling music there. And it took until the closing days of 2015 before their music was on streaming services.
They are not exactly late to D2C, but they are showing just how far it can be pushed. You have to admire the sheer audacity of actually making these things and actually charging actual money for them.
---
D2C became a lifeline for many acts in lockdown, keeping their heads above water when touring was cancelled. That helped normalize it for many consumers who learned that buying direct from the act was the best way to support them. Now it's been hyper-commercialized. All bets are off.
What The Beatles have done this year hints at how far acts can potentially now go with D2C – especially the acts who need the money least.
Maybe it's all revenge for the terrible merchandise deals that Brian Epstein did in 1964 as Beatlemania hit the US, where he thought 10% was a jolly fair price to ask from licensing partners (primarily as he saw the whole thing as a blasted inconvenience anyway and would rather have someone else deal with all that).
Or possibly it's what the disastrous Apple Boutique was supposed to be in terms of creating fashion lines that actually made the band members money rather than being a great folly and financial sinkhole that needed to be shut down yesterday. Who knows?
"they are arguably making up for lost time (or, more realistically, lost dime). So you can't really begrudge them that, can you?"
As anyone who has read Pete Doggett's fantastic You Never Give Me Your Money: The Battle For The Soul Of The Beatles book will know, the band were occasionally shockingly bad at business decisions. When they eventually split, they left behind immense financial and organisational chaos that took decades to unravel and tidy up.
Equally, if you have read Richard Dilello's The Longest Cocktail Party, Derek Taylor's As Time Goes By or Denis O'Dell's At The Apple's Core, you will know that the band and those around them were incredibly gifted at spending money – often spending more than they actually had coming in. Maybe their two famous compilations should be renamed the In The Red and the In The Black albums.
Now they are arguably making up for lost time (or, more realistically, lost dime). So you can't really begrudge them that, can you?
Ultimately where all this is leading is that all of those ideas that Magic Alex promised The Beatles in the late 1960s might finally now be made and sold via D2C.
We can hopefully look forward to things like official Beatles wallpaper that works as speakers, "a toilet with a radio in it" (according to George Harrison) and electric paint that changes the colour of your car when you brake.
This is the time to open the Official Magic Alex D2C store.
Come on, The Beatles. If not now, when?Music Business Worldwide