Good news coming out of Germany: according to projections from BVMI and GfK, the country's recorded music business turned over €1.48bn in 2014, up 1.8% on 2013.
This puts clear water – over €100m of it – between the value of the country's record business and the UK's, which turned over £1.03bn (€1.33bn) last year.
As you can see in the graph below, Germany's recorded music retail value finally overtook the UK in 2011 – and its never looked back since.
One factor is the resilience of its physical market; CDs and vinyl accounted for around 75% of all revenues in Germany in 2014. The decline of all physical formats slowed – down just 1% on 2013.
The German digital business's value jumped 12% in 2014, but a more detailed breakdown is not yet available – final market data will be published in March.
Sources suggest that downloads will have fallen by a single digit percentage in unit terms.
Germany's performance rights collection body, GEMA, is world-famous for effectively blocking YouTube from playing many major music videos in the country.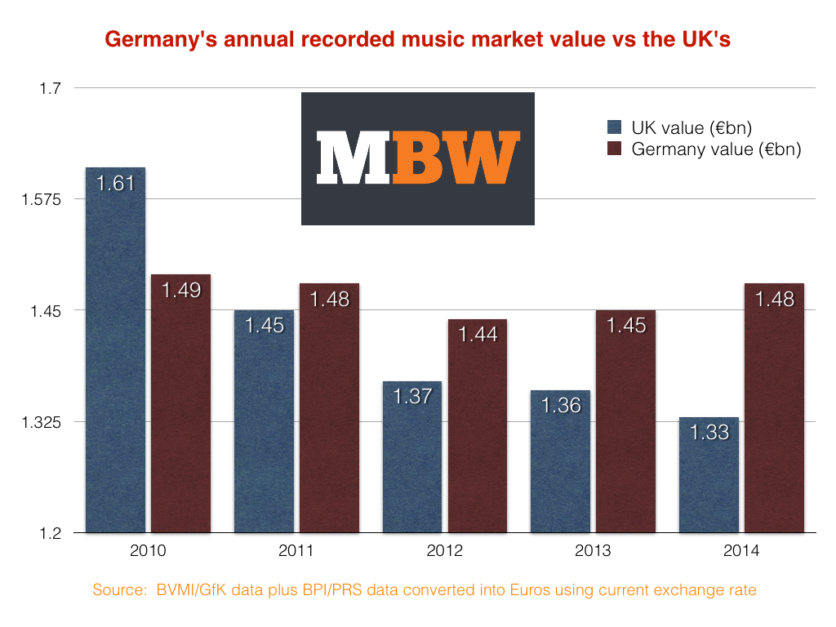 As in the previous year, seven of Germany's ten most successful albums were made by German artists.
BVMI boss Dr. Florian Drucke (pictured), said: "These are still preliminary figures, but this is good news and a tailwind for the year ahead. We had a strong holiday shopping season and we can see the still (almost) unrestrained passion of German music fans for physical product, as well as the simultaneous increase of digital exploitation.
"This shows that the current – legal! – diversification strategies of the industry can inspire paid music consumption. It is therefore important and right to use the digital space to embrace further. "
Dr. Mathias Giloth, Managing Director, GfK Entertainment added: "Whether pop, rock, pop, hip-hop or electronic, the past year was very mixed and had something for every taste. Streaming, which has been part of the official singles chart since 2014, has further strengthened its position as the third pillar alongside physical products and digital downloads. And even the "good old" vinyl disc has seen double-digit gains in recent years."
nb. Graph above shows annual retail valueMusic Business Worldwide