Germany's recorded music market grew in value by 3.9% in 2015, according to new stats from local commercial body the Federal Music Industry Association (BVMI).
The performance saw the country pull ahead of the UK as Europe's biggest recorded music sales territory.
Total turnover from music sales in Germany hit €1.54bn in 2015 – the first time industry income had surpassed the €1.5bn barrier since 2009.
Streaming was a key driver for the growth, up 96.6% on 2014 in income terms.
Meanwhile, the physical market fell 4.2%, as download revenues dropped by just 2.6%.
Combined, digital music – across streaming and downloads – accounted for 30.9% (€475.9m) of the overall German market in the year, with physical (CD, vinyl, DVD/Blu-ray) claiming a 69.1% (€1.06bn) share.
Vinyl revenues increased 32.2%, and now claim 3.3% of the overall German market.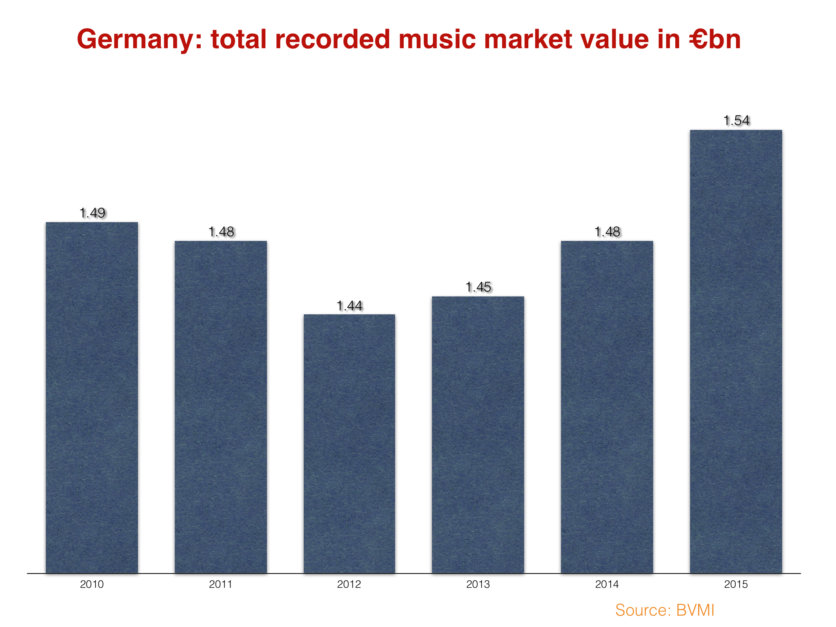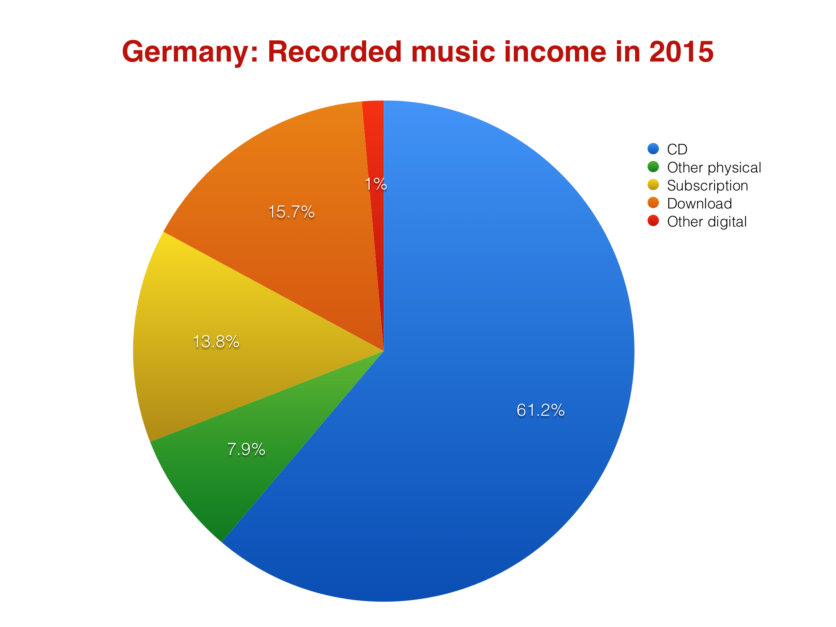 The BVMI didn't give cash figures for each format (they're coming in March) but MBW estimates – using last year's official figures – suggests the following:
Subscription streaming was worth approximately €213m in 2015, up on €108m in 2014
Album and track downloads were worth approximately €239m in 2015, down on €245m in 2014
CDs alone were worth approximately €942m in 2015, down on €985m in 2014
The UK recorded music market turned over £1.059bn in 2015 (+3.5%), which at current exchange rates works out at €1.38bn.
That's around €160m behind Germany's revenues for the same year.
Germany is the world's third biggest recorded music territory by value, according to the IFPI – behind Japan (No.2) and the US (No.1).
The UK stands at No.4, having been overtaken by Germany back in 2010.
Eight of the top 10 albums on the Official German Annual Charts in 2015 were German-language – a new record.
BVMI Managing Director Dr. Florian Drucke noted, "2015 was a very important year, especially for music from the cloud.
"Streaming services enjoyed yet another clear boost, no doubt due to the considerable media attention they have received.
"As the high growth dynamic shows, streaming services are now reaching a broader public.
"At the same time, 2015 confirms that Germans are across-the-board users; that is, they take advantage of all possible usages: In addition to streaming, vinyl continues to grow significantly, while CDs remain at a considerable 61.2% portion of sales".
[Pictured: Adele's Hello, which was the No.1 single in Germany for the last nine weeks of 2015]Music Business Worldwide