France's recorded music market grew its revenues by 5.4% in 2016, with total annual sales up over €23m year-on-year to €449.56m.
You might want to keep that champagne on ice, however, as we dig further into that topline figure.
According to data from SNEP (following up more generous preliminary estimates from last month), physical music sales were the biggest earner for the market in 2016, falling 2.5% to €267m.
The second biggest money-spinner was streaming, where – across ad-funded and subscription, as well as video and audio – revenues jumped 37% to reach €143.6m.
That is certainly positive news, but surely dampened by the fact that streaming's year-on-year growth in 2015 was significant higher, standing at 45%.
Regardless, this is still the first significant growth in France's recorded music market for over a decade… although this fact should itself also be tempered by the knowledge that 2016's total revenue haul (€449.6m) is less than half the annual sales tally France chalked up in 2005 (€966m).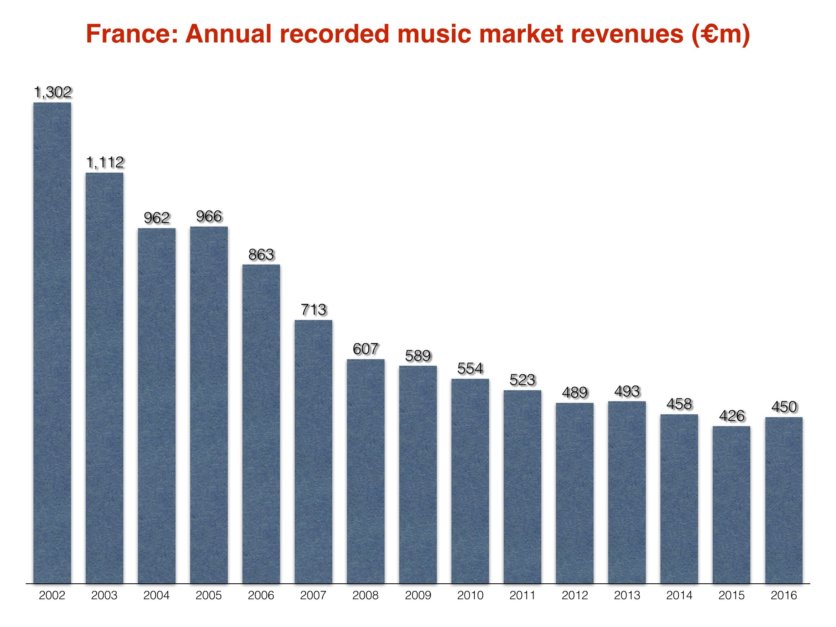 Other key stats from SNEP today:
2016 saw 3.9m music subscribers in France, a figure which has doubled in two years, and digital now represents 41% of the French market – up 5% on 2015;
Total streaming alone represented 32% of the French market in 2016, with physical sales claiming over 59%;
81.6% of that total streaming revenue (or €117.1m) was generated by subscription services;
Downloads, as expected, had a torrid year, with revenues falling 22.3% to €33.2m;
Total digital purchases (including ringtones) fell 18.7% to €39m.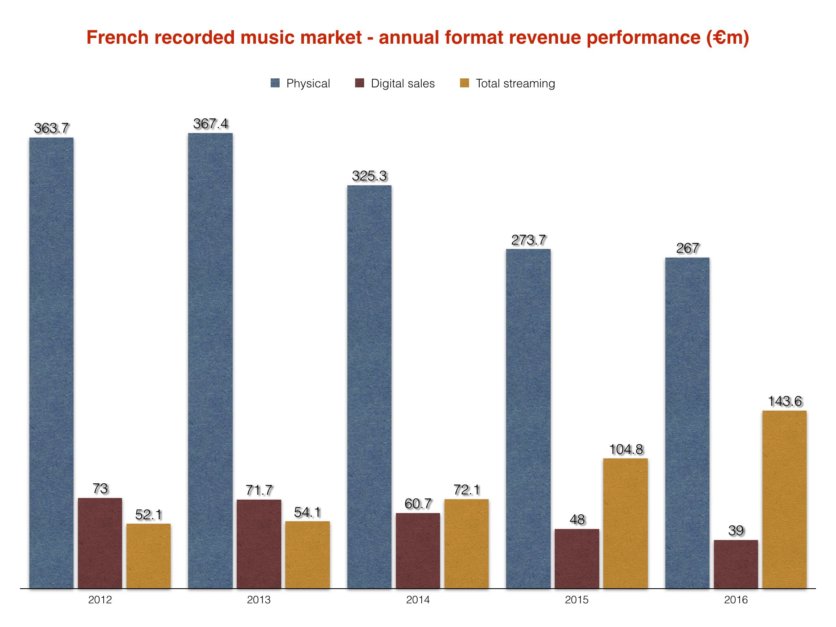 Thierry Chassagne, President, Warner Music France, said:  "The market growth we saw in France in 2016 is extremely encouraging.  We see that streaming is helping to drive the market forward, but big releases by artists such as Renaud (pictured) helped keep the physical market more robust than it is in many other countries.
"So we remain a portfolio business, offering great music to fans in formats from vinyl to streaming.  And in a world where hits can come from anywhere and translate everywhere it is great to see that French music exports surged in 2016 led by the success of artists such as David Guetta."
[Worth mentioning the figures in this story and below do not include performance licensing/neighbouring rights income.]

Music Business Worldwide