The idea of 'windowing' a release – so that only certain listeners can stream an artist's new work for a set period before it goes live everywhere – was all the rage a few years back.
Example: When Spotify and Universal Music Group inked their renewed 2017 global licensing deal, Daniel Ek proudly announced that UMG artists could now "choose to release new albums on premium only for two weeks, offering subscribers an earlier chance to explore the complete creative work, while the singles are available across Spotify for all our listeners to enjoy".
For whatever reason, though, discussion around (and industry interest in) windowing – in the Western music industry, at least – quickly petered out.
Outside of China, today the prospect of an artist making new material only available to paying 'super-fans' on streaming platforms is rarely discussed in the music biz, let alone demanded.
But when you look at things logically, with a dash of sensible hindsight, this development is a bit of a head-scratcher.
Five years ago, one big argument against exclusively 'windowing' an artist's release was that it could potentially harm the fragile growth of streaming subscriptions globally – or even drive fans to free and/or illegal music platforms.
As 2017 began, there were only around 112 million users of subscription accounts on audio streaming platforms worldwide (source: IFPI).
Yet today, in 2022, things already look very different.
There are now comfortably over half a billion users of subscription streaming accounts globally, for one thing.
Plus, in the face of macro-economic headwinds and slowing global subscription growth, the music industry seems to be continually asking itself: How can we better monetize existing streaming users, especially those who are super-fans of certain artists?
Audiomack, the streaming and discovery service that now reaches more than 20 million monthly users, believes it might have the answer.
---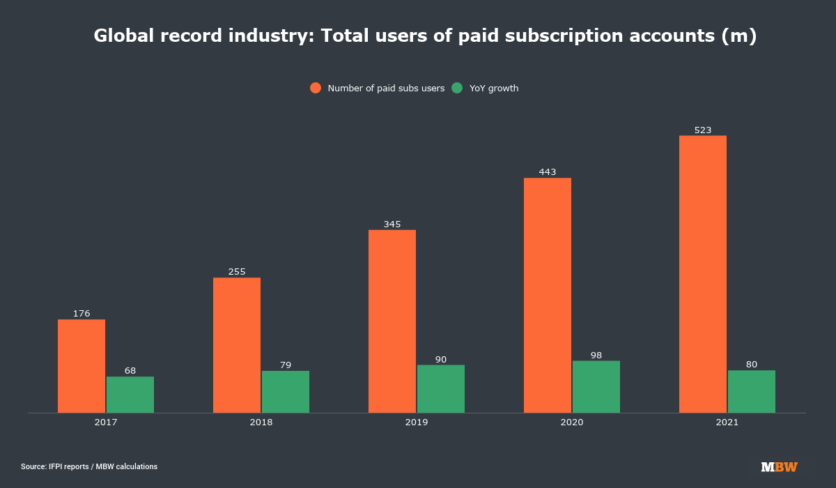 ---
This week, Audiomack rolled out its new 'Premiere Access' feature, which enables artists to reward their biggest fans with early access to not-yet-officially-released music.
Those artists can trigger 'Premiere Access' on their unreleased track/album by selecting the feature when they upload their work to Audiomack, while also choosing the duration of the pre-release access window they'd like to grant their biggest fans.
To be eligible for 'Premiere Access', artists have to have enrolled in the Audiomack Monetization Program (AMP).
Once this has been completed, an act's super-fans are able to see that 'Premiere Access' is available for an upcoming track or album.
To unlock that access, these fans have to become 'Supporters' of the artist in question. 'Supporters' is a feature that Audiomack launched late last year, in tandem with partners such as Warner Music Group. It allows fans on the platform to directly monetarily contribute to songs and albums from the artists they love.
"Music companies have the opportunity and obligation to enable creators to explore diverse means of monetization and help realize their work's financial potential."

Charlie Kaplan, Audiomack
Discussing the launch of 'Premiere Access' this week, Audiomack's VP of Product, Charlie Kaplan, said: "Artists deserve the most powerful tools possible to build their work into financially thriving enterprises.
"Music companies have the opportunity and obligation to enable creators to explore diverse means of monetization and help realize their work's financial potential."
Audiomack launched the Supporters feature in December 2021 with several top-performing artists on the platform, including Nigerian producer Pheelz, Nigerian rapper Laycon, and US singer Almira Zaky.
According to Audiomack, over half of all independent artists using the Supporters feature have since increased their earnings by at least 30% via direct fan contributions.
Over 25,000 artists on the platform have received direct payments from fans on Audiomack since 'Supporters' was launched eight months ago.
To enable fans on Audiomack to become Supporters, artists must apply for and gain access to the Audiomack Monetization Program (AMP), or distribute their music to Audiomack through one of many participating partners, including but not limited to Warner Music Group, Amuse, AudioSalad Direct, DistroKid, EMPIRE, FUGA, Stem and Vydia.
As of January 2022, Audiomack was the top-ranked music streaming app on Apple's iOS in Nigeria, Ghana, Tanzania, Senegal, and Kenya.Music Business Worldwide