Each Friday, The MBW Review gives our take on some of the biggest news stories of the previous seven days. This week, we take a look at the biggest new release for years: Adele's 25. And those jaw-dropping comments from Jimmy Iovine. The MBW Review is supported by Believe Digital.
---
This is it.
The moment we find out if recorded music can still cut the mustard as a blockbuster proposition, or if it's been rendered a commercial also-ran to movies, TV and video games.
The moment the album proves that the unbundled track culture unleashed by iTunes 12 years ago has failed to vanquish its relevance.
The moment an entire industry looks to one release, one woman, to remind the great unwashed of the thrill of new music.
So far, the signals are positive: MBW understands that a million units of Adele's 25 have been shipped into retail in the UK, while Billboard reports that 3.6m have followed suit in the US.
Optimistic sales forecasts suggest she'll shift more than 3 million across both territories in 25's first week – 700,000 in the UK and 2.5m in the States. (One UK retail source told MBW: "200k would be a disappointment. 400k – 500k would be good. 700k+ would be great.")
To put that into context, the last album anywhere near as anticipated as 25 on British shores – Oasis's Be Here Now in 1997 – sold 700,000 in its first seven days in the UK, but only 150,000 in Uncle Sam's backyard.
The pressure on Team Adele to deliver the right album, in the right way, has been immense.
Beggars/XL, September Management and Sony aren't only shouldering market prosperity and the hopes of rights-holders everywhere.
There is history to consider. Legacy. Myth.
(If it's true that Adele has signed direct to Sony/Columbia for her fourth album, with all of the ambitious corporate forecasting that will entail, the stakes could, unbelievably, be set even higher next time round.)
As 25 release day mania swirls around us, Team Adele's streaming strategy has become conclusively apparent: absolutely zilch.
25 is not on Spotify, Apple Music or any other non-sales audio platform.
For all the Christmases it will soundtrack, all the milestones it will mow down, 25 didn't convince Spotify to scrap its controversial policy of never allowing certain music exclusively onto its premium tier.
None of this should be a great shock.
Adele isn't really in the music business. She's in the Adele business. Common rules do not apply.
By definition – just look at how many sales it usually takes an LP to hit No.1 – the majority of her paying audience simply don't buy records very often.
The likelihood that they will be frantically torrenting her latest opus – Spotify's bulletproof argument for day one streaming – seems emphatically redundant.
Not that Beggars hasn't got its work cut out on a far more mainstream, ahem, 'promotional' platform.
Earlier this week, YouTube claimed that its service is actually helping drive sales of Adele records.
"[YouTube] has provided an incredible source of promotion for artists, helping fuel ticket sales… and boost album and song downloads," it said in a blog post.
"Adele's Hello became the fastest rising video of the year on YouTube, while also breaking the record for first week download sales."
Hmmm. You have to wonder, without interjection from Beggars/Merlin's meticulous takedown team, quite how much the below would have 'fueled album downloads' this morning…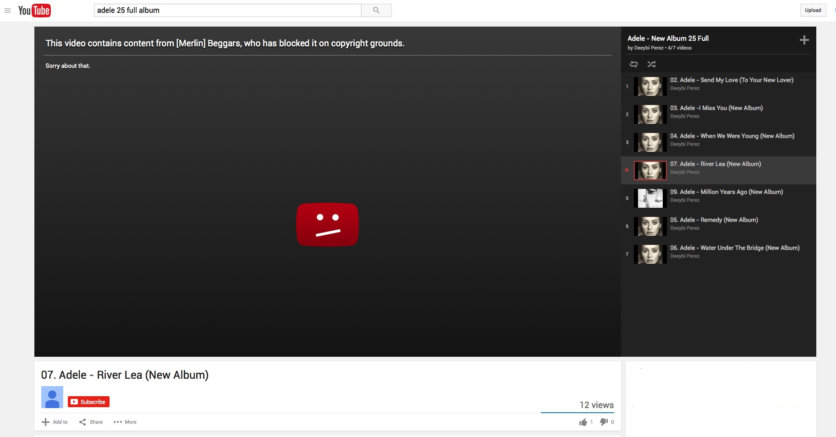 After all of the will-she-won't-she streaming cacophony in the lead up to 25's arrival, Adele's answer was an unwavering, uncompromising 'no'.
It's a sound we've gotten used to hearing from those million dollar vocal cords.
Perhaps even beyond her ability to pump masses of money into music biz coffers, the Tottenham star's penchant for corporate refusal could prove her most significant contribution to our business.
The seeds of paranoia sown by the devastation of major label income over the past 15 years, combined with a quick-fix quarterly bonus mentality, has spawned an unhealthy culture of over-exposure and some grabby hands at the jumbo end of the music industry.
Adele sees things differently. She doesn't want to do associate herself with anything that's a bit naff, or which will require more effort than it's worth.
Even if there's a lot of zeroes attached to it.
This is exactly how a superstar should behave. It demonstrates a natural aversion to desperation – something that's literally become a crucial element of Adele's business model.
"What have I said no to? Everything you can imagine," she recently said in an interview with The Guardian.
"Literally every-fucking-thing. Books, clothes, food ranges, drink ranges, fitness ranges… That's probably the funniest.
"They wanted me to be the face of a car. Toys. Apps. Candles. It's, like, I don't want to endorse a line of nail varnishes, but thanks for asking.
"A million pounds to sing at your birthday party? I'd rather do it for free if I'm doing it, cheers…"
Maybe the question the music industry should be asking about Adele today is not what she'll sell.
Nor is it how she'll distribute her new record, who's written her new record or which big-name sponsor will stump up the tour support needed for her to belt out her new record live on stage.
It is simply this: what were the conditions that made her phenomenon possible, and which ensured that the thing people love even more than Adele's music – her abundant authenticity – could remain intact?
Most are an anathema to modern mega-scale music biz thinking.
Here's a handful: (i) A small, sensible signing fee for her first album, which put no pressure on her to define her sound and audience too early – a sound which was allowed to gently metamorphosise into the stylish crestfallen soul of 21; (ii) A complete blackout of dodgy and irrelevant 'brand partnerships'; (iii) Never playing a festival stage, something she simply doesn't feel fits her style; (iv) Taking four years to release a follow-up to an album so massive, it's now on the cusp of over-taking Sgt Peppers in UK sales terms; (v) Barely speaking to the press in that entire time; (vi) Not doing what Bob Geldof wants.
All of these decisions have helped accentuate the purity of Adele's extraordinary talent.
They are oddly rare in the won't-someone-please-notice-us-now-right-now addiction of the music business's bulkiest players.
Clearly, September Management's Jonathan Dickins and XL/Beggars can take a heck of a lot of credit for bravely ignoring commonplace music business pathways. (Dickins once quipped that managing Adele was easier than you'd think – it's simply a case of picking up the phone and saying no 99.9% of the time.)
Beyond all of this, though, lies one asset that's proven impossible to replicate: Adele Adkins.
In a sometimes depressing me-too A&R environment, no label has yet been able to find anything like its 'own Adele'. (Aka: Someone Like Her.)
Sam Smith's multi-platinum-selling trajectory has smartly cherry-picked from Adele's career peculiarities – zero iffy brand partnerships, a Bond theme etc. – but it's no blunt copycat job.
Otherwise, nadda.
For those that care about the ongoing health of the recorded music business, this widespread inability to photocopy or iterate upon Adele's oeuvre is probably heartening and petrifying in equal measure.
Whatever happens with 25, whichever capitalistic heights it scales in the coming days, cherish this moment.
The rife public excitement around a one-off album, the keenness of hundreds of thousands to clutch a piece of plastic with a disc inside.
The infatuation.
We genuinely may never see its like again.
---
Just a brief note on Jimmy Iovine's remarkably contestable comments from yesterday.
If you haven't heard, he said this to CBS: "So I always knew that women find it very difficult at times – some women – to find music. And this helps makes it easier with playlists, curated by real people."
And then he said this: "I just thought of a problem: girls are sitting around talking about boys, right? Or complaining about boys! When they're heartbroken or whatever…
"They need music for that, right? It's hard to find the right music. Not everyone has, you know, the right list… or knows a DJ."
He's since apologised.
Amongst the understandably outraged coverage elsewhere, I've noticed a propensity to talk of Jimmy as 'a music business veteran'.
This is true. But there's an important distinction to be made.
Jimmy Iovine doesn't work for the music industry anymore. He runs a technology business.
So, sorry, but this one's on those guys now.
He's all yours.
---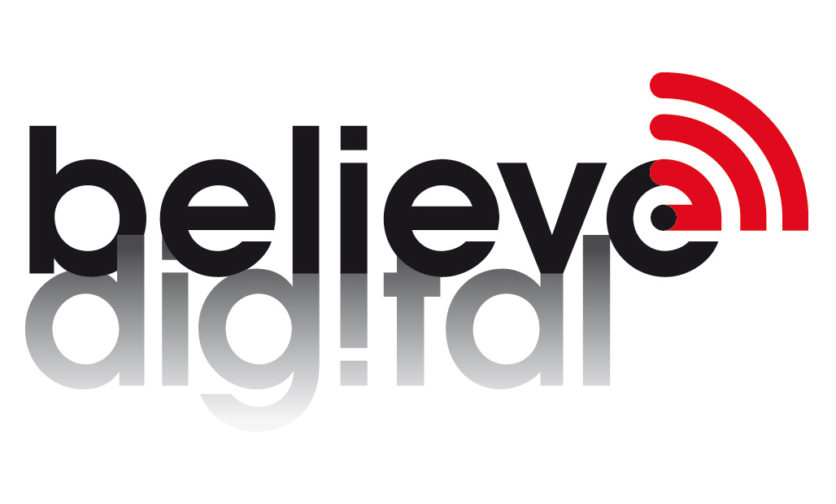 The MBW Review is supported by Believe Digital, a leading independent digital distributor and services provider for artists & labels worldwide. Believe empowers artists and labels to maximize the value of their music with a full suite of services. Championing innovation and transparency throughout its ten-year history, Believe prides itself on providing tailor-made services for each label and artist. Visit believedigital.com for more details.

---
Music Business Worldwide