As we've already covered, Ed Sheeran got off to a blistering start on Spotify with pair of his comeback singles on Friday (Jan 6).
He's not done yet though… because their playcount is growing.
On release day, Castle On The Hill racked up 5.63m streams on Spotify, enough to trump the previous one-day record held by One Direction's Drag Me Down – which accumulated 4.76m daily streams in August 2015.
Castle On The Hill didn't ever hit the record books, however – because Shape Of You was even bigger.
The poppier of the two tracks logged 6.13m Spotify streams on release day – a 29% increase on One Direction's record-setting tally.
---
On the second day of Sheeran's releases, another record was broken. His own record.
Castle On The Hill added 5.02m streams on Saturday (Jan 7), actually down 608,002 on release day.
But Shape Of You once again made history.
According to stats displayed on Spotify's global chart, SOY racked up another 6.58m Spotify streams on Saturday, up 458,797 on the previous 24 hours.
---
Even this, however, didn't represent Shape Of You's full potential.
After a small dip in daily plays for both songs on Sunday (Jan 8), they were both back with a bang yesterday.
According to the latest 24-hour stats from Spotify, Shape Of You logged 7.24m streams in 24 hours on Monday (Jan 9) – 7,240,930, to be precise.
That was a full 10% up on Sheeran's previous record (set on Saturday), and a massive 52% jump on One Direction's original record-setting streaming tally from 2015.
Castle On The Hill was up on Monday compared to the previous day, too, managing 4.83m streams (4,828,158).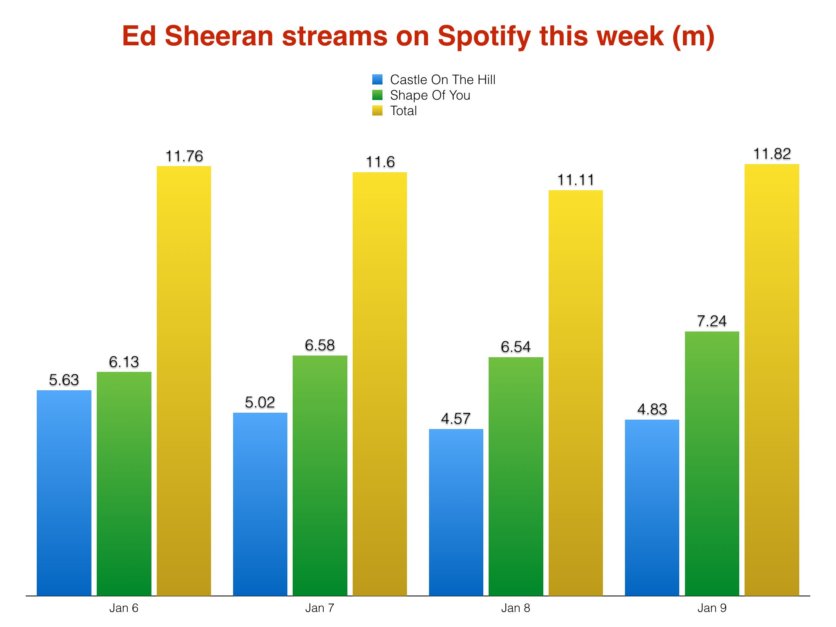 ---
Across its first four days on Spotify, then, Shape Of You attracted 26,486,497 plays. Castle On The Hill was responsible for 20,054,765.
That's a combined total of 46.54m streams, and a daily average of 11.64m.
Combined, the two tracks are on course to clock up over 80m Spotify streams in their opening week alone.
---
Plus, even these stats don't even tell the full extent of Sheeran's popularity.
The total streams figure shown by Spotify's charts represent all plays which abide by the company's chart rules.
To prevent people gaming the system, that means there's a cap on the number of plays each individual can log within a 24 hour period.
Sheeran's label, Atlantic, released some stats on Sunday (Jan 8) suggesting that the two tracks' true total Spotify streams in their opening 48 hours was 25,839,709.
That was more than 2m higher than the Spotify charts figure indicated – suggesting that Sheeran's actual week one streams across the two tracks may even top 90m.Music Business Worldwide