There was a time when the digital album looked like the new kid on the block in the music business. Those days have long gone.
According to new stats from UK recorded music body BPI, the humble CD album has now seen off its digital equivalent – with sales of downloaded LPs actually declining faster than their physical rivals.
In the first half of 2015, CD album sales in the UK fell 5.7% from 22.68m to 21.38m.
In the same period, sales of digital albums dropped 6.6% to 13.86m.
That's right: a heavier drop and a smaller number than the CD. Don't count your chickens… but it looks like the CD has officially seen off its iTunes-based cousin.
Vinyl albums shot up once again in the Jan-June period, up 56.3% to 833,137 sales in H1 2015.
According to MBW analysis, the overall UK albums sales market – that's real album sales, not counting streaming/track equivalent calculations – fell 5.25% in H1 2015 (38.1m down to 36.1m).
Put all that together and the pure album sales volumes in the first half of this year look like this: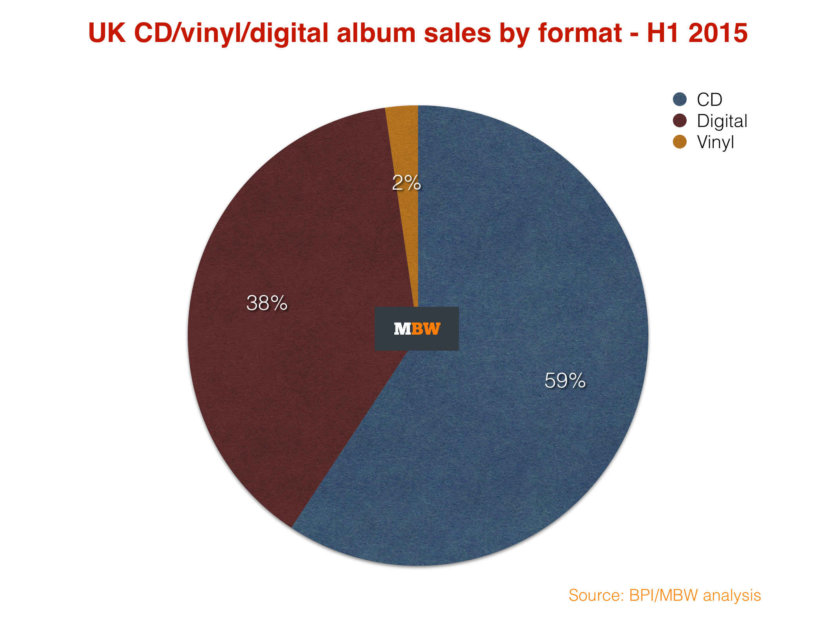 Of course, what this tale doesn't tell is the rise and rise in streaming consumption (surely a key factor in that decline of downloaded albums).
For this, the BPI provides a 'stream equivalent albums' figure that is 79.5% up year-on-year – 11.49m up from 6.4m in H1 2014.
That means that 11.49bn streams across the likes of Spotify, Deezer and Rdio took place in the period.
(Unlike Nielsen in the US, the BPI doesn't count YouTube streams in its numbers. However, it has provided separate data: in H1 2015 there have been 12.5 billion video streams – 98.2 per cent up on the 6.3 billion video streams served during the equivalent January to June period in 2014.)
As for track downloads, the sorry story continues.
The BPI reports that 'track equivalent albums' fell 12.3% from 8.18m in H1 2014 to 7.18m in H1 2015.
That means that 71.8m tracks were downloaded in the period this year, a 10m track drop on 2014.
You can see the top ten bestselling albums in H1 2015 below (which include stream/track equivalent data):
       Sam Smith / In the Lonely Hour                                                 Capitol / Universal Music)
       Ed Sheeran / X                                                                                  Atlantic Records UK / Warner Music
       George Ezra / Wanted on Voyage                                            Columbia Label Group / Sony Music
       Taylor Swift / 1989                                                                           Virgin EMI / Universal Music
       Hozier / Hozier                                                                                  Island Records / Universal Music
       James Bay / Chaos and the Calm                                               Virgin EMI / Universal Music      
      

Noel Gallagher

's High Flying Birds / Chasing Yesterday    Sour Mash

       Meghan Trainor / Title                                                                   RCA Label Group / Sony Music
       Paloma Faith / A Perfect Contradiction                                   RCA Label Group / Sony Music
   Mumford & Sons / Wilder Mind                                                Island Records / Universal Music
Geoff Taylor, Chief Executive BPI and BRIT Awards, said: "The launch of Apple Music will give further impetus to the revolution of music streaming. Millions of households are experiencing the joy of instantly playing any song they want, all around their house and on any device, and exploring a universe of new music and classic albums. At the same time, many fans are rediscovering the slower pleasure of collecting and owning music on CD and vinyl.
"With Sam Smith, Ed Sheeran, George Ezra and Paloma Faith appealing to ever growing fan-bases and great new albums from James Bay, Florence and the Machine, Muse, Mark Ronson, Meghan Trainor and Mumford & Sons, 2015 has got off to a strong start, and the second half of the year looks promising, with more big albums to come.
"The precise impact of Apple Music in 2015 is hard to predict, but UK labels have reinvented their businesses for a multi-channel world, are investing heavily in talent and are offering fans greater choice and value than ever before. With British music on a high around the world, we look to the future with real confidence."Music Business Worldwide