The big news out of Germany today: the market's recorded music industry has bounced back, in a big way, after two years of slight decline.
According to stats from BVMI (which you can read all about through here), the market was up 8.2% last year, with streaming revenues flying up 27% to top $1bn for the first time.
BVMI reports retail stats in Germany – i.e. the amount of money handed over by consumers at the tills, on online stores, and via their streaming subscriptions.
Over in the UK, we've also recently seen preliminary retail revenue statistics for 2019 announced, from the Entertainment Retailers Association (ERA).
As published on January 3, ERA's numbers show that UK consumers spent £1.41bn on recorded music across all formats in 2019 up 7.1% on the previous year (2018)'s haul of £1.32bn.
Within that £1.41bn figure, according to ERA, was some £1.003bn spent by UK music fans on subscription streaming services last year.
Using the official UK government (HMRC) annual average conversation rates, we can figure out that, in US dollar terms, the UK recorded music industry generated $1.80bn last year, with $1.28bn spent on subscription streaming services.
Those numbers are important for the next bit of this analysis (thus why they're in bold), so please do remember 'em.
---
Now, back to Germany.
According to BVMI, Germany's recorded music market generated some €1.623 billion on a retail basis in 2019.
Within this figure, streaming generated €894m (over half of total revenues).
Here, we can turn to another solid source for currency conversion – the average Euro-to-USD annual 2019 rate as published by Vivendi, owner of the biggest music rights company in the world, Universal Music Group.
Using that number ($1.123 for every €1), we can also work out a USD number for Germany's market in 2019: it comes out at a total market revenue of $1.823bn, with streaming weighing in with $1.003bn.
Here's how all of this stacks together in a graph.
---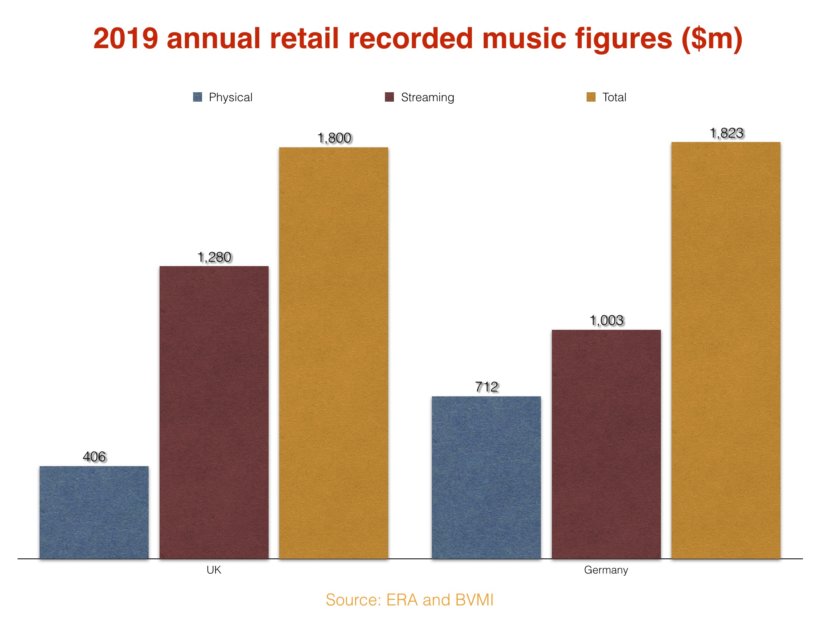 ---
As you can see, in terms of industry-reported retail numbers at the US dollar-level, Germany is coming out just higher than the UK here – thanks to Germany growing 8.2% in 2019, and the UK growing by a smaller margin of 7.1%.
This suggests that Germany is in with a chance of claiming the coveted spot of the world's third biggest recorded music market after the two biggest markets, the USA (No.1) and Japan (No.2).
However, with that headline above in mind, there's a big caveat to mention here: in addition to subscriptions paid for by consumers, BVMI has confirmed to MBW that its numbers also include advertising revenues from streaming services.
ERA's numbers, by contrast, only include subscription payments by consumers; advertising revenues from streaming services are not included in its figures. With this stat added in, it's likely that the UK's total revenues would once again trump Germany's.
Next month, the IFPI will reveal the real 'winner' of third spot in its annual report on the global recorded music industry, based on the most important number – the wholesale money making its way back to artists and labels.
Watch this space.
[Pictured: The Weeknd whose new single, Blinding Light, is currently No.1 on Germany's weekly Official Singles Chart.]Music Business Worldwide