After Def Jam Recordings was founded 33 years ago, it changed everything.
Primarily, that was down to the artists who helped elevate the cultural status of hip-hop around the world.; from LL Cool J to the Beastie Boys, Slick Rick, Redman, EPMD and Public Enemy.
But behind the scenes, an engine room of executive talent made Def Jam one of the most successful and influential independent labels in history.
The company's triad of leaders – Lyor Cohen, Rick Rubin and Russell Simmons – are well-known even to those with a passing interest in the music business.
(That's also true of Def Jam's VP of Marketing, Julie Greenwald, who has gone on to become co-Chairman of Atlantic Records during a very successful period in the storied company's history.)
Yet there were many more players who made Def Jam what it was – and are still kicking it in 2017.
In a nice reflection of history, Cohen just brought together a group of Def Jam alumni for a snap in New York and pinged it over to MBW.
---
Left-to-right above you'll find Andrew 'Dice' Ramdhanny, Bill Adler, Tony Rome, Lyor Cohen, Heidi Smith and Kurtis Blow. (Russell Simmons and Rick Rubin not in attendance.)
All of these people contributed something essential to Def Jam and/or Rush Productions – whether Ramdhanny (Tour Manager), Adler (Director of Publicity), Rome (Tour Manager) Cohen (COO), Smith (Cohen's EA and later Def Jam's Director of Video Production) or Kurtis Blow (artist).
Now, compare it to the picture below, taken in the offices of Rush Productions in NY back in March 1985 (credit: Talib Haqq).
Def Jam was preceded by – and then operated alongside – Rush Productions, which Simmons founded in 1979.
Rush was originally devoted to concert/party/record promotion and to artist management.  By the time the below photo was shot, it was concentrating on artist management.
Its roster included not only the first Def Jam artists – LL Cool J and the Beastie Boys – but artists like Andre Harrell (who was Dr. Jeckyll in Dr. Jeckyll and Mr. Hyde), Kurtis Blow (who recorded for Mercury), Whodini (who recorded for Jive), and Run-DMC (who, like Jeckyll & Hyde, recorded for Profile).
Everyone who worked on those premises worked simultaneously for Def Jam and Rush.
L-R in this shot: Andrew "Dice" Ramdhanny, Bill Adler, Tony Rome, Twana Carney, Heidi Smith, and Andre Harrell (Russell Simmons seated – Lyor Cohen and Rick Rubin not in attendance).
Over 30 years later, the same faces… still united by the same once-in-a-generation brand.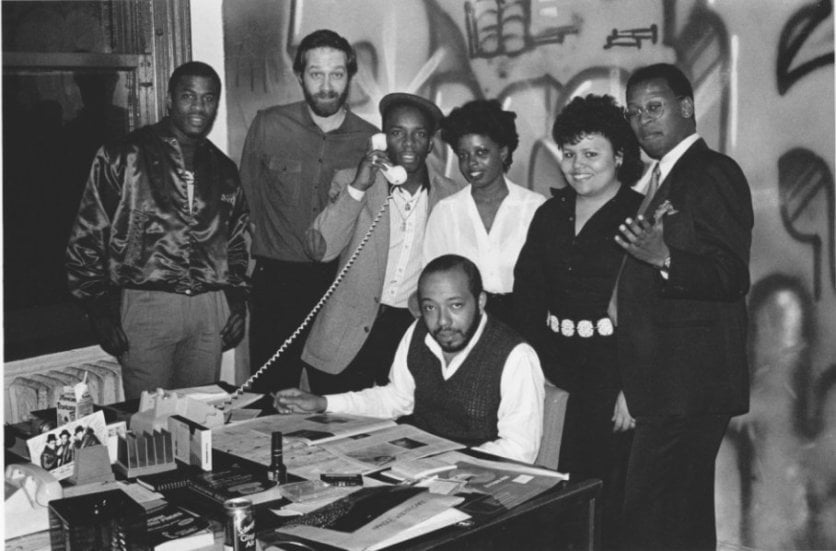 Music Business Worldwide