AI is a big headache, but a bigger opportunity, for digital streaming platforms (DSPs).
That was the message that Jeronimo Folgueira, CEO of France-based Deezer, delivered to analysts on the company's Q1 earnings call on Tuesday (April 25).
The "headache" part of the AI phenomenon is something Folgueira has touched on before, and is clearly taking up thinking-space at both Deezer and Spotify.
DSPs are already being flooded with new tracks – nearly 100,000 new tracks per day, according to a recent estimate.
Much of it, say critics, is low quality, and given the trend of uploading random noise files to generate plays, some of it isn't even music at all.
Now AI could make the problem worse, by allowing creators to generate new audio files more easily than ever.
"We obviously need to deal with the issue of AI as a source of a massive amount of new music or new content creation," Folgueira said on the call.
"We want to give our customers a high-quality experience and relevant content, so obviously getting AI to flood our catalog is not something we're super keen on, and we're working on that."
It's an issue Folgueira has been addressing repeatedly of late.
On Deezer's previous earnings call (Q4 2022) on March 1, also on the topic of AI, the exec said: "I am supportive of being stricter in terms of what we allow to get uploaded to the platform, and the quality of the catalog."
He added: "There's a lot of content now getting uploaded to our platform every week, and that number keeps growing and growing and growing. There's a lot of duplicated content, there's a lot of content that is not even music… and at a certain point you get way too much content that is useless for the users. And it starts creating a bad user experience."
Folgueira also acknowledged that the volume of releases in the modern era were taking up significant space on Deezer's servers, driving up the company's costs.
"I am supportive of being stricter in terms of what we allow to get uploaded to the platform, and the quality of the catalog."

Jeronimo Folgueira, Deezer, speaking in March
However, Folgueira dropped a bit of a bombshell during this week's (Q1 2023) call, announcing that Deezer itself used AI to generate content (presumably, music content) on its recently-launched wellbeing app, Zen by Deezer.
The app offers consumers access to music and audio content that has been designed to aid relaxation and sleep.
"We do see the benefits of AI in terms of generating some kinds of content, especially at a very low cost," Folgueira told analysts today (April 25). "We have actually used AI to generate content for Zen, our new wellbeing app.
"Some of the content has been generated by AI at a very, very low cost. It's a model where we own the content and don't have to pay [outside content creators]".
He added: "So we have actually used the benefits of AI to create a super-profitable model when it comes to Zen. We have not explored taking that in any shape or form into our music core business yet and currently it's not our intention."
When it launched Zen in France last December, Deezer didn't mention anything about AI-generated content on the app, which it described as combining "15 years' experience of user insight in music streaming with the knowledge of over 50 renowned experts."
The app offers "more than 2,000 wellbeing guides and exercises, as well as immersive music and audio experiences for sleep and relaxation."
"We're currently not in the business of creating content. We get content distributed from labels… our intention at the moment is not to get ourselves involved in the creation of musical content though AI."

Jeronimo Folgueira, Deezer, speaking this week
However, Folgueira was quick to reiterate that, while Deezer may be using generative AI for Zen, the company isn't planning to step on the toes of music labels by creating its own music content on the main Deezer platform.
Asked by an analyst at BNP Paribas if Deezer could potentially save on costs on its core app by generating its own AI music, Folgueira responded: "We're currently not in the business of creating content. We get content distributed from labels, and that is more of a wider discussion we will have with labels.
"But our intention at the moment is not to get ourselves involved in the creation of musical content through AI."
(That's not the case for all music streaming platforms globally. China's Tencent Music Entertainment (TME) has created more than 1,000 songs with AI-generated vocals that mimic the human voice. One of those tracks has clocked more than 100 million streams. Meanwhile, streamer Anghami is aiming to host over 200,000 AI-generated musical tracks.)
AI isn't the only thing on the minds of Deezer execs these days. Here are three other things we learned from Deezer's investor call…
---
1: DEEZER DOESN'T LIKE THE new PROPOSAL TO TAX STREAMING MUSIC IN FRANCE
Preserving French culture has long been a prominent part of France's politics, but the latest proposal to do that isn't sitting well with Deezer's execs.
As MBW reported earlier this week, French Senator Julien Bargeton has called on the country's Minister of Culture, Rima Abdul Malak, to implement a 1.75% tax on streaming services.
The idea is to create a funding source for efforts to protect the country's music industry and other cultural content in the face of streaming services, which Bargeton and others contend have negatively impacted the domestic cultural scene.
The proposed tax would generate €20 million (about USD $22 million) annually, Bargeton estimated.
But the idea doesn't sit well with Deezer's deputy CEO and CFO Stephane Rougeot.
"We've been quite vocal about the fact that we are already funding the music industry," he said during the investor call Tuesday, referring to France's 20% VAT.
If an additional tax were to be implemented, "we would put that directly to the end user price, and of course that would not flow back to the labels," Rougeot added. "But we don't think it's in the interest of the music business to go for that tax."
---
2: DEEZER'S BUSINESS IS INCREASINGLY ABOUT FRANCE
Although it's available in numerous countries around the world, Deezer's total global market share of music streaming sits at an unimpressive 2%, according to data from research firm MIDiA.
In fact, the only places where it really counts as a major player are France – where as of last year it had 28% of the music streaming market – and Brazil, where it has around 16%.
And Deezer's leadership is doubling down on France.
"France, our home market, is the core of our B2C segment, and we continue to enjoy a very positive momentum and great unit economics in that market, thanks to our very strong brand," Folgueira said on this week's earnings call.
"The growth in France allowed us to offset the decline in the rest-of-the-world subscriber base, while substantially improving market unit economics and profitability."
---
As MBW reported earlier, Deezer's subscriber base shrank by 2.1% YoY in the first quarter of 2023, from 9.5 million subscribers to 9.3 million.
But its subscriber base outside France shrank by a much larger 8.1% YoY (see below).
It managed to keep the subscriber decline to a relatively small percentage thanks only to a 9.8% YoY increase in subscribers in France.
"Growth in subscribers in France will continue to be the main driver of revenue growth in [the B2C] segment for the rest of this year," Folgueira said.
That's not an accident. The increase in French subscribers and decline in rest-of-the-world subscribers is "in line with our strategy," Rougeot said, adding that the company had recently shut down "our loss-making freemium service in long-tail countries."
By long-tail countries, Rougeot meant numerous markets where Deezer didn't have many subscribers, but still hoped to bring in revenue through the sheer number of countries. Deezer recently shut down its free, ad-supported service in numerous countries and regions, including the Czech Republic, Nigeria and the Caribbean.
---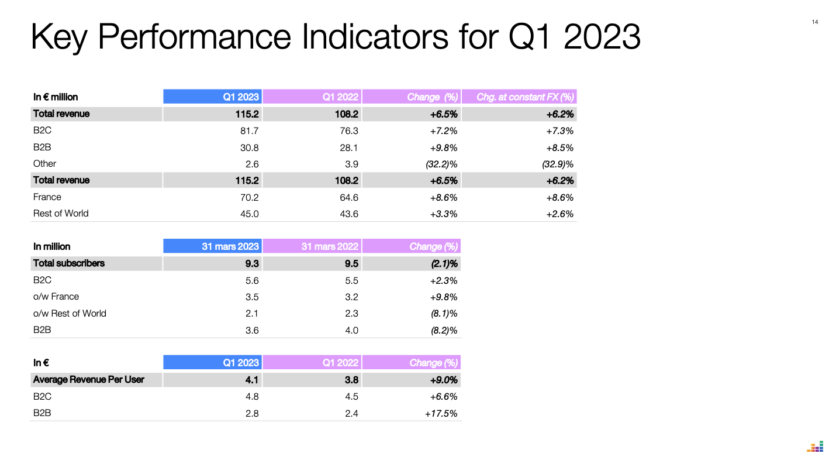 ---
3: DEEZER MAY HAVE TO FIGHT TIKTOK
Deezer still sees plenty of potential to grow in France.
"The French market is still in a relatively early stage of penetration," Folgueira said. "When you look at penetration of paid subscriptions, compared to other Western markets it's one of the lowest. So the potential of the French market to add new subscribers every year is very high."
But to get there, Deezer might have to fight the juggernaut that is TikTok.
According to research from industry trade group SNEP, there were around 16 million premium music streaming subscriptions in France in 2022. That amounts to only around a quarter of the country's total population.
One likely reason for this is the popularity of TikTok in the country. Citing a consumer study from IFPI, SNEP noted that 77% of surveyed consumers discover new music via TikTok, and 45% of people between the ages of 16 and 24 "claim to spend more time on TikTok than on online music services."
This massive use of TikTok "diverts consumers from subscription-based services, the drivers of today's music business model," SNEP Managing Director Alexandre Lasch said in a statement.
So Deezer's fight for a growing subscriber base might mean shifting the music habits of the French people – a tall order, to say the least.Music Business Worldwide