Paris-listed streaming company Deezer has a new Director on its Board: former Warner Music Group executive, Stu Bergen. The appointment is effective immediately.
Bergen was formerly the long-time CEO of Warner's International Recorded Music operations outside the US and UK. After 14 years at Warner, he left the major music company in January 2021.
There is a long-running link between Deezer and WMG, of course: Warner Music Group's controlling shareholder, Access Industries, is also a shareholder in the music streaming firm. (Access was the principal shareholder in Deezer before the latter firm went public in Paris via a SPAC merger with I2P0 in 2022; Access remains a stakeholder in Deezer post-flotation.)
As a Director of Deezer's board, Bergen succeeds Amanda Cameron (aka Amanda Ghost), who, after being appointed after Deezer's IPO last year, resigned from her position as Director today (February 28), due to "time constraints and a need to prioritize other business ventures".
All of that news was released earlier today following the publication of Deezer's FY 2022 results, which show that the French-born company generated EUR €451.2 million (USD $474m) in overall revenue last year.
That was up by 10.6% YoY at constant currency on the equivalent figure from FY 2021.
(Just north of 60% of the €451.2 million revenue generated by Deezer in 2022 was spent in France. The company's French revenues stood at €273.2 million across the course of last year, up 12.6% YoY at constant currency.)
Deezer's gross profitability improved in 2022, with an adjusted gross profit of €98.0 million (USD $103m) vs. €84.1 million in the prior year.
This improvement was partly driven, said Deezer, by "the positive impact of the shutdown by the group of [our] freemium service in some countries".
This is a significant change of strategy: Back in 2012, Deezer launched its 'freemium' (i.e. ad-supported) tier in the UK and 149 other countries, with commentators suggesting it was "going head-to-head with Spotify".
Despite improved margins in terms of gross profit in 2022, Deezer was still operationally a heavy loss-maker.
Deezer's operating loss in 2022 weighed in at €166.7 million (USD $175m), a widening on the €120.6 million operating loss it posted in the prior year.
The firm clarified today that this YoY increase in operating losses was primarily due to a €54.9 million non-cash listing service charge resulting from the SPAC merger between Deezer and I2PO.
Deezer's adjusted EBITDA in 2022 stood at €55.7 million, narrowed from a €64.6 million adjusted EBITDA in 2021 (see below).
---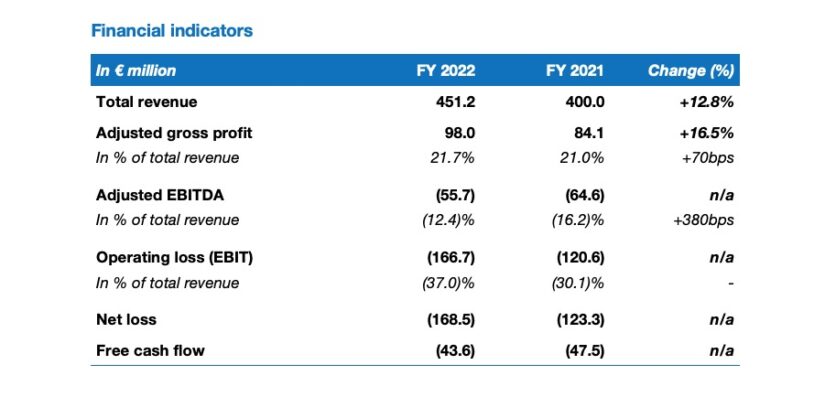 ---
Subscriber loss
According to its latest results, Deezer finished 2022 with 9.4 million subscribers globally – down on the 9.6 million subs the company counted at the end of 2021.
The firm lost subscribers in both its B2C segment (down ≈100,000 YoY to 5.6 million) and its B2B segment (down ≈200,000 YoY to 3.8 million).
For comparison's sake: Spotify finished 2022 with 205 million paying subscribers.
The amount of net subscribers added by SPOT in just the final quarter of 2022 (+10m) was bigger than Deezer's entire subs base at the close of the year.
"The continued subscriber growth in France, driven by B2C, allowed [us] to partly offset a decrease in the Rest of World due to the group's strategy to focus on selected key markets," explained Deezer RE: its 2022 subscriber decline in a note to investors today.
Deezer's 'B2C' business, obviously enough, represents its direct accounts from customers; its 'B2B' business represents subscriptions secured via business-to-business partnerships.
Recent examples of Deezer's B2B hook-ups include deals with Sonos in the US, RTL in Germany, and DAZN – another Access Industries company – in Italy.
---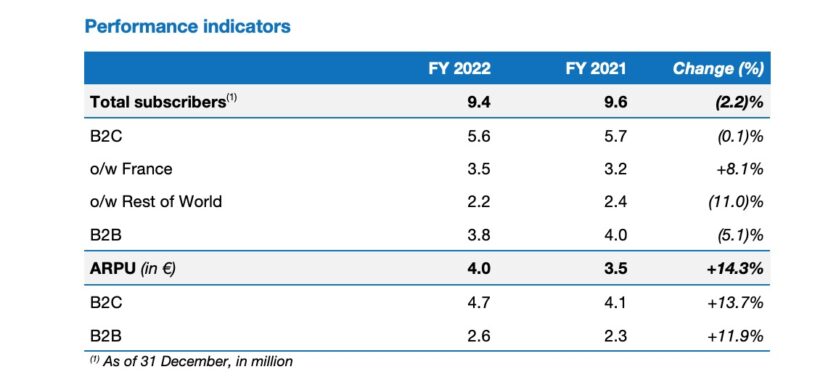 ---
ARPU and price rises
Deezer's premium ARPU (average revenue per user) significantly improved in 2022 up by EUR €0.50 per month to €4.00.
This climb in ARPU was driven by Deezer's quietly-increased prices: The firm's Premium subscription tier now costs GBP £11.99 per month in the UK, EUR €10.99 per month in key European markets like Germany, and USD $10.99 per month in the US, although discounts are available for those who pay a full year in advance.
In a report to investors published today, Deezer wrote that these price increases had affected "circa 94% of B2C subscribers at year-end with no impact on churn".
The 'B2B' side of its business, according to Deezer, is "profitable", growing by +10% YoY in terms of revenue in 2022, and +12% YoY in terms of ARPU.
The unprofitable 'B2C' business, said Deezer, saw +12% YoY revenue growth in 2022, and a +14% YoY ARPU growth.
"Despite very challenging market conditions in 2022, we were able to secure enough funds to fully execute our plan. We increased revenues by 13% with growth in all segments and geographies, while cutting losses in the core business by €18m and setting a clear path to profitability."

Jeronimo Folgueira, Deezer
Jeronimo Folgueira, Chief Executive Officer of Deezer, said: "I'm very proud of what we achieved in 2022 and I would like to thank the team for an outstanding execution of our strategy over the past 12 months. Joining Deezer, I had four clear goals; secure funding, increase differentiation, achieve double-digit growth and reach profitability. Despite very challenging market conditions in 2022, we were able to secure enough funds to fully execute our plan. We increased revenues by 13% with growth in all segments and geographies, while cutting losses in the core business by €18m and setting a clear path to profitability."
He added: "2022 was also a year of differentiation for Deezer, establishing ourselves as the go-to player for tailored music solutions through exciting partnerships, including RTL+ Musik in Germany and Sonos in the US. Moreover, with a new product vision, we are on our way to transform Deezer from a traditional DSP to a provider of unique music experiences.
"Our relationship with the labels is stronger than ever and they are key partners in our quest to improve economics in the music ecosystem. We're only at the beginning of a very exciting journey for Deezer and in 2023 we will continue to evolve through differentiation and improved profitability."
---
Discussing Stu Bergen's appointment to the Deezer board, Iris Knobloch, Chairwoman of the board of directors of Deezer, said: "Stu will add valuable perspectives to the Deezer board with his considerable experience from multiple disciplines at major record labels. On behalf of the board of directors, I'd like to extend my gratitude to Amanda Cameron for her excellent contributions during her tenure. She brought unique and highly useful insights as an artist, producer and businesswoman in the music industry."
Stu Bergen said: "I'm truly looking forward to working with the Deezer board and leadership team, supporting the ambition to connect artists and fans in meaningful and engaging ways, as the company continues to create profitable growth and expand globally. It's an exciting opportunity and after 30+ years in the music industry, I hope to contribute with useful insights and experiences, working with Deezer to take the business to the next level."
Jeronimo Folgueira, CEO, Deezer said: "With Stu joining, we are adding three decades of music industry experience to the Deezer board, including promotion and marketing expertise, which will undoubtedly be useful as we take our next ambitious steps in an increasingly competitive music streaming market."
---
All EUR-USD conversions in this report have been made at the annual average rate provided by the IRS.Music Business Worldwide