UK consumers spent £1.68 billion (approx. $2.25bn) on recorded music in 2021 across physical and digital sales, plus subscription streaming.
The market's total recorded music spend in 2021 represented YoY growth of 8.7%, or £133.7 million ($179m) versus 2020.
That's according to figures released today (March 1) by the UK's Entertainment Retailers Association, in its latest ERA Yearbook.
ERA's members include the likes of Amazon, Deezer, SoundCloud, Spotify and YouTube, in addition to major and indie physical music retailers.
According to estimates published in the ERA Yearbook, subscription streaming accounted for 80% of that total £1.68 billion annual retail figure, surpassing £1.3 billion ($1.74bn), up £130.9 million ($175.45m), or 10.9% YoY versus the prior year.
Nearly 160 billion streams (audio and video combined) were recorded across subscription and ad-funded tiers in the market in 2021, up 4.2% year-on-year (as measured by the Official Charts Company).
According to Official Charts Company data published in ERA's new Yearbook, paid-for premium audio streams grew by 6.1% to 126.6 billion in 2021 making up 86% of the total audio-only volume.
The ad-funded market was up 3.5% to 20.6 billion. Combined, the audio streams market grew by 7.9 billion streams (5.7%) to 147.2 billion, versus 139.3 billion in 2020.
As reported in January when the market's audio stream volume figures were first confirmed by the UK music industry body BPI, 2021's annual growth figure (+7.9 billion) was less than a third of the size of the growth (+25.1 billion) that the UK enjoyed in 2020.
Growth in consumer spending on streaming also slowed last year.
Subscription music streaming spend grew 10.9% YoY in 2021, to surpass £1.3 billion ($1.74bn), up £130.9 million ($175.45m) versus 2020.
In 2020, UK music subscription streaming revenues grew 15.5%, with a total spend by consumers of £1.208bn ($1.55bn), an increase of £162.4 million ($xm).
In 2019, the annual amount of money spent by UK consumers on music subscription streaming grew £233 million (28%), to £1.045 billion – from £812 million in 2018 (see below).
---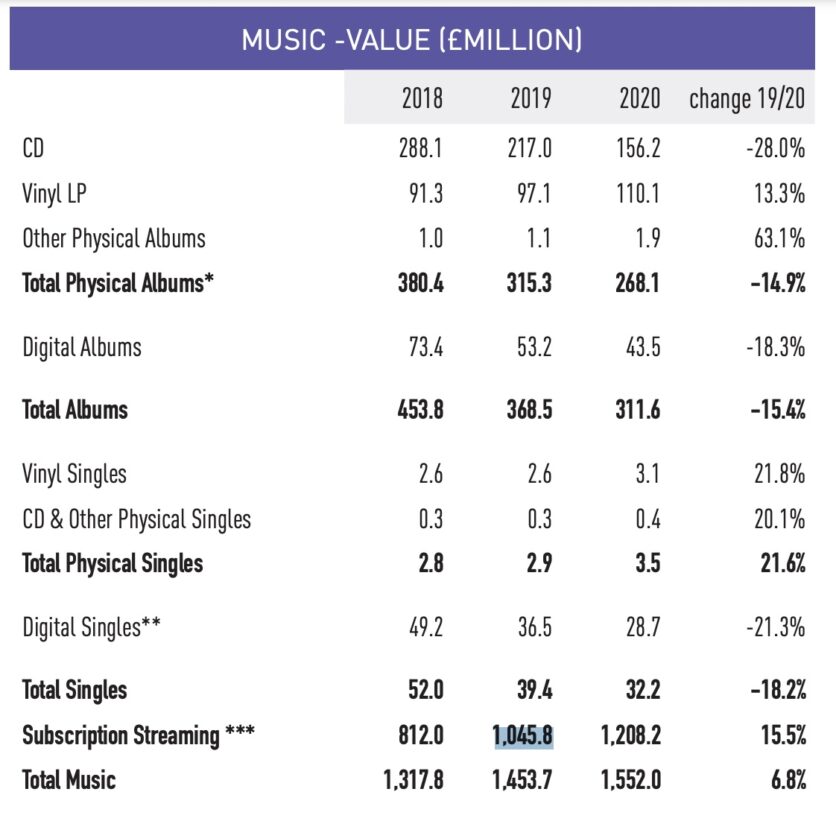 ---
Elsewhere in the market, consumer spending on physical music grew by £19.6 million, or 7.3% YoY in 2021, bolstered by vinyl LP sales, which grew  £25.2 million (23.2%) YoY.
Sales of CDs fell 3.9% YoY, from £156.2 million in 2020, to £150.1 million in 2021 (see below).
---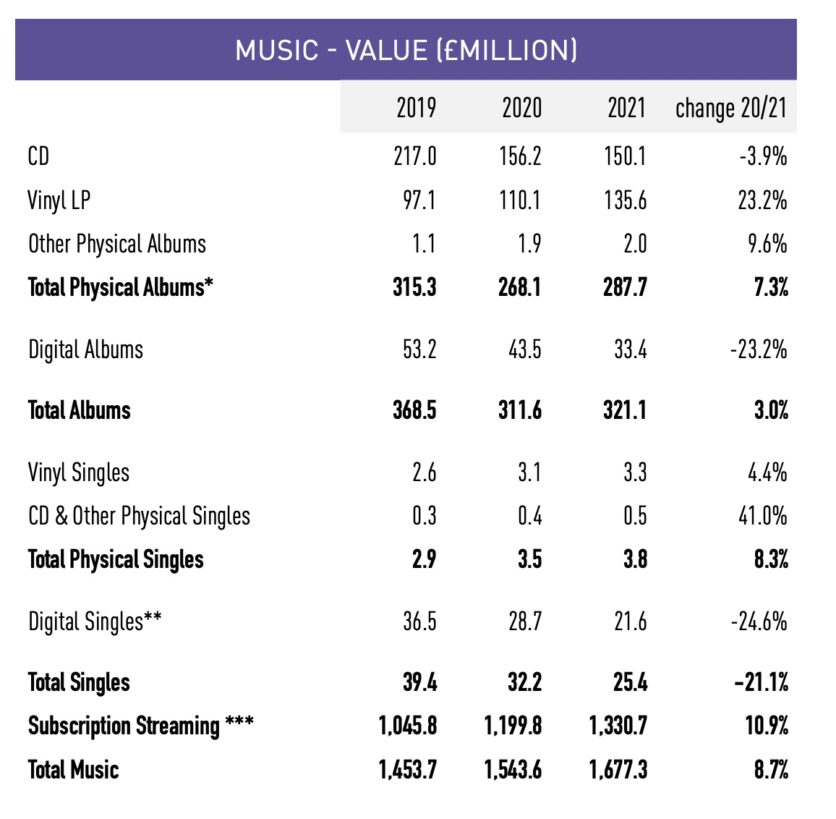 ---
"Streaming services have become the great drivers of the music and streaming businesses," said ERA CEO Kim Bayley.
"Thanks to streaming services, UK film and music fans have access to a greater choice and greater convenience than ever before."Music Business Worldwide