Streaming isn't all about the likes of Spotify, YouTube and TikTok, you know.
Beyond these industry giants lie a wealth of global brands who are investing heavily in digital music – and, in particular, its relationship with Gen Z.
In order to ensure they make a splash in the world of music streaming, said brands often turn to B2B streaming tech solutions company, Tuned Global.
Over the course of the past nine years, Tuned Global has worked with the likes of Samsung, Line Music, UFC Ultimate Sounds, Vodafone, Universal Music Group x Pizza Hut, Coca Cola and more, helping these huge companies connect better with their consumers using digital music.
The firm offers a range of B2B services, from a simple delivery of licensed music from 100+ record labels and aggregators, all the way through to creating a full music streaming app with customized elements such as algorithmic radio, podcasts or even live-streaming functionality.
---
Tuned Global recently worked on the UFC Ultimate Sound app project, which not only brings UFC fans in the USA a vast catalog of music to stream from, but also offers playlists created by UFC fighters themselves.
Tuned Global doesn't just work with brands outside music, either. The firm has worked hand-in-hand with Universal Music Group in the past – including the launch of a digital 'Singing Pizza' campaign with UMG and Pizza Hut in Malaysia.
The firm has also worked with multiple music startups that are innovating in the space with niche or genre-based services.
Meanwhile, working with Warner Music Group last year, Tuned Global provided the tech for an official Ed Sheeran concept app in Australia – Ed No.6 – that gave the artist's fans the ability to create their own (fully licensed) UGC videos using Sheeran's music, which they could then share on their favourite social platforms.
The company recently expanded its operation into the US, hiring experienced music tech veteran and former LyricFind CRO, Andrew Stess, to head up Sales and Business Development from California.
Tuned Global claims that no-one out there can match it in terms of getting a branded music app to market quickly, calling itself "the most comprehensive turnkey streaming solution".
Here, Tuned Global founder and MD, Con Raso, talks us through the evolution of his company, and where he's seeing innovation pop up in the digital music space…
---
When Tuned Global started nine years ago, what problem were you trying to solve with the company?
Our mission is the same now than when we started: driving user engagement, through the power Of music.
After a long career in physical music, nine years ago we started looking at the digital side of music. We began working with EMI Records to build the first streaming apps for Blackberry mobile, before launching a hybrid store where people got X amount of downloads and unlimited streaming per month for a major telco in Australia. From there, we started expanding pretty rapidly and moved into building Samsung's own music service [Music Hub] for four years in partnership with Universal Music, as well as building [music solutions] for JB Hifi (Australia's largest home entertainment retailer), Coca-Cola and others.
From there, in 2015, we began to look very closely at Southeast Asian markets, and noticed many of them were poorly serviced at that time by the major [music streaming] players. We started to do a number of executions in Asian markets, and even eventually created our own direct-to-consumer music service in Indonesia called Nada Kita which quickly acquired 3 million users.
Working with local retail brands, Telcos and OEMs, this service became Tuned Global's innovation lab. We learnt what works and what doesn't work in terms of user engagement, acquisition and retention for a music service.
---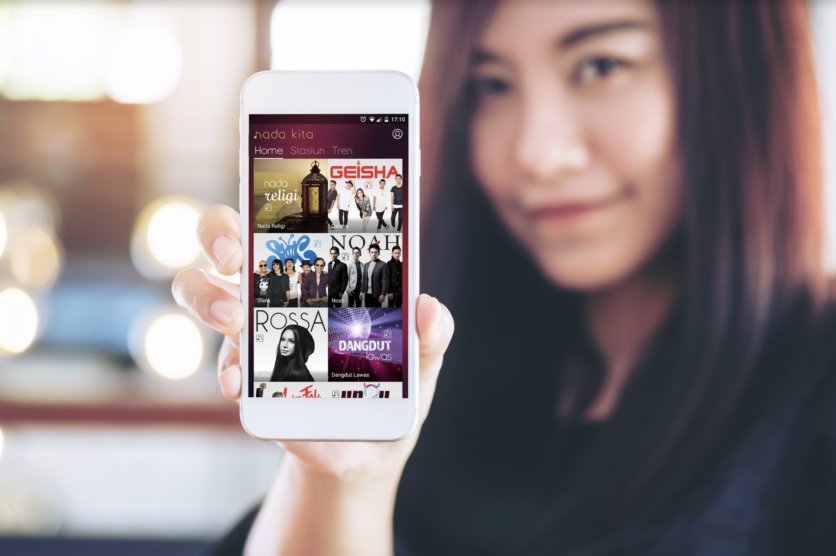 ---
Today, you tend to focus on building digital music platforms for brands. Give us a flavor of the solutions Tuned Global offers today.
We serve companies, startups to enterprises, that want to use the power of music to engage with their customers.
We help them to quickly launch and grow their own streaming service globally. On top of the music features our platform also allows podcasts, video, radio feed, live video and User Generated Content [UGC].
As their B2B music technology partner, Tuned Global offer them three major solutions. Our flagship product is a full turnkey solution, a fully branded music streaming app. That means we provide your mobile application(s) [front-end], your content management system, all the back end and all the reporting. These companies only have to focus on marketing and growth. We can usually launch a service in less than eight weeks using this solution.
---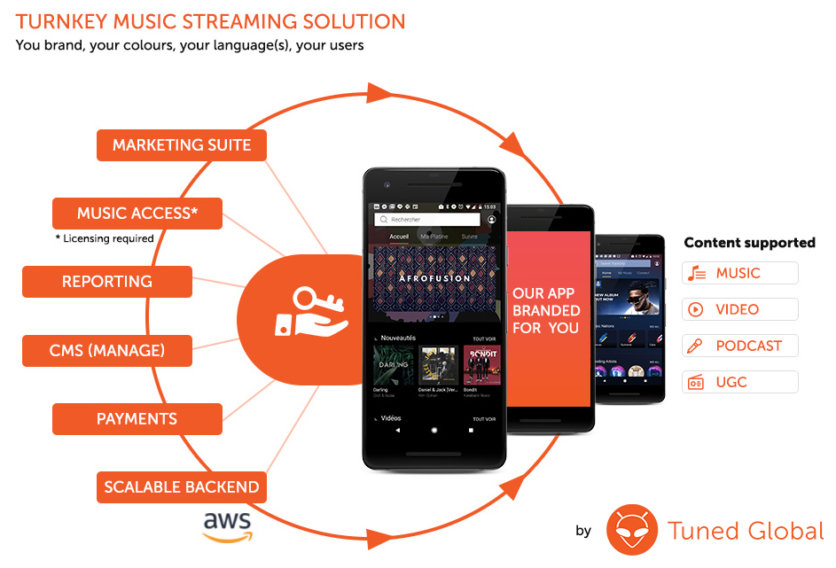 ---
Then we have an API solution. We've made a complex series of music APIs to power services over the years, and we make them available to all clients. They go very deep: music suggestions, programmatic radio, playlisting, user management and subscriptions, all of that stuff. That's for clients who want to build their own front-ends and simply plug our APIs in.
The last one is a simple content delivery and metadata solution, which is aimed at those companies or brands who want to do a lot of the tech themselves, but want us to manage the feeds [of licensed music] from the labels. [Tuned Global handles this for Line Music, which is Japan's second biggest music streaming platform, integrated with the hugely popular Line Messenger service.]
When required, we also assist our clients with their licensing using our wide network of rights holders, both major and indie, and educating them about the requirements.
---
You recently expanded your team in Europe and the USA, which you say makes you the only B2B music tech company with a presence on three continents. Why make that move?
Historically based in Australia we have worked with many companies and brands in Asia Pacific, this is where we come from.
---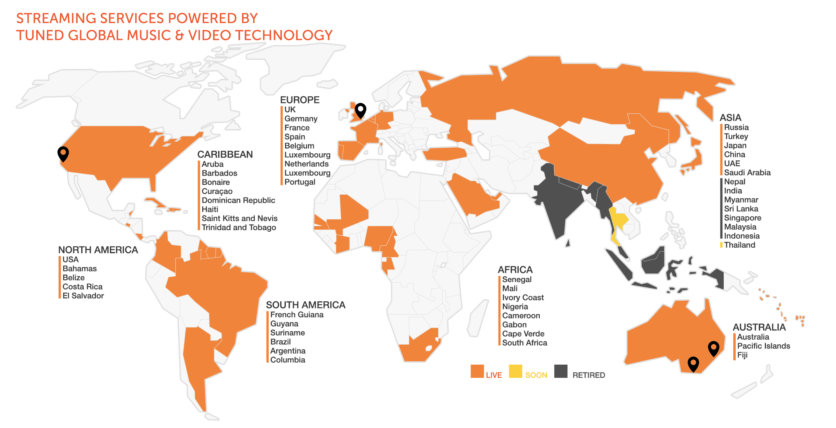 ---
In the last two years we have seen a growing demand for music services in Europe, Africa and Americas because companies want to own their users [not sending them to other mainstream services] and see a gap in the market for niche music services. After launching Deedo, a Pan-African Music service in France and Africa, Trackdrip in the Caribbean and UFC in the USA with ACX Music which is based in Sweden, we thought it was time for us to have a local presence.
Mario Forsyth based in London and Andrew Stess based in San Francisco are leading our growth in these territories. They both bring +15 years experience in the Music and Tech industry. Our clients and prospects have welcomed this move and as a result we have many new deals to announce soon.
---
What are your clients starting to ask for now in South-East Asia that hint to the future of music streaming?
We've got a number of things happening in that region today, and most of them include a level of karaoke. One interesting thing that's happening is 'ultimate karaoke', where the lyrics to a song might be in English, but – for example – in Thailand, people want to see the lyrics in Thai.
That's because people don't necessarily just want to sing along, they actually want to understand what the singer's singing, and the emotion behind the words.
"Without a doubt, once you start getting into Southeast Asia, local providers often provide a ton of different ways to monetize than you'd see with a Spotify or an Apple Music."
We're also working with a client that's trying to build [a music streaming app] that has direct connections with local artists, where people can actually book those artists to perform from the app itself.
Without a doubt, once you start getting into Southeast Asia, local providers often provide a ton of different ways to monetize than you'd see with a Spotify or an Apple Music. That's sometimes cultural, where you build daily billing into an app, for example, because people in a particular region might tend to do their shopping for the day, rather than the week or month ahead.
---
What else jumps out at you as a big innovation happening in the market right now?
Right now we are seeing a lot of changes in peoples' lifestyle and consumption choices due to the Covid situation. It has an impact on many industries which need to re-invent themselves. I think about the fitness and the live industry especially.
Fitness companies are trying to explore more deeply the potential of digital as a way to monetise their expertise as people train more and more from home to avoid social contact.
While traditional fitness companies are trying to build their own niche music streaming services, we're being contacted by a lot of companies trying something quite different. For example, trying to merge a static music streaming component with a live component within the same app.
"Fitness companies are trying to explore more deeply the potential of digital as a way to monetize their expertise as people train more and more from home to avoid social contact."
For example, they might thread in long or short-form video, or UGC, or podcasts and other audio types, in addition to your typical [workout] music.
We've created a product called Stakkar, a UGC tool that lets artists or trainers create content that is instantly available in the application. That's a really interesting perspective when you start to look at fitness, and how trainers can insert themselves into static music content.
Regarding the live industry the problem is the same, people can't go to a concert anymore, artists can't tour so they are trying to find new ways to generate revenue. We are now working on different projects that involve Live video inside a streaming app that will deliver live content with a subscription system. For example, you may attend three live concerts per month along with access to all your streaming music.
---
You recently launched the ability for your clients to host live-streaming on your apps.
Yes. It's a really interesting space. There's a lot of activity and a lot of platforms popping up.
We've seen a sharp uptake in people asking to offer live-streaming for one particular market, or doing it centered around a concept – an unplugged online show, for example.
We are supporting a lot of different commercial models with our live service, including free, subscription based and pay per view. We think that it is really attractive to not only the service owners but to the users who want to see their favourite artists and a great opportunity for artists to monetise in difficult times.
Our clients are very excited about live-streaming, and how they're going to use it to substantially increase user engagement in 2021.
---
The music industry is thankfully still seeing revenue growth from streaming, but that growth is slowing down. Could brands, creating music streaming apps with licensed content like UFC's Ultimate Sounds platform, be the next big growth driver?
Brands with a wide engaged audience of fans like UFC are definitely an opportunity to the industry. But I don't think it's just about brands using music; it's about entire industries using music. Generally speaking, the major music services have a lot of the possible content offering covered. Where non-music companies and industries can use music to create a story around their own niche, that's the sweet spot, there is no better way to engage people.
The fitness industry that I mentioned before is a great example, where there's a huge amount of potential for growth in terms of music usage.
"non-music companies and industries can use music to create a story around their own niche; that's the sweet spot, there is no better way to engage people."
There is also a huge opportunity for niche streaming services that would be complementary from the mainstream music services such as Spotify, Apple Music or Pandora, all with a very similar experience. If you're a fan of jazz, hip-hop or Indian music, you may choose to also subscribe to specific services that deliver deeper content and recommendations.
People are used to paying for several TV channels or VOD services. They have Netflix and Disney+, so we think there is an opportunity for the music industry to have people paying for several services too, as long as they fit their unique needs.Music Business Worldwide