Live Nation Entertainment is one of the world's biggest live entertainment companies.
Headquartered in Los Angeles, the company has been led by President and Chief Executive Officer Michael Rapino since 2005.
Live Nation originally started as SFX Entertainment in 1996, launched by late media mogul, Robert F. X. Sillerman.
SFX was sold in 2000 for $3bn to Clear Channel, becoming Clear Channel Entertainment, which was spun off in 2005 and named Live Nation.
In addition to promoting live events such as concerts and festivals, Live Nation runs a ticketing business via Ticketmaster, which merged with Live Nation in 2009 to become Live Nation Entertainment.
Live Nation also owns and operates concert venues.
---
Financial Results
Live Nation's business was severely impacted by the global pandemic.
According to an investor update published in November 2020 (see below), in Q3 2020 – i.e. the period ended September 30 – the company generated revenues of $184 million, marking a 95% year-over-year decline compared with the $3.77 billion it generated in Q3 2019 from concerts, ticketing and sponsorship.
The firm told investors in its Q3 filing: "We estimate the lost revenue impact from the global COVID-19 pandemic in the third quarter and first nine months of 2020 to be approximately $3.7 billion and $7.0 billion, respectively."
Live Nation also revealed: that "a total of 5.2 million tickets were refunded in [Q3], amounting to just slightly over $500 million of gross transaction value… [and] a total of 23.3 million tickets have been refunded year-to-date, amounting to nearly $2.3 billion of gross transaction value".
---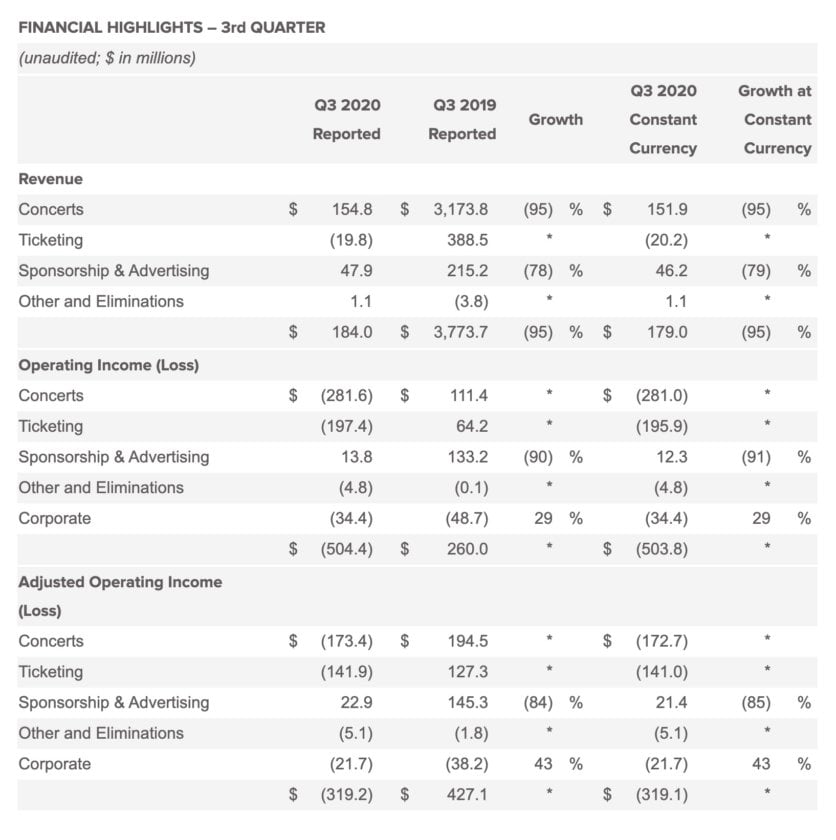 ---
At -$19.8m, Live Nation's specific ticketing revenues were negative in Q3, having paid out more in refunds than it took in from sales.
In Q3 2019 (the prior year quarter), the company's ticketing sales – the majority of which come from Ticketmaster – were $388.5m.
Within the concerts category specifically, Live Nation revenues also fell 95% year-over-year in Q3 2020, hitting $154.8m, down from $3.17bn in Q3 2019.
Sponsorship and Advertising revenues fell 78% year-over-year, from $215.2m in Q3 last year to $47.9m in Q3 2020.
---
Other  milestones
Live Nation Entertainment's shares soared over 22% on November 9, 2020 following the news that a COVID-19 vaccine candidate developed by pharma firms Pfizer and BioNTech had been found to be more than 90% effective.
The company's shares peaked at $72.29 during trading on the New York Stock Exchange that morning – the company's highest since March and the beginning of the pandemic.
Live Nation revealed plans to boost its liquidity by an additional $500 million via a secured note sale according to a release published on December 17, with repayment due in 2028.Music Business Worldwide