MBW's World's Greatest Producers series sees us interview – and celebrate – some of the greatest talents working in studios today. This time, we speak to Canadian Cirkut, the co-producer of smashes for Katy Perry, The Weeknd and Miley Cyrus, and more recently the man behind the desk for Ava Max.  World's Greatest Producers is supported by Hipgnosis Songs Fund.
---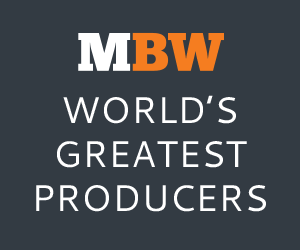 Preparing to interview Cirkut – the Canadian producer, whose real name is Henry Walter – a quick Google delivers slim pickings.
Once you skip past Wiki, Insta and Twitter links, the few articles that do pop up refer to him as the "mysterious" man behind the hits, or as various pop stars' "secret weapon" – and said articles tend to be a few years old.
In fact, the most recent link to appear near the top of any search result concerns him selling (or failing to sell) his Hollywood Hills home (for around $5.5m, if you're interested).
---
Those pop stars and hits that are referenced in the 'masked producer' category include Katy Perry (Cirkut co-produced Roar, Part of Me and Dark Horse – all US No. 1s) and Miley Cyrus (Wrecking Ball – US. No. 1).
In addition, there's The Weeknd (Starboy – US No. 1; Cirkut also produced more than half the tracks on the 2016 parent album of the same name, earning a Grammy for Best Urban Contemporary Album in the process), Rihanna, Keisha, Nicki Minaj, Pitbull and many more.
In total, Cirkut has been involved in records that have sold more than 250 million, and he regularly has multiple records by multiple artists in the upper reaches of the charts in multiple countries. All of which, perhaps counter-intuitively, might explain the slim pickings on Google.
Cirkut loves to work – and, "for a while, when I was young and hungry, I'd just stay up all night and do anything. Just give me any project to work on, let me sink my teeth into it."
Doing it came first. Talking about doing it, or how he did it, didn't really place.
---
He got into production via DJ'ing, and into pop via hip-hop – both quite well-trodden paths. As a songwriter his break came after getting a cut – Mmm Papi – placed on Britney Spears' 2008 album, Circus. His first big production credit was High For This, on fellow-Canadian The Weeknd's debut Mixtape, House of Balloons, in 2011.
Shortly after, he met Dr Luke, and became something of a protégé, as Luke had been in turn to Max Martin. The three of them worked together with Katy Perry, Keisha, Britney Spears and others. Cirkut and Dr Luke also teamed up to produce for, amongst others, Rihanna, Nicki Minaj and Pitbull.
He no longer works with the man he acknowledges as a mentor, but is on record as saying that it was a gradual separation based on a desire to "venture out on my own" rather than a sudden split caused by Kesha's accusations and subsequent legal battles with Dr. Luke, whose publishing company, Prescription Songs, Cirkut was signed to until 2018.
---
More recently Cirkut has been focused on producing Ava Max's debut album, which went Top 5 in various countries on its release in September. He has been working with the singer-songwriter since before she was signed to Atlantic, and produced her breakthrough global hit, Sweet But Psycho (Top 10 in the US and No. 1 for four weeks in the UK) nearly two years ago.
Today, Cirkut finds himself at something of a crossroads, keen to carry on producing, having hits, working with big stars, but also excited by having had a more macro role, and determined to be "more choosy".
Whatever he does, and however much he decides to do of it, he will most likely remain a determinedly secret weapon in the battle for pop supremacy.
But, right now, with slightly more time on his hands than anyone would have anticipated, he is stepping out from behind the scenes, blinking into the spotlight, ready to refresh those search results by talking to MBW about his favourite projects, his methodology and, initially, answering the most basic of questions…
---
What does a producer do?
I'd say the producer is responsible for seeing a song through from conception to the end. When that final product is coming out of speakers, or into someone's earphones, a producer makes sure it's in the best possible form it can be. We deliver and present at artist's work in the best possible light and give it the best chance.
---
And what do you think is the most important part of that process? Is it on the technical side, to do with sonics, or is it more an emotional/psychological thing, to do with getting the best out of an artist creatively?
It's definitely a bit of everything. Obviously songs can come about in many different forms, but if you're starting from scratch with an artist or with a writer, then there's a delicate balance where you need to check your ego at the door, you need to create and curate an inspiring environment. You want them to feel like they can be vulnerable, and that they can just speak their mind and not be afraid of being judged.
And then there's the part where I'm sitting down and I'm really getting into what I do best, I guess, which is really just crafting the sonics, the more laborious part, but still very creative, getting in and tweaking the sound of a record, which I feel is what I excel at.
---
How did you find your way into production?
I started DJ'ing when I was about 14. I had friends who were into hip-hop, they had vinyl and turntables and were scratching and that kind of stuff. As soon as I saw that, I was like, 'Wow, I need to learn that'.
That eventually spawned getting into music and wanting to know how these records are created. Then just sort of getting my hands on whatever software gear I could… just diving in, trial and error, teaching myself, really.
---
What was your big break?
I mean, definitely one of the first kind of big projects, or it turned out to be big, was I worked with The Weeknd on the House of Balloons mixtape. I did a song called High For This. I didn't really know what I was doing; I was like just making tracks that I thought were cool and he sang over it and obviously we know where that ended up. And where he ended up.
Then, after that, I was getting the attention of people in LA, I started coming out here, working with Dr. Luke a lot. He was a mentor to me. So, that resulted in a lot of doors opening.
---
---
What's the key to making the most of a moment like that, or a track like that, because it could come and go – how do you make sure you get in the right rooms and forge the right relationships?
Yeah, there's so many different ways. The most important thing is you just have to be passionate about it, and you have to have the patience to exhaust every opportunity, and to just really put in the work. I mean, if everyone just gave up as soon as they had a door slam in their face, then no one would ever make it.
It takes a lot of perseverance, and kind of just doing it. Even starting just with your friends, or with lesser known people; if the music is great, it'll get out there.
---
In amongst all those projects that followed, what's maybe been the most enjoyable to work on?
I'd say most recently it's been with Ava Max, who I've helped develop and whose career I've helped guide from the beginning.
I feel like that was the most rewarding experience, because it was different from everything else I've done. You know, I've worked with a lot of big pop stars and big stars who were already kind of established. And it's not that it's not satisfying to come in and write, produce a big hit song for a huge artist, but this was a little different because I've been kind of involved in every facet of Ava's career, overseeing it very closely and watching it go from the very beginning to the success she's had now, I'm really proud of that.
---
---
What have been the most challenging projects?
Let me think about that. It's hard to single out a single project but sometimes… it's funny, every song is different or every project is different. Sometimes you'll get a big creative breakthrough right away, like you hit your stride, and then sometimes you're really just banging your head against the wall, trying to unlock something either in the production or in the writing, and you feel like giving up and then you hit a breakthrough.
"those moments can be frustrating, where you start to question, 'Am I even good at this anymore? Do I know what I'm doing?'"
So, those moments can be frustrating, where you start to question, 'Am I even good at this anymore? Do I know what I'm doing?' Then you pull it back like, 'Okay, I got this – I do know what I'm doing!' But yeah, there are moments of frustration like that, where sometimes, personally, I might doubt my ability for a second.
---
One of the hardest parts of your job is to tell an artist that what they've done one particular day just isn't good enough, or that you think it could be better, that they need to go again? How big a test of the power dynamic is that – and how do you go about it?
Yeah, it is definitely walking a tightrope sometimes. You have to know the personality of the person you're dealing with. And you kind of have to pick your battles at the right time. If you sense that maybe someone's in a different kind of mood maybe, let me save that for later when they're more on a high.
My personality is, I try to be… I'm kind of a humble person. I try not to be too abrasive with people, so I'm not going to be the type that's going to tell someone, 'This sucks; you need to do it over.'
"Generally, I do like it when the artist is opinionated and has an idea of what they want."
I'm going to always approach it in my own style, in my own way. So, I try to be respectful, but also you have to be firm too – like, 'Hey, I believe in this, and I believe in you. But I also believe that this could be better'; I'll make that note.
Generally, I do like it when the artist is opinionated and has an idea of what they want. I don't want to just have to decide everything, how it should sound, do this, do that. It should be a collaboration.
---
Do you think it's becoming almost impossible, or at least very rare, in certain genres, to be a producer without also contributing to the writing?
I don't know if it's impossible to separate the two but yeah, nowadays, what we call producers are basically… I guess they're making beats or tracks or whatever; we're composing the backing track which contains chords and melodies, so…
I mean, for myself, I'm not necessarily a writer in the traditional sense, where I'm taking up a pen and a pad and jotting down lyrics; I'm not really that type of writer. But doing a track, making a beat, yeah, I'm definitely a writer.
---
When you get to a certain level of success, like Grammys and Platinum records levels of success, how do you ensure that you continue to learn and improve as a producer?
I'm still learning myself the answer to that. That's the key to life, I guess. But it's all about balance.
When I was young and hungry, I'd just stay up all night and do anything. Just give me any project to work on, let me sink my teeth into it. Now, I've been in the mainstream for over 10 years, and I feel like I've come to a point where I can be a lot more choosy. I'm not just going to invest my time into anything, only things that excite me and that I'm passionate about, you know?
That balance is important, but also just maintaining an open mind, not believing, 'Hey, I know everything because I did this, I had this hit, that hit'. I feel like I should constantly be open to learning things from others, from the new generation coming up. I'm no longer the youngest kid in the room; I'm not the young hot-shot kid anymore.
So I have to stay on my toes and see what the next generation is doing, and learn from that.
---
What piece of advice you would give to a young producer just starting out?
I'd say it would be in two parts. First, just immerse yourself, master your craft, really put in your 10,000 hours. Don't take any shortcuts. There is no shortcut. You have to put in the work. If you want to be great, you have to put your head down and just don't do anything else. Commit as much time as often as you possibly can to it.
And the second part would be the business aspect, which is really important, which some people overlook. And I've learned from that over… I've made mistakes here and there.
Surround yourself with a good team. Like, if you're starting out, have a good lawyer that you feel like you can trust. Whoever's advising you, make sure they're good people, with your interests at heart.
---
MBW's World's Greatest Producers series is supported by Hipgnosis Songs Fund. Traded on the London Stock Exchange, Hipgnosis was established to maximise the value of music… while also proving that value to institutional investors. Music Business Worldwide