Home to an estimated 144 million people, Russia is the world's ninth biggest country. It should be of massive importance to the global music business.
Russia's No.1 music-playing online site, vKontakte, currently attracts approximately 88m registered users domestically and 143m across the globe.
That's over double the size of Spotify.
Yet according to IFPI data, Russia contributed – in total – just US $72.8m to the recorded music industry last year, across digital, physical and public performance.
Despite its size, that means Russia is making less cash from legal recorded music than the likes of Poland, Denmark and Switzerland.
Most depressingly, it means that, on average, Russia's citizens are paying a woeful $0.50 each on music… a year.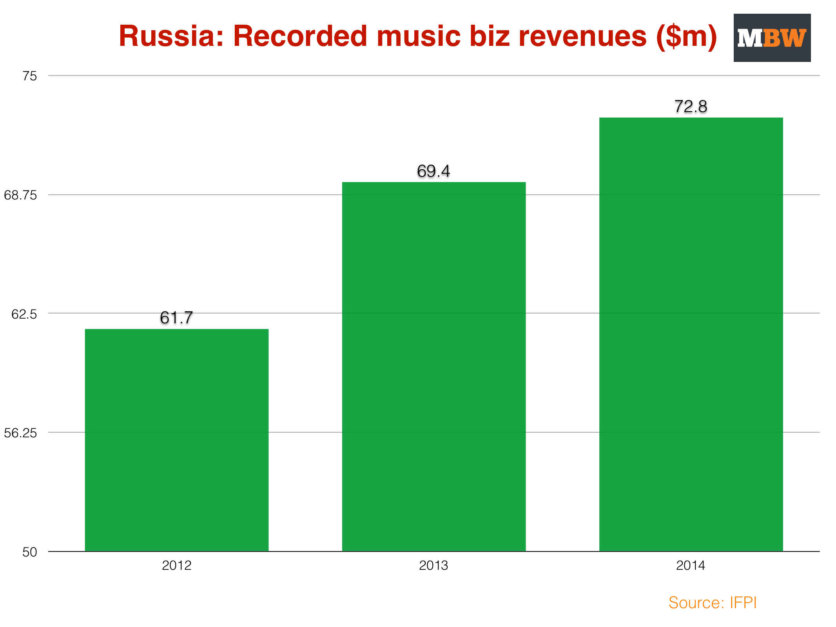 The core reason for this painfully small per-person payout is predictable enough: unstoppable mainstream piracy.
Russia is notorious amongst music rights-holders as a hotbed of copyright infringement, and has been for three decades.
Alexey Aliaev is Managing Director of leading Russian independent label Soyuz Music.
Soyuz, established in 2001, licenses labels into Russia including Cooking Vinyl, Beggars Group, [PIAS], Domino and Wagram, with releases that have included albums from Deep Purple, Adele, Duran Duran, Radiohead, The Prodigy, The Who and Marilyn Manson.
Aliaev tells MBW: "We, the Russian record companies, have had to operate under the pressure of the rampant piracy market since the fall of the Soviet Union.
"In the 1990s and 2000s physical piracy was up to 95% of the market."
Physical music piracy was bad enough: labels like Aliaev's began selling their legitimate CDs at vastly reduced prices just to compete.
The transition from CD to download only worsened Russia's piracy problem.
The majority of users of vKontakte, dubbed 'Russia's Facebook' for its ubiquity in the market, have openly shared or downloaded music illegally on the service ever since it was born in 2006.
VK is now recognised as holding the biggest library of illegal online music in the world – even bigger than The Pirate Bay.
"If torrent site owners are not interested in legal business, the response of the state will become quite obvious."

Sergei Zheleznyak
Government inaction and a population culturally addicted to not paying for music have left most labels effectively giving up on Russia as a serious market.
Yet in what could be the story of 2015 for the global music industry, Russia's worth to legal rights-holders is poised to explode.
On Friday last week (May 1), Russia extended a tough anti-piracy law to include multimedia content – covering music, e-books and software.
In theory, it means that the Russian High Court can order ISPs and website hosting companies to permanently block websites that repeatedly infringe copyright.
A toothless warning? It appears not.
Torrent sites have already been sent a final notification from the Russian Government being told that "the systematic violation of intellectual property rights will result in sites providing access to stolen content being blocked forever".
State Duma Deputy Speaker Sergei Zheleznyak explains: "I would like to warn those who are still abusing piracy: you have until May 1 to try to and enter into constructive dialogue with rights-holders.
"They are open to cooperation… If [site owners] are not interested in legal business, the response of the state will become quite obvious."
Soyuz Music's Aliaev tells MBW that – in what would have been seen as a minor miracle just years ago – the owners of VK have, so far, responded positively.
Labels are already engaged in progressive licensing discussions with the site.
We may as well ask the big one, then: could the world's biggest piracy site really go legit this year?
"We hope that this will happen this year," replies Aliaev with surprising confidence.
"The negotiations are in place."
"We hope that vkontakte will sign music licenses and go legitimate  this year. Negotiations are in place."

Alexey Aliaev, Soyuz Music
This U-turn in Russia's piracy leniency has, understandably, caused some cautious excitement amongst a music industry that has long witnessed the Russian Government's soft touch when it comes to penalising the pirates.
The Digital Director of Beggars Group, Simon Wheeler, tells MBW: "Any moves to restrict the widespread availability of unlicensed music from Russia is to be welcomed.
"However, changing what has been common practice for so many years for both companies and users will take time.
"If this development does have teeth then it could point to a better future for rights in Russia and Russia's effect on other markets."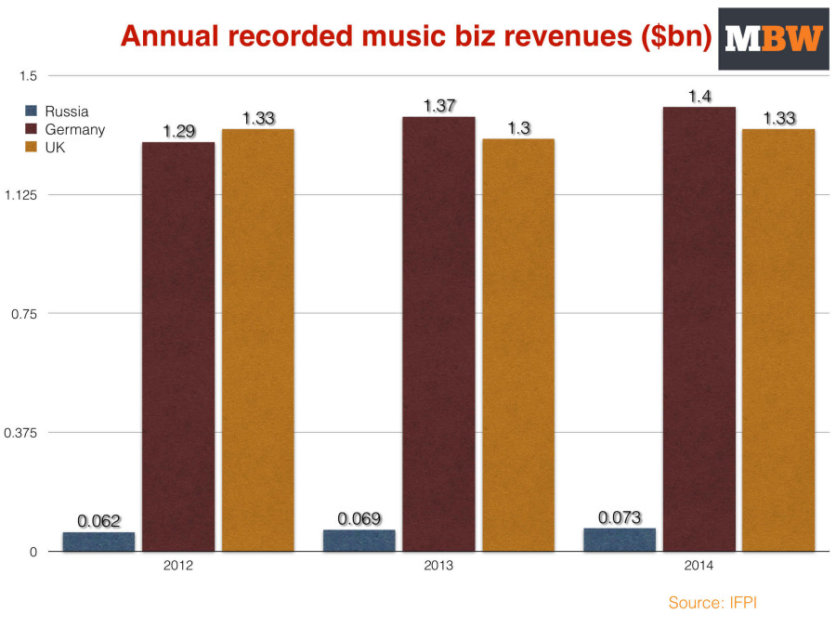 Even before the arrival of the new law, Russia's position as a notable market for the music business was improving – albeit slowly.
In 2012 iTunes & Google Play launched platforms in Russia. Both brought marketing millions with them, and gave helpful stimulus to the country's growing levels of legal music consumption.
(It is perhaps no happenstance that the IFPI's official numbers for Russia's recorded music industry only begin three years ago.)
Meanwhile, the turnover of local legal music platforms such as Yandex Music has also increased in recent years.
Even VK, up-to-now uninterested about inking licensing deals, is responding to label takedown requests.
"Changing what has been common practice in russia for so many years will take time."

Simon Wheeler, Beggars group
All are points of progress that have helped sow the seeds for the new anti-piracy law – legislation which means that if a rights-holder wins just two cases against an infringing platform, Russian courts are empowered to block them forever.
"Until the end of 2015 this will be learning trial period, but I really hope that more sites will legitimise their content, including VK," comments Suyoz's Aliaev.
"If the first precedents of resource blocking happen in the courts, we can expect the growth of digital income in Russia, the strengthening of current legal DSPs and the appearance of new legal platforms."
Further excitement is caused by the fact that Russia hasn't yet embraced the possibilities of the licensed streaming age.
Spotify was reportedly set to launch in the country in February, but pulled out at the last minute, dismissing its would-be boss in the region, Alexander Kubaneishvili.
The sobering fact remains, however, that Russia's total recorded music revenue haul last year was pitiful.
That $72.8m revenue haul in 2014 was almost 20 times smaller than Germany's – a country with a population almost half of the size of Russia's.
Adds Aliaev: "The possible legitimisation of VK alone is worth the game. Everyone in Russia is on there – almost each and every artist has a fan page in VK.
"The transformation of VK into legal platform could have an bigger effect on the Russian music industry than the arrival of iTunes.
"These measures can only be a good thing – so far, we've never had an instrument to fight internet piracy here.
"How ultimately effective will the law be? Only the future can tell us."
No spain, no gain: Russia's potential for the music biz
If Russia could legitimise its music industry to the level of piracy-ravaged Spain, it would be heavily significant for the music biz.
Annual recorded music revenues generated in Spain picked up for the first time in over a decade in 2014.
This was greatly helped by the incorporation of anti-piracy legislation that is very similar to Russia's new law.
Despite seeing its yearly music revenues fall by half a billion Euros since 2001, Spain still contributed €149.9m to the record business in 2014.
If Russia could emulate an equivalent per-person spend, it would generate around US $504m for the music business each year.
That would immediately place Russia as the fifth biggest recorded music market in the world – above Australia and below France.
Ambitious record company owners will be keeping their fingers crossed that this prospect could soon become a reality, and even that Russia will even be able to surpass it.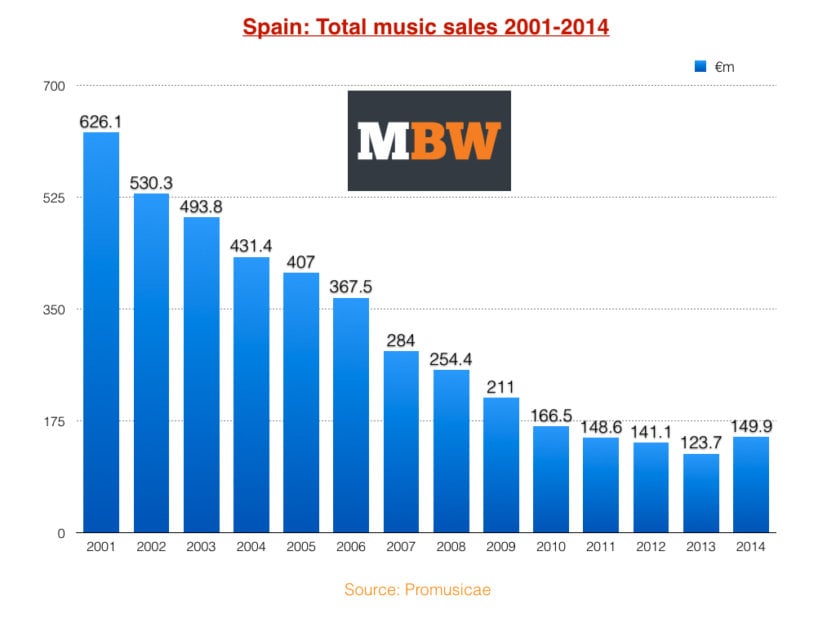 [Pictured: The current No.1 record in Russia, according to estimates, is David Guetta & Sam Martin's Dangerous]Music Business Worldwide