Spotify launched in Brazil five years ago – and it was one of the best decisions the company ever made.
According to MBW calculations related to the firm's Q2 2019 results, SPOT counted 21.6m paying subscribers in Latin America at the close of June this year, alongside 48.7m total monthly active users.
Brazil is the most populous country in Latin America, with around 209m citizens.
After this fast start in Brazil, according to Spotify's recently-departed Chief Economist, Will Page, the firm now expects that the market will inevitably overtake both the UK and Germany in terms of SPOT's paying subscribers.
The breakneck growth in streaming revenues in Brazil in recent years demonstrates where this confidence comes from.
According to IFPI data, Brazil generated $298.8m for labels and artists in 2018 – up 15.4% YoY – of which some 70% ($207.8m) was derived from streaming platforms.
That streaming figure was up by more than double the equivalent figure ($86.8m) seen just two years before.
Brazil was the 10th biggest global recorded music market last year, says IFPI.
---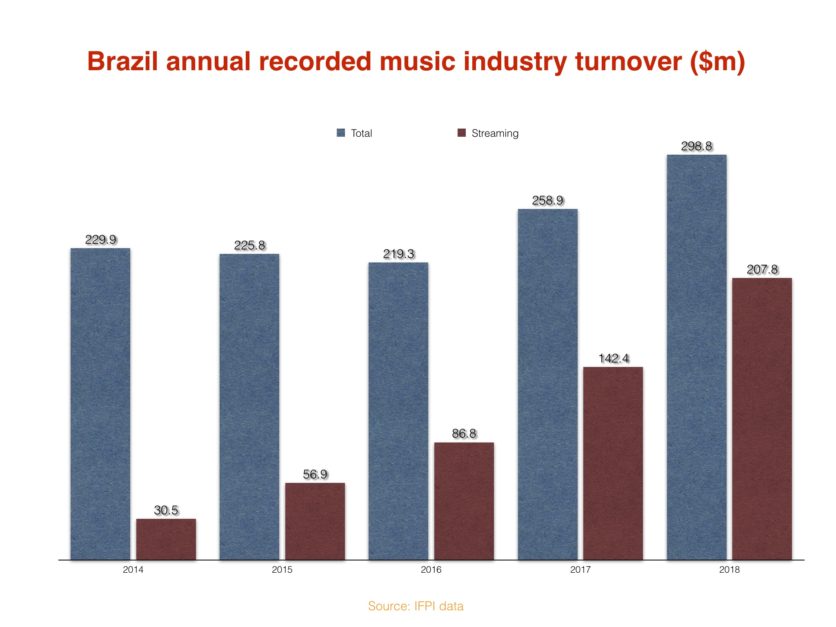 ---

Now, though, Spotify is facing a very serious new challenger in the Brazilian marketplace.
Amazon Music has just launched two tiers of music streaming in Brazil: (i) its Prime Music offering, which allows Amazon Prime members to access over two million tracks, ad-free and on-demand, for no extra cost; and (ii) its Amazon Music Unlimited (AMU) tier, a full bells-and-whistles Spotify Premium rival, which offers over 50 million tracks for a monthly fee.
In Brazil, that monthly fee is significant. A standard Individual Plan is available for R$16.90 (the equivalent of US $4.16) per month, or R$169.00 (US $41.63) for a whole year.
"Today's launch represents a momentous step for Amazon Music, as Brazil is one of the most important music destinations in the world."

Federico Pedersen, Amazon Music (pictured)
An Amazon Music Unlimited Family Plan, which allows up to six members of the same family to use one subscription for only R$25.90 ($6.38) a month, or R$259 ($63.79) per year.
AMU's standard monthly plan (R$16.90) is priced the same as Spotify, but the latter company doesn't offer a discounted yearly deal. Plus AMU's monthly family plan is slightly cheaper than Spotify's (R$26.99).
In addition, music fans in Brazil can now sign up to a three-month free trial of Amazon Music Unlimited, to test the service out before they pay anything.
---
For both companies, an aggressive price strategy is all-important in Brazil.
According to World Bank statistics, the nation's annual per-capita (i.e. per-head) GDP in 2018 was just US $8,921, down on $9,881 the prior year. Compare that to the USA's equivalent per-capita GDP in 2018 ($62,641) and the UK's ($42,491), and you get a feel for the relative economic status of Brazil's average citizen.
How much are Brazilians willing to spend on music each month? And will marginal annual savings make a material difference to where they spend that money?
Amazon will be hoping so.
"Today's launch represents a momentous step for Amazon Music, as Brazil is one of the most important music destinations in the world," said Federico Pedersen, Head of Latin America for Amazon Music.
"Our local team has focused heavily on creating a host of playlists and stations to spotlight the unique variety of Brazilian music and we can't wait for new subscribers to start streaming today."
Amazon Music's locally curated playlists and stations cover popular genres specific to the region, including Sertanejo, Samba,  Pagode, Forró, Axé and more.Music Business Worldwide