The global record industry is increasingly cracking down on fake streams. And it's obviously in the interest of fairness for illegitimate plays, purchased via so-called 'stream farms', to be removed from industry charts.
Yet what about when an organized army of fans, well, fanatically listens to a track over and over again in a 24 hour period?
Should that count as illegitimate stream manipulation – or not?
That's MBW's big question today, as we chew over two very different debut 24-hour tallies for Dynamite, the new single by Big Hit Entertainment-signed K-Pop superstars BTS, which was released on Friday (August 21).
On YouTube, Dynamite is officially an all-time record-breaker. YouTube has confirmed that the track, BTS's first fully English-language single, amassed 101.1 million views on the platform in 24 hours, the biggest day-one tally in history.
The video also set a new all-time record for the biggest music video premiere in YouTube's history, with over 3 million concurrent viewers 'tuning in' when Dynamite dropped on the service.
Over on Spotify, however, BTS's official day-one tally is a little more complicated.
---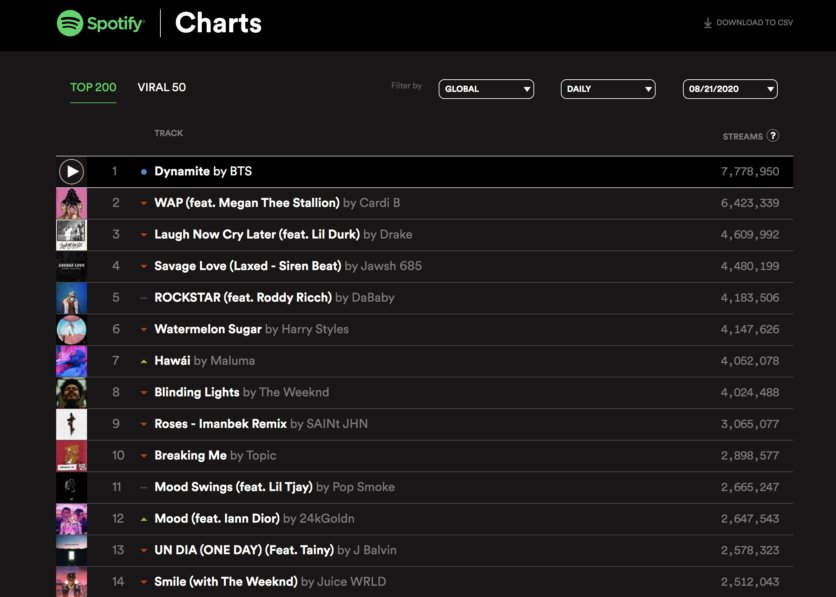 ---
BTS's track certainly topped Spotify's Global Top 50 chart on Friday (see above), marking the first time ever that a Korean act has achieved the feat.
According to official Spotify Chart figures, Dynamite racked up 7,778,950 chart-eligible streams in its opening 24 hours, giving it the biggest debut on the service of 2020, ahead of Taylor Swift's Cardigan (7.74m plays).
But here's where things get a little squiggly.
"On August 21, BTS' DynamitE had the biggest first day globally on Spotify in 2020 so far with over 12.6M streams."

Spotify spokesperson, speaking to MBW today (August 24)
According to typically accurate, chart-watching social media accounts – including the widely-cited Chart Data – Dynamite's total 'unfiltered' playcount during its first 24 hours on Spotify was actually 12,638,540.
And today (August 24) a Spotify spokesperson has confirmed to MBW that Dynamite did indeed clock up "the biggest first day globally on Spotify in 2020 so far with over 12.6M streams".
Obviously, 12.6 million streams (Spotify's official total for Dynamite) and 7.8m streams (Spotify's Chart total for Dynamite) are a fair distance apart.
So what's going on?
---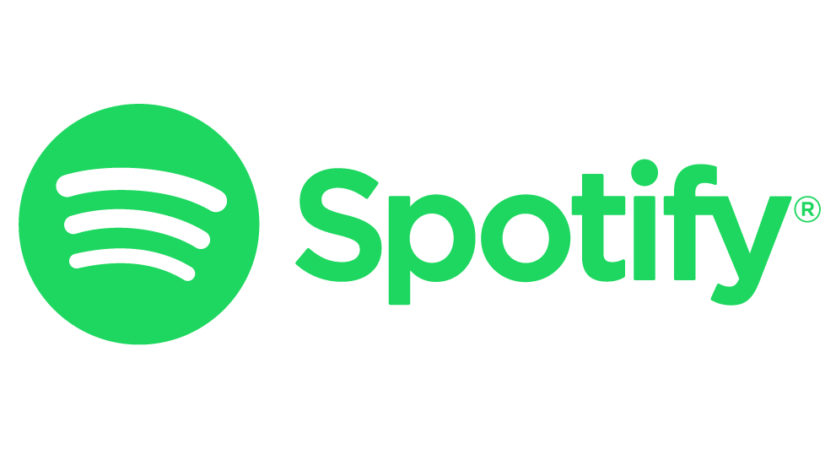 MBW understands that Spotify caps the number of plays each individual user can contribute towards its chart within a 24 hour period.
The platform even states in its charts FAQs that the official figures displayed on SpotifyCharts.com "are generated using a formula that protects against any artificial inflation of chart positions".
The artificial inflation Spotify is talking about here refers to incidents such as, in 2018 for example, the time over 1,000 Spotify logins were claimed to have been distributed by the BTS fan 'Army' to boost US streams for their album, Love Yourself: Tear.
Spotify's exact formula for how it filters its streams to discount ineligible Chart plays has never been made public, but the platform's FAQs add that due to its secret formula, "you might notice the data [on Spotify's Chart] differs from other reported stream numbers we share (e.g. in Spotify for Artists, Spotify Analytics, the desktop app, and other custom usage reports)".
So, did BTS's global fan 'Army' co-ordinate online to significantly boost the day-one streaming number of Dynamite?
And, if they did so without turning to those dodgy paid-for stream farms, were these streams any less legitimate than your average play on the service?
As we said, big question.
Adding intrigue to this story are the below replies by Twitter users on Sunday (August 23) to a prominent BTS fan account (BTS Analytics), which counts 2.3m followers.
The first appears to encourage fellow 'BTS Army' members to multiply their YouTube streams of Dynamite while still ensuring these plays count towards the platform's chart.
The second warns fellow BTS fans that "we need to work on our streaming strategies" after those near-5m plays were wiped from Spotify's chart count.
---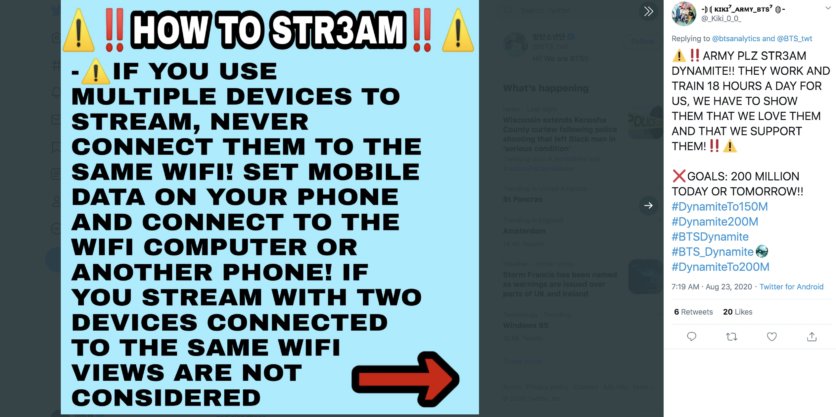 ---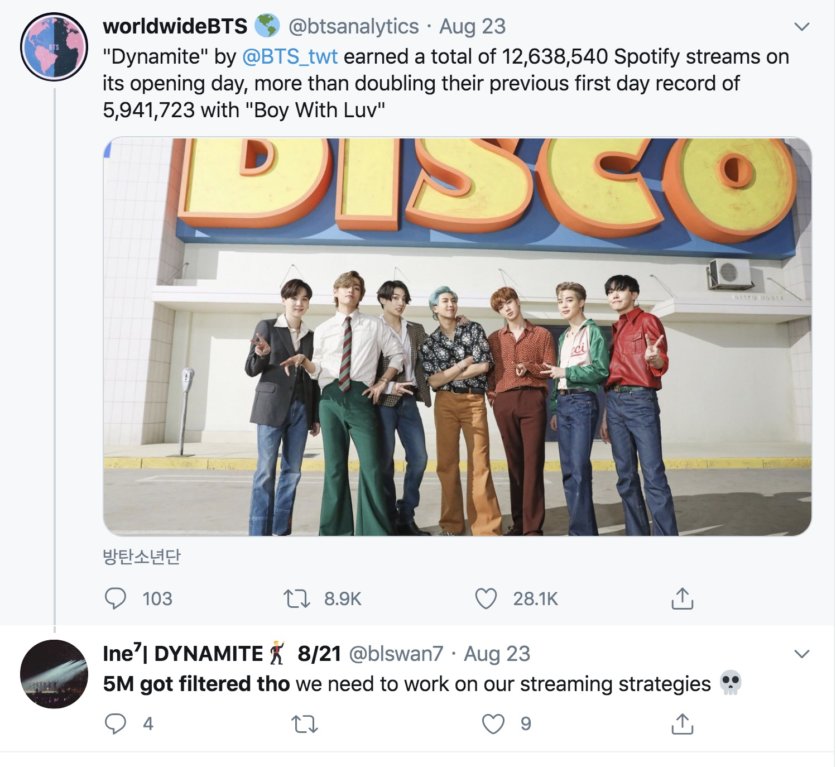 ---
This story is not unique to BTS.
In fact, the discrepancy between the Dynamite Spotify figures harks back to the January 18, 2019 release of Ariana Grande's hit 7 Rings.
At the time, her manager Scooter Braun tweeted to confirm that 7 Rings been streamed 14,966,544 times globally on Spotify during its day of release.
This stat was later backed up by Grande's label, Republic Records.
As Braun announced the figure, he added, in clear reference to Spotify's all-time popularity lists, that 7 Rings' tally was "4 million more than the former record holder!" and that "History is being made!"
---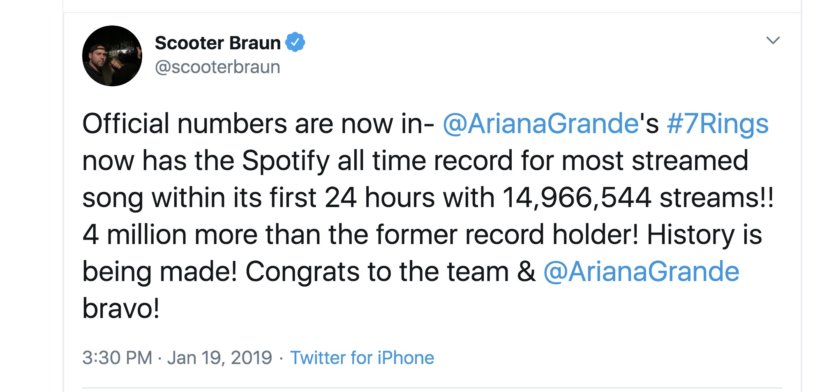 ---
As MBW reported, Grande's 14.966m figure was indeed enough to smash the all-time largest official Spotify 24 hour tally, held by All I Want For Christmas Is You by Mariah Carey (which has since upped this record, with just over 12m plays on December 24 last year).
That 7 Rings tally also easily surpassed the biggest official day-one track debut of all time on Spotify, since claimed by Justin Bieber and Ed Sheeran with I Don't Care (10.977m plays on May 10, 2019).
And yet, according to Spotify's final tally on its own Charts site (see below), in chart-eligible terms, 7 Rings was actually streamed 8,554,577 times on Friday, January 18.
---

---
If Scooter Braun's number is to be trusted (and trust it we do, seeing as it was likely obtained from Grande's own Spotify Analytics / Spotify For Artists account), some 6.4m day-one plays of Grande's track were erased by Spotify for its chart, on the basis – remember – of "a formula that protects against any artificial inflation of chart positions".
Welcome to the modern music business!Music Business Worldwide