Big news from BTS and HYBE: All seven members of the megastar K-pop group have renewed their contracts with the South Korea-based entertainment giant and its Big Hit Music subsidiary.
HYBE revealed the news in a regulatory filing on Wednesday (September 20), in which it stated: "Our company has completed the Board of Directors' resolution to renew the exclusive contracts of seven BTS members".
The company added in the filing that "this fact was judged to be a management matter that could affect the company's financial status and investor decision-making, and was therefore disclosed".
BTS is comprised of members RM, Jin, SUGA, j-hope, Jimin, V and Jung Kook.
HYBE (then known as Big Hit Entertainment) formed BTS in 2010, signing RM as the group's first member and launching nationwide auditions to seek other members of the group. BTS then debuted in 2013.
In October 2018, HYBE revealed that each of the seven members had extended their contracts with the company for another seven years, or until 2025.
The company's filing doesn't specify the duration of the renewed contracts.
The news was first reported by local media, including Koreaboo, and Kpopstarz which cited a statement from the company as saying: "With the renewal of their contracts, we hope will be able to share with everyone a full group promotional period for BTS in 2025."
HYBE added in the statement: "HYBE and [label subsidiary] Big Hit Music will do everything we can to support and further improve BTS's status."
BTS member RM also reportedly shared a picture of his contract on Instagram.
In June last year, the K-pop group revealed that they would be taking a break to pursue solo projects.
The news spooked investors in publicly-traded HYBE, causing the company's shares to fall by nearly 25% on June 15, wiping around $1.5 billion from its market cap value.
Then, in October 2022, HYBE revealed that BTS intended to fulfill their mandatory military service in their home country of South Korea and 'reconvene' in 2025.
The announcement from the South Korea-based entertainment giant followed months of speculation about whether or not the K-Pop superstars might get an exemption due to their contribution to the country's economy and cultural exports worldwide.
In an official statement released on Monday, October 17, HYBE's BIGHIT MUSIC revealed that the members of BTS were "moving forward with plans to fulfill their military service". The oldest member of the group, Jin, became the first in the group to enlist. J-Hope is also currently serving in the army.
The company said at the time that BTS and HYBE would "reconvene" in "around 2025" following their service commitment.
Official news of the band members' renewed contracts with the company confirms that they will be reconvening and working with HYBE after 2025.
---
HYBE has continued to see success with individual members of BTS during the band's hiatus.
Jung kook, for example, released his hit single Seven, featuring rapper Latto, on July 14. The track debuted at No.1 on the Billboard Hot 100 chart (dated July 29, 2023), and at the time of writing, has been streamed over 716 million times on Spotify alone.
The release was a major test for HYBE's post-BTS strategy across the globe.
That strategy, HYBE explained at the time, consisted of two parts: Firstly, it planned to develop a 'multi-label' structure to house superstars outside of its flagship group and biggest revenue generator, BTS.
Secondly, it would rely on the solo releases of BTS members such as Jimin, Suga, and Jung kook to satisfy BTS fans until the group reconvened in 2025.
This plan, presented by HYBE's global CEO, Jiwon Park, didn't fully reassure the company's shareholders, with HYBE's share price hitting an all-time low on October 13, 2022, the same month that HYBE confirmed BTS's hiatus.
That was down close to a quarter of the Publicly-traded company's all-time share price peak of 400,500 KRW in November 2021.
Since then, however, HYBE has more than proved that it can generate significant sales in the absence of BTS.
Most recently, in Q2 2023, across all of its business units, HYBE clocked revenues of KRW 620.99 billion ($470 million), up 21.2% YoY.
For the first half of 2023, digital and physical album sales came in at 22.7 million, already surpassing the 22.2 million sold in all of 2022, HYBE said in its earnings statement.
The label's three biggest-selling artists in H1 (see below) were SEVENTEEN (8.87 million albums), TOMORROW X TOGETHER (3.54 million) and New Jeans (2.06m).
---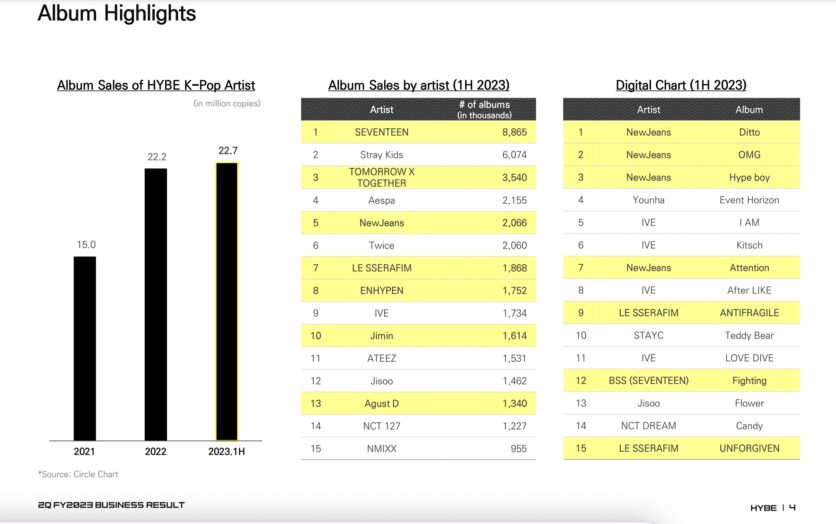 ---
Additionally, Jung Kook's not the only solo BTS member to perform well this year.
His bandmate Jimin released his solo album FACE on March 24 and HYBE confirmed in its Q1 investor presentation that the album sold 1.45 million copies worldwide on its first day, becoming the first solo K-Pop artist to sell more than a million albums on release day.
Music Business Worldwide