HYBE, the company behind BTS and formerly known as Big Hit Entertainment, has posted its Q1 2021 results for the three months ending March 31, 2021.
South Korea-based HYBE revealed via a conference call for institutional investors this week that it generated total revenues of 178.3 billion KRW in Q1 (approx $161m according to current exchange rates as per the Financial Times).
This performance marked a year-on-year revenue increase of 29%.
HYBE also posted a net profit of 15.8bn KRW ($14.2m), up 11% year-on-year, but down 41% compared to the prior quarter (Q4 2020).
HYBE's performance was mainly driven by official merchandise, licensing products, content and the company's 'artist indirect involvement' businesses, which sees HYBE use the name and likeness of its artists such as BTS without requiring the band's active participation.
According to HYBE's investor presentation (see below) the company's artist indirect-involvement sales for Q1 2021 increased 123% year-on-year to 110.8bn KRW ($100m).
Album sales, meanwhile, fell 33% year-on-year from 80.8bn KRW ($73m) in Q1 2020, to 54.4bn KRW ($49.2m) in Q1 2021.
Official merchandise and content using the IP of key HYBE-signed artists increased 89% and 360% year-on-year respectively, to 64.7 billion KRW ($58.5m) and 37.2 billion KRW ($33.6m), respectively.
Meanwhile, sales from advertising and appearance fees, and separately, fan clubs also increased 63% and 24% respectively compared to the same quarter in 2020.
However, HYBE's revenues from advertising and appearance fees and fan club sales were down 5% and 6%, respectively compared to the prior quarter Q4 2020.
Merchandising and licensing was also down, by 4%, compared to Q4 2020.
---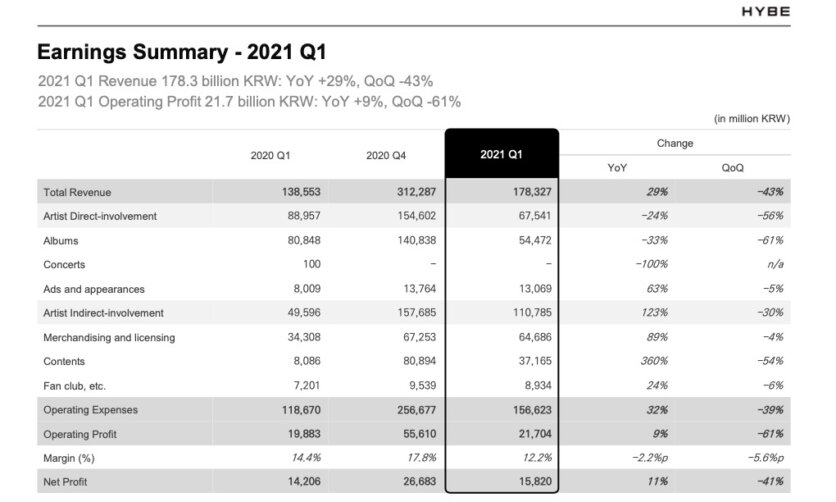 ---
Also on the conference call, HYBE presented what it calls "a blueprint for creating business synergies" through its merger with Scooter Braun's Ithaca Holdings, which saw Braun sell the entirety of his company – including SB Projects and Big Machine Label Group – to HYBE last month.
Part of this "blueprint", according to HYBE, is the combination of its "solution and platform capabilities with strengthened global artist IPs" of artists such as Justin Bieber and Ariana Grande.
In addition, the company says that it plans to create "various synergies, while expanding HYBE Label artists' entry into the US market along with developing new global artists based on Ithaca Holdings' expertise and network in the US music industry".
---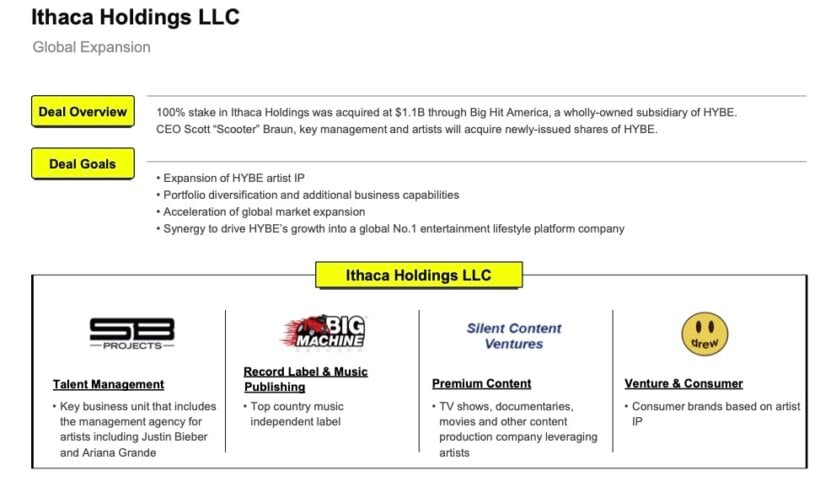 Elsewhere, HYBE reports that its global fan community platform Weverse averaged around 4.9m Monthly Active Users (MAUs) in 2021 Q1.
Commenting on the recent rebrand from Big Hit Entertainment to HYBE, which included a change to the company's organizational structure to focus on three key areas (labels, solutions, and platform), HYBE explained on its investors call "that the company will be able to operate independently and efficiently in each unit".
"We will flexibly respond to uncertainties in management conditions caused by prolonged COVID-19 situation."

Jiwon Park, HYBE
HYBE HQ CEO Jiwon Park said: "HYBE's major artists including NU'EST, ENHYPEN, BTS, and TOMORROW X TOGETHER are set to actively promote new music in 2021 Q2."
"We will flexibly respond to uncertainties in management conditions caused by prolonged COVID-19 situation."
---
Big Hit generated 796.3 billion KRW (approx $676 million) in the 12 months of 2020.
That meant Big Hit, which floated on the Korea Exchange in October, saw its annual revenues grow 36% YoY versus 2019.
You can read HYBE's full investor Q1 2021 presentation though here.Music Business Worldwide