Sony Corporation's proposed 100% acquisition of EMI Music Publishing (EMP) is in process – but the major is facing more opposition in Europe than it would have hoped for.
Independent label/artist group IMPALA has already demonstrated staunch opposition to Sony Corp's attempted $2.6bn buy of the approximate 70% in EMP it doesn't already own. (This $2.6bn spend is split across two separate deals: (i) with a Mubadala-led consortium ($2.3bn) for 60% of EMP; and (ii) with the Jackson Estate ($287.5m) for a further 10%.)
Last week, IMPALA once again announced its official opposition to the Mubadala consortium deal – which values EMI Music Publishing at $4.75 billion – just as European Commission regulators began their initial assessment of the acquisition.
(Sony will know all-too-well that IMPALA has form in this area: in 2011, the group lodged complaints with the EC over Universal Music Group's proposed acquisition of EMI Music. UMG's deal was cleared in 2012, but not before the major was forced by European regulators to divest Parlophone Label Group (PLG), later acquired by rival Warner.Warner then, in turn, agreed to divest over $100m in assets to the independent sector.)
---
Now, the British Academy of Songwriters, Composers and Authors (BASCA) has announced its formal opposition to Sony's EMI Music Publishing acquisition.
It is calling for the Mubadala deal to be blocked in favor of EMI being run as a standalone business or 'else combined with smaller music companies to guarantee a fair and competitive market for European talent'.
BASCA – whose members include Sir Paul McCartney, Dizzee Rascal, Florence Welch, Sir Elton John, Chris Martin, The 1975, Kate Bush and more – says it believes the EMP buyout would result in a Sony 'major-superpower' which would 'limit creator choice and could potentially undermine the future autonomy of creator rights'.
According to MBW's analysis, Sony's takeover of EMI wouldn't quite create the world's biggest music rights-holder – a title which would remain Universal's – but it would result in the globe's biggest music publisher being owned by the same parent as the world's second biggest recorded music rights-holder.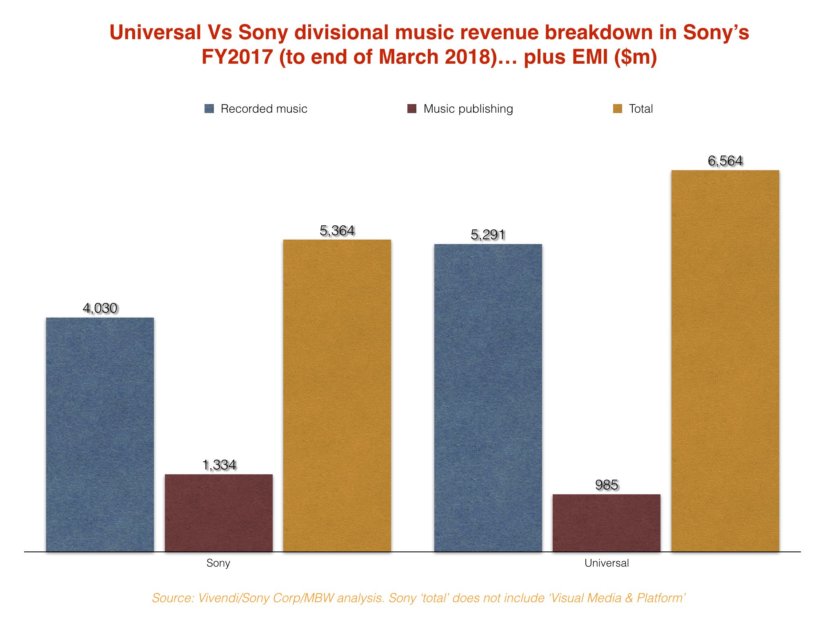 ---
Sony Corp's music publishing catalog currently stretches to 2.16m songs. If EMI Music Publishing was fully owned by the company, that number would grow to 4.21m.
In 2012, Sony acquired approximately 30% of EMP as part of a consortium buyout from Citigroup (in the same deal, the Mubadala-led group acquired 60% of the company). Since then, Sony Corp-owned Sony/ATV has acted as the global administrator of EMI, and counts EMP's quarterly/annual performance in its own industry-facing market share figures.
BASCA claims that, should it be permitted to buy EMP, Sony Corp would forge a 'capability to dominate licensing markets and – via direct online licensing deals – raise serious implications for the autonomy of collective rights management'.
Crispin Hunt, songwriter and Chair of BASCA said, "At a time when the EU is looking to restore a balanced, diverse and competitive online marketplace for music, to allow the concentration of market leverage in this way seems antithetical to that purpose. As yet, there appears little evidence that the (unchallengeable dogma of the) market-share-music-model will successfully deliver the flourishing musical environment that consumers desire.
"Sony is a great music company; indeed they acquired, publish and service much of my catalogue. But if we are to heed the economic lessons of 'too big to fail', it seems incautious to concede near absolute control of the music market to one player. Setting up the music ecosystem so that it once again runs on competition as opposed to oligopoly is the key to a flourishing market, both online and off."
"If we are to heed the economic lessons of 'too big to fail', it seems incautious to concede near absolute control of the music market to one player."

Crispin Hunt, BASCA (pictured, main)
In a statement to press, BASCA said: 'Creators rely on the transparency, governance and fair distribution of royalties. Collective rights management plays an integral role in ensuring this happens. Improvements are needed to how some CMOs are managed, but the Collective Rights Management Directive in Europe should soon address concerns. However, there is no such regulation over how labels and publishers license, collect and distribute royalties.'
Hunt added: "While we recognise the advantage of large music companies in securing value for collective licenses, we also note that large catalogues can exert an asymmetric influence on CMO's. Naturally, such catalogues tend to optimise policies for the convenience of the big guys, which could disadvantage the expanding indie and self-releasing sector. The CMO network provides a critical lifeline for most music creators and indie publishers alike. Gigantic catalogues can be good for business — but a Titanic one?"
EMI Music Publishing generated revenue of $663 million, adjusted operating income of $181 million*, and adjusted EBITDA of $249 million* for the fiscal year ended March 31, 2018.
Commenting on behalf of the BASCA Songwriters Committee, Helienne Lindvall said, "Creators should expect that their copyrights will be known to the publisher and exploited fully. They should also expect their publishers to work closely with them on a personal level to develop their careers.
"The opposite has been found to be true for songwriters and composers – including myself – when their rights are transferred from their original publisher to a corporation such as Sony, in merging vast catalogues."
* Adjusted to exclude certain non-recurring warrant expense and management incentive plan accruals.Music Business Worldwide