MBW has written plenty about 'minimum revenue guarantees' from streaming services to labels over the past year – much of it regarding how much of these one-off payments end up in the pocket of artists.
Well… words are nice, but numbers are nicer.
Aside from one notorious leaked 2011 US Spotify/Sony contract, we haven't had much in the way of hard data to go on when it comes to the tricky subject of 'breakage'… until today.
Deezer has published the document it hopes will carry it to an IPO in its home city of Paris. In doing so, it's laid bare all of its financial information for the past four years.
A host of things jump out – more on those later – but perhaps the most eye-opening fact is the amount paid to record companies in advances, or 'minimum revenue guarantees'.
"Managers might want to ask their labels today where the €20m in breakage payments from deezer have gone."
According to its fiscal results, Deezer agreed a huge advance with record companies (it doesn't mention music publishers) at the start of 2012, to be paid in installments over the next three years.
MBW calculations put this three-year figure at €257m (US $287m) (2012: €57.1m; 2013: €87.4m; 2014: €112.5m).
But here's what's really noteworthy: royalties from subscriptions and ads fell short of this advance payment in 2012, 2013 and 2014 – totalling approx €236.4m ($264m).
In total, the deficit between the two numbers amounted to €20.6m ($23m) across the three year period (2012: €5.4m; 2013: €13.2m; 2014: €2m).
This figure is essentially unallocated 'breakage'.
We'll explain that in a second. Shorthand: managers, you might want to ask your record company exactly where this money has gone.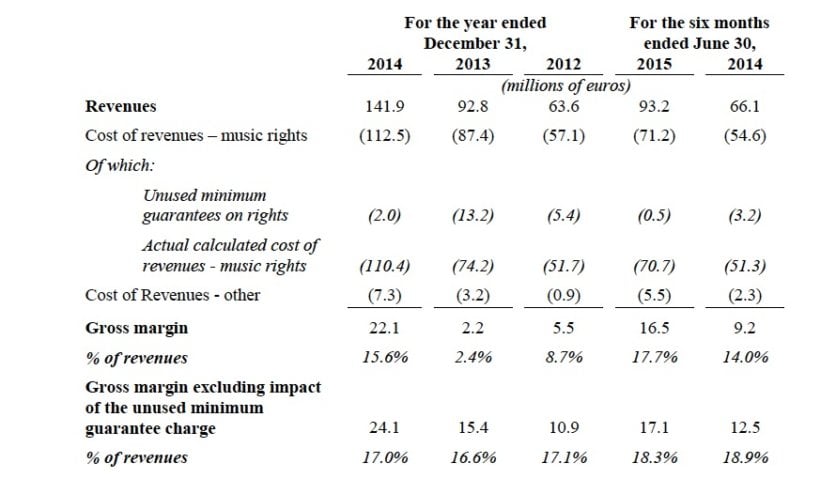 Here's how it works: after an advance has been paid by a service like Deezer to record companies, the idea is that the platform will then generate the same or even more cash through subscriptions and ads.
This activity can be accounted for: so if Calvin Harris or Lady Gaga claim X% of total streams on Deezer, generating €X of money, they (and their rightsholders) should get X% of the money paid out in the initial advance.
Where this system falls down (for artists looking for transparency, anyway) is when the advance ends up exceeding the annual streaming royalty income.
When that happens, you're inevitably left with a lump sum – in this case over €20m – sitting in record company bank accounts, but which can't be attributed to any specific artists.
Some suggest that major record companies pocket this cash on the quiet, but that's not what they tell MBW: all three majors have informed us this year that, to some extent, they share this money with their acts.
Warner was the first to make this policy a company standard, and even attributes a line to 'breakage' on their artists' royalty statements.
The indies, meanwhile, have typically signed up to the Fair Deal Declaration from WIN, which pledges to 'account to artists a good-faith pro-rata share of any revenues and other compensation from digital services'.
€20m, potentially shared between all of the record companies and all of the artists on their books, is not a massive amount of money. (The Deezer IPO document says that 67% of streams on its service are of major label catalogue, which probably gives us a steer as to how this cash was divvied up.)
But it's not chump change either – and the matter of whose pocket it ends up sitting in remains at the heart of a lot of mistrust between managers and record companies.
"Stat of the day? Deezer had to pay out 94% of its total revenues to record companies in 2013 as minimum guarantees."
Digging further into Deezer's results, the real stinker over the three years was 2013, when Deezer paid out a whopping €87.4m to music rightsholders in advances.
Across 2013, Deezer then generated €74.2m of royalties for record companies.
That resulted in €13.2m ($14.7m) overspill from the advance – or 'breakage' payments – to labels in a single year.
There's another way of looking at this economic exchange too, and it's even less pretty: Deezer's perspective.
In 2013: remember, €87.4m went the way of the music business from Deezer as an advance.
Deezer says the primary reason for this big number was its need to acquire new licenses for international expansion.
Either way, its total revenues in 2013 stood at €92.8m.
In other words, after paying out its big advance cheque to record labels – before tax, salaries, overheads and other expenditures – Deezer was left with a grand total of €5.4m on the balance sheet in the year.
Stat of the day? Deezer paid out 94% of its total revenues in 2013 to record companies as minimum guaranteed advances.
Which brings us on to the financial health of the French business.
From 2012 to the end of the first half of 2015, Deezer has posted €87m in net losses.
During this time, the amount of its annual revenues that the firm has given away to the music biz for rights has never fallen below 79%.
If it wants to attract the confidence of investors on the stock exchange, that's something it will have to sort out mighty quick.
Nb. In Deezer's own words: Pursuant to some of Deezer's licensing arrangements, Deezer has been required to pay record labels minimum guaranteed payments. The minimum guaranteed payments are generally paid in part in advance and in part over the term of the license agreement. They are offset against total royalties owed under the agreements.
In 2012, Deezer entered into agreements providing for minimum guaranteed payments that exceeded the anticipated amount of royalties that Deezer expected to be payable based on expected usage, which negatively impacted Deezer's gross margin for 2012 and 2013, and to a lesser extent 2014.
Deezer agreed to these minimum guaranteed payments in part to support its international growth strategy at the time. Increased minimum guaranteed payments were required to extend Deezer's content licenses to new territories where it hoped to generate sufficient subscriber and revenue growth to allow it to recoup such minimum guaranteed payments in the future.Music Business Worldwide