MBW's World's Greatest Producers series sees us interview – and celebrate – some of the greatest talents working in studios today. This time, we speak to Jamaica-born, Canada-raised Boi-1da, a Grammy-winning Sony/ATV-signed producer who, as well as being a long-lasting collaborator of Drake, has also contributed to records by the likes of Rihanna, Eminem, Jay-Z, Nicki Minaj, Nas, Lana Del Rey and Kendrick Lamar. World's Greatest Producers is supported by Hipgnosis Songs Fund.
---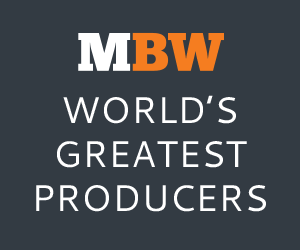 Boi-1da describes Rihanna's Work [2015], which he produced and co-wrote, as "one of the highlights of my life", not out of amped-up hyperbole, nor in reference and deference to its commercial performance (it was a 6 x Platinum No. 1 in the US).
Rather it is a track, a 3:39 snippet of his portfolio, that reflects and taps into the genuine highlights of his actual life. It not only features long-time collaborator and great friend, Drake, it is driven and lifted by a dancehall sound that is part of his production trademark and stems from his Jamaican heritage and his father's musical influence.
It is a global, timeless hit that is simultaneously intensely personal and very specific. As Boi-1da himself says, "I shared a moment with the whole world."
Boi-1da (aka Matthew Samuels) actually left Jamaica for Toronto when he was three, but the influence of the island never left him. He found hip-hop as a fan of DMX and discovered a gift for production after being persuaded to enter a local beat-making competition, which he subsequently won three times in a row.
He could probably have defended his crown many more times, but by Year Four his eyes were on another throne, having been introduced to local rapper Drake, working on his early mixtapes and breakthrough records.
It is a partnership that remains strong and is about to feature on Drake's sixth official studio album. All the preceding five have gone to No. 1 in the US and Canada.
Whilst the world waits for the as-yet-untitled record to drop, Boi-1da is looking ahead and looking around. As a producer he wants to challenge himself and get to the next level, the sort of level occupied by heroes such as Dr Dre and Timbaland.
But, more pressingly, as 2020 continues to shock, unravel and challenge, he is "focusing on the things that really matter right now" – and determined to play a local part in a global movement…
---
What was the music you grew up listening to and that first inspired you to make music yourself?
I grew up listening to a lot of dancehall and reggae music, via my dad, he's a big musical influence. By the time I was in Canada, my older sister was listening to a lot of R&B. It's crazy, I produce a lot of hip-hop music, but I was actually very late on listening to hip-hop.
When DMX came out, I think; he was the guy who tuned my ear into hip-hop. I loved his first album [It's Dark And Hell Is Hot, 1998]. I remember listening to it when I was younger; it was kind of scary, but I would still listen to it. It was just a different style, a different sound.
---
When did you start thinking music was something that that you could do or had a talent for?
I remember in ninth grade, walking home with a friend, and they told me about the program, FL Studio. When I got home, I used my mom's credit card to buy it and just started making beats; it became very addictive to me.
I was really into the fact that I could I could make my own music. I spent an entire summer in my house trying to figure out that program. I figured it out, and fell in love with the creation of music.
---
At this point, did you just think it was something that would be a hobby? Or did you start thinking it was something where you could you could carve out a career?
I would go to school and play my beats for friends, and they'd be like, 'These are pretty good man!' And my friends were pretty honest.
Then one of them showed me this competition called Battle of the Beat Makers. I was pretty timid when I was younger, and I'd certainly never won anything in my life, so I was like, 'Whatever.' But they kept on at me about it, I ended up entering and I ended up winning three times in a row.
My first win, I was 17 years old, like, I was the youngest person in the competition. I was really shocked, but also I was like, 'Maybe I can make a career here…'
---
And did those wins lead to a breakthrough for you?
Yeah, I started meeting people in the city, meeting people who were affiliated to local rappers that were doing really well, and I started working with artists on the scene.
Eventually I ended up meeting a producer named D10, who introduced me to Drake. The first time I heard Drake's music I thought he was the best local guy I'd heard.
I just got his vision immediately after meeting him, and we started making music.
---
What stage was Drake at in his career at that stage?
He was still mainly known for [Canadian teen TV drama] Degrassi then. I knew him like everybody else did, as the black guy in the wheelchair on Degrassi.
When I heard he was making music, I couldn't believe it at first, I'm like, there's no way… And then I when I heard it, I was like, 'Oh, he's really dope.'
We formed a team, me and D10, and along the way we ended up meeting guys like 40, and we just kept on building from there.
---
When did you get a sense that Drake was going to be something really big – going national and then global?
Honestly, from the first time I heard him rap, I always thought he would make it.
At the time we were like, 16, 17, and he was just better than everybody. Like, he sounded better than anybody, his delivery was better.
Working with him, seeing the process of how he makes music, I just always knew: this guy is going to be huge someday. So, yeah, man. I always knew, I'm not gonna lie to you.
---
I think the first time you worked together was on Room For Improvement [Drake's debut mixtape, 2006]. How was that experience, and how did you feel your way towards finding your own roles and the right relationship?
You know, at that time, Drake was, how can I explain it, he was making a lot of… I wouldn't say it was conscious rap, because it's kind of like what he's doing right now, just a little more conscious, and, with the underground sound, a little more soulful. He reminded me of a mixture of Slum Village meets Jay Z and Kanye.
I was making a lot of up-tempo stuff, and I kind of brought that tempo, you know, that energy. Every time we linked up and made a song, it was always high energy, something that could play on the radio, something that could play in the clubs.
I brought in that kind of energy; everything else, he had.
---
How has the atmosphere changed in that music-making environment, in that team? Is it a question of more people in the room? More pressure? Or still quite the same and still quite fun?
It's definitely still fun to make music, it hasn't changed in that aspect. But Drake is on his, what, 10th album now, so it's a lot different scenario than it was when we were nervous about proving ourselves to the world.
We did that, we got past that part, and we've still obviously got it, so it's just about maintaining the same energy that we've been providing for the last 10 years, trying to evolve the music and get better, tell stories a little bit different.
---
I guess you can't say too much about the forthcoming album – other than it'll be out this summer and you'll be on it?
I don't know when it's coming out exactly, but yeah, I'll be on it.
---
You're often referred to as OVO's in-house producer. What's that set-up like in terms of the label, your role and which projects you choose to get involved in?
I'm not really involved in that side of things. You know a lot of people put it that way, that I'm an in-house producer, but I'm not.
I do my thing, I'm here and there, but that side of stuff, with OVO, I don't really know what's going on with that.
---
 I guess that gives you freedom to pursue your own projects and work with different artists and labels?
That's the beauty of it. I work with Drake, he's one of my favourite artists to work with and one of my best friends, but I also have the opportunity to work with whoever I want, which is what I want. The guys that I look up to, like Timbaland and Pharrell, they worked with multiple artists and had hits with multiple artists.
I enjoy the variety; you don't want to eat steak every day, right? I love just making music and stepping outside of my comfort zone.
My entire life, I've worked really hard to get where I am and now I just want to live my life to the fullest. When everything's said and done, I want to be that guy who's like, 'I did everything I could have possibly done.'
---
I want to ask about God's Plan. How it came about and, again, whether or not you knew how big it was going to be?
God's Plan was basically an almost finished record; I came in and added the finishing touches, which was the drums and the bass.
Drake already had the idea laid out, and then after I added the drums and bass, I think 40 went back in on it last and closed the track out.
Working with Drake, there's always a good song coming, so I knew it was good, but I had no clue it was going to be his biggest song ever.
---
You're taking a bit of a break at the moment. How much of that has been to do with the circumstances created by the pandemic and how much of it is about assessing where you're at and where you want to go?
At the moment, there's so many things going on in life, things that really truly matter right now. It's just a weird time. Obviously there's been the pandemic, there have been the riots, the killing of an innocent, unarmed black man, you know; everything going on right now has just caused me to put music in the backseat for a bit.
"I refuse to do a Zoom studio session, I just can't."
I've been going hard for a good 10 years, and it's about time I took a little break. I'm still here and there making music, but I can't aggressively go at it like I was before, because obviously the borders have been closed, studios weren't open. And, you know, there's no way of being able to collaborate. I refuse to do a Zoom studio session, I just can't [laughs]; I've gotta be in a room with somebody, I've gotta be able to feel it.
It's not anything serious, I'm not quitting, it's just like music is the last thing I'm thinking about right now.
---
Do you think you'll come back fully charged?
Yes, I will. The greats always kept pushing, switched it up, and reinvented themselves.
I look up to a lot of the guys who are my all-time favourites, like Dr. Dre, Timbaland, Swizz [Beatz], those guys always kept on pushing the envelope, and right now I feel, for myself and where I am in my career, it's time to get to that next level and see what I can do; to challenge myself as a producer.
---
What did you think of music industry's response to George Floyd's killing, the subsequent protests and the rise and rise of the Black Lives Matter movement, with things like Blackout Tuesday and some funds being set up?
I can't really speak on other people's intentions. I can just only speak on my own, and I'm working on doing things where I can affect my community myself, change my community myself, do something that I can see.
I want to put my money where I can see it going, and I can see it helping and I can feel, see and touch the impact of what I'm doing. I commend anybody doing it the way they want to do it; everything that's going towards the movement is definitely appreciated.
"I'm happy about the awakening, but it's really disheartening, every day, to wake up and see the news."
It's actually ridiculous, this systemic racism is in the world of policing, it's in the world of music, it's in everything, you know. So I'm just glad that there's a global awakening right now, especially for black people.
I think it's time that we finally work together, you know. I feel like everybody works together, all the races [are] good at sticking together, and we're always fighting with each other. So I think it's an amazing time right now, with people finally coming together and working together and getting this done together.
So I'm happy about the awakening, but it's really disheartening, every day, to wake up and see the news: another black guy found hanging from the tree, another black guy choked out by the police, beaten by the police for no reason, shot in the back…
---
What do you think of the consensus to drop the phrase 'urban music' and replace it with 'black music'?
I think that means absolutely nothing. That doesn't matter at all. That's not even a ripple in the ocean. It does nothing.
---
Finally, we always like to ask producers like yourself who have made it to the top, what would your advice be to someone just starting out?
Just keep pushing, keep going, you know. Throughout all my years, and even up to today, I experience disappointment.
There's always that time when you think something's going to happen, but it doesn't, and things may seem bleak. But if you really love it, you gotta just keep pushing, keep learning your craft, keep going and keep an open mind.
"No matter what happens, just look forward to the better times, and if you love it as much as I love it, you're going to keep going."
You know, everybody who has made it to where they wanted to be has gone through disappointments. It's not about that, it's about how you handle it and how you're gonna push forward.
No matter what happens, just look forward to the better times, and if you love it as much as I love it, you're going to keep going and you're going to get to where you want to get to.
---
MBW's World's Greatest Producers series is supported by Hipgnosis Songs Fund. Traded on the London Stock Exchange, Hipgnosis was established to maximise the value of music… while also proving that value to institutional investors. Music Business Worldwide