BMG saw its half-year revenues grow 25% YoY to €371 million in the six months to end of June.
The company says that this first half organic growth of 25% was the highest in BMG's 14-year history.
These numbers were confirmed by BMG and parent Bertelsmann today (August 31).
The €371 million revenue haul represented a €75 million increase on the €296 million that BMG generated in the same six-month period of 2021 (see below).
---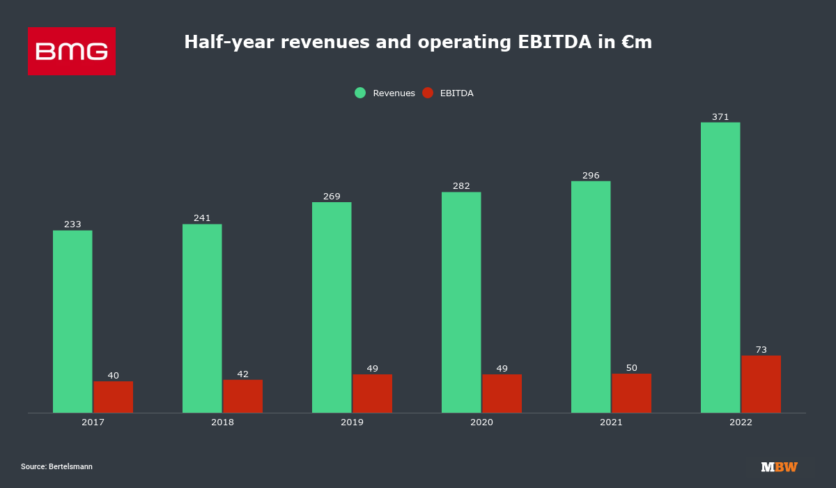 ---
BMG reports that 60% of its revenues in the first half of 2022 were from publishing, with 40% from recordings.
Also reported today, BMG's operating EBITDA reached €73 million in the first half of the year, up 46% YoY.
BMG reports that its EBITDA margin reached 19.7% in H1 2022, an all-time high for H1.
Elsewhere, BMG notes (see below) that it "struck new global partnerships", and "invested in adjacent business fields," while the company's spending on catalog acquisitions tripled over the same period last year.
Acquisitions announced by BMG in H1 included the music interests of American blues icon John Lee Hooker, as well as a 50% stake in the song interests of Bobby Gillespie, Andrew Innes and the late Robert Young of legendary Scottish rock band Primal Scream, together with their neighbouring rights.
BMG also struck a global deal in H1 to represent George Harrison's publishing catalog.
Highlighting its business development activities, BMG says that it "doubled down on its activities in the film sector", presenting three documentaries: DIO: Dreamers Never Die, Angelheaded Hipster: The Songs of Marc Bolan & T. Rex, and Moonage Daydream, the first film about David Bowie to be endorsed by his estate.
---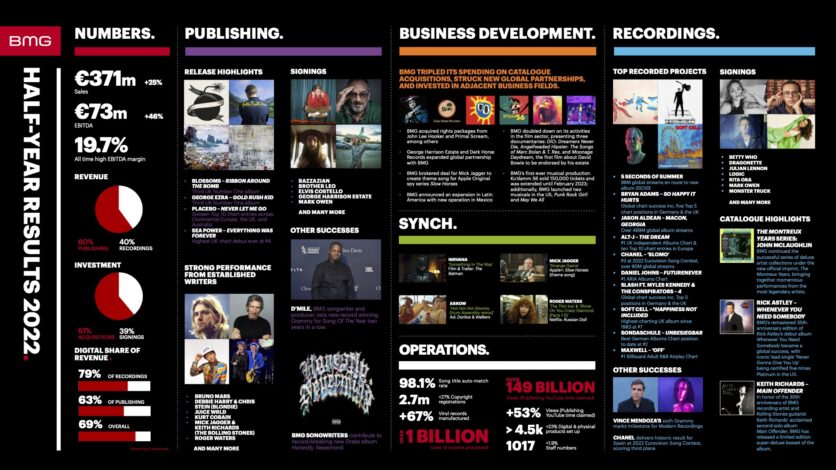 ---
Acquisition deals made by BMG since the end of the half-year period covered in these results include the acquisition of music interests in Simple Minds and Jean-Michel Jarre's publishing catalog, both in July.
BMG also announced its intention to acquire Germany's largest independent record company, Telamo earlier this month.
Top recorded music projects cited by BMG for the half-year 2022 period include Bryan Adams' So Happy It Hurts, Jason Aldean's Macon, Georgia and Alt-J's The Dream.
Publishing highlights cited by BMG for H1 2022 include Blossoms' Ribbon Around The Bomb, George Ezra's Gold Rush Kid, Placebo's Never Let Me Go and Sea Power's Everything Was Forever.
"We expect to end 2022 as we did in 2021 as one of music's most acquisitive companies."

Hartwig Masuch, BMG
Commenting on the company's acquisition strategy, BMG CEO, Hartwig Masuch, said that, "We expect to end 2022 as we did in 2021 as one of music's most acquisitive companies".
He added: "We continue to have faith in music's growth prospects, but more importantly, we believe our ability to monetize the catalogues we buy is among the best in the business. We are not passive investors. We are a music company."
Commenting further on whether BMG's strong H1 results are the result of the company's acquisition strategy,  Masuch noted: "Acquisitions are clearly important, but to put them in context the results of the past 18 months of deals in our 'Boost' program still only account for less than 3% of revenue."
He added: "Buying a market position in 2022 requires deep pockets and if you haven't got the infrastructure to really make these deals work, it will clearly be an uphill struggle."
---
Looking to the second half of the year, Masuch added that, BMG  has "had a great start to the year, but the better news is that this comes before we've even had what we believe will be the four biggest releases of the year, one of them yet to be announced."
H2 2022 will bring new projects from the likes of 5 Seconds of Summer, Nickelback and Backstreet Boys.
"The extraordinary thing about our first half result is that we grew revenue 25% with virtually no hits."

Hartwig Masuch
Added Masuch: "The extraordinary thing about our first half result is that we grew revenue 25% with virtually no hits.
"That's because we have a business model which can have hits and will have hits with the right repertoire but is designed to be robust enough not to need hits in order to survive.
"The top end of the charts, the portion most companies focus on, is declining in relevance every year. Streaming's Top 100 accounts for only around 5% of revenue. I'm not prepared to tell the artists and songwriters responsible for the other 95% that we're not interested in them."Music Business Worldwide