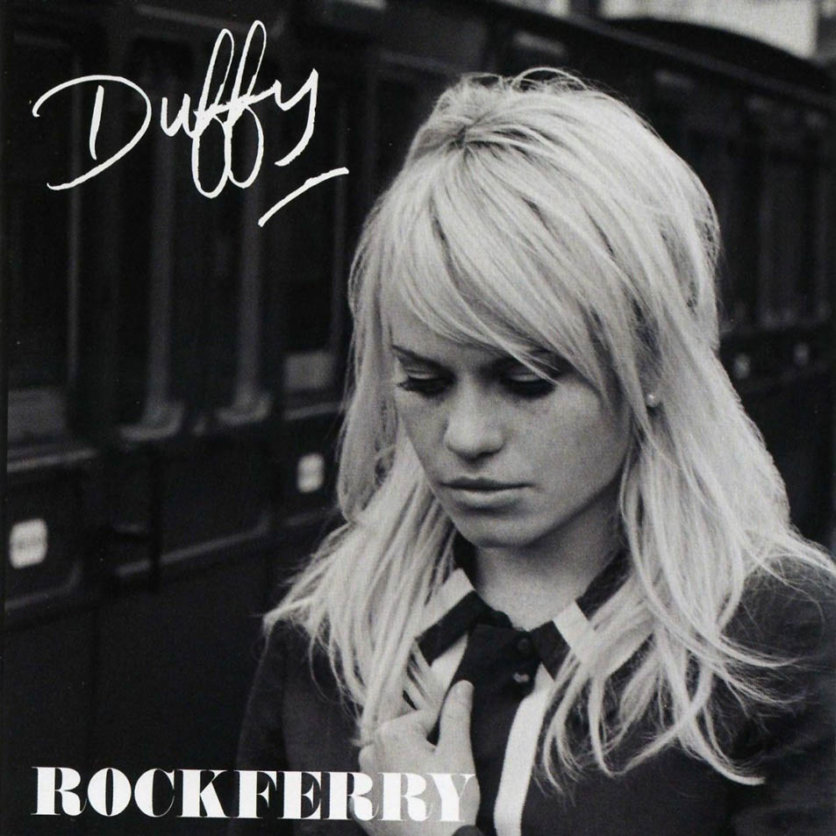 Duffy's career has become a cautionary tale for young performers entering the music business.
In March 2008, she released her debut album, Rockferry, on A&M in the UK and Mercury in the US.
A commercial triumph, featuring tracks co-written by the likes of Steve Booker, Bernard Butler and Eg White, it won the Welsh artist a Grammy for Best Pop Vocal Album and three BRIT Awards.
Backed by heavy international radio play, lead single Mercy was a No.1 in ten territories, including the UK, Germany, The Netherlands and Norway.
Rockferry was the bestselling album of 2008 in the UK, where it shifted more than 1.7m copies – beating the likes of Take That's Circus, Rihanna's Good Girl Gone Bad and Leona Lewis's Spirit. And it was the fourth biggest-selling LP around the world that year, with 4.5m sales.
To date, it's sold more than 6.5m copies globally, with more than 2m in the UK alone.
Those figures trounced the debut album from a certain Adele Adkins, whose 19 – issued in January 2008 – sold less than 500,000 in the UK that year.
But the music biz is a cruel mistress, as Duffy can testify better than anyone.
The artist made a famous career misstep in early 2009, appearing in a Diet Coke ad that put her – and her unique vocal styling – front and centre of a £35m campaign.
The TV ad, made by agency Mother, met with a cruel reaction from critics and the public.
Although suggestions it 'ruined Duffy's career' may be a little OTT, it certainly put a puncture in her ascent – and carries a disastrous reputation to this day…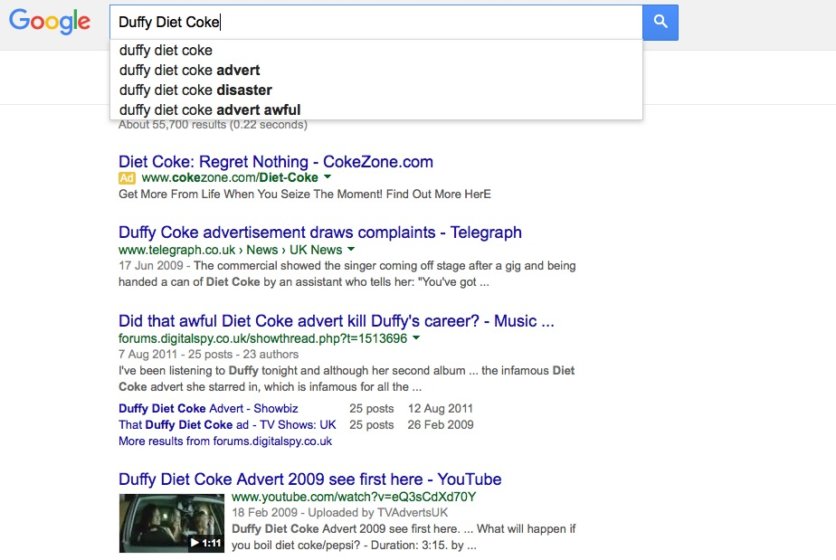 One branding agency expert tells MBW: "Duffy's Diet Coke ad remains the 'how not to…' standard for anyone involved with bringing together brands and artists.
"It made all the no-nos: over-exposing an artist, an unnatural fit, no explanation as to why the act and the brand made sense together…
"But what everyone's probably still too scared to admit is that the reaction was actually a product of its time. Six years ago, you had to tread so carefully as an artist to avoid 'sell-out' accusations.
"These days artist branding deals are so common – we're used to them."
"The duffy diet coke ad probably wouldn't cause anywhere near the outrage today that it did in 2009."

MBW Source
So would Duffy get away with it now?
"Look, it still makes lots of mistakes and it's hard to watch.
"But I don't think that in 2015 it probably would cause anywhere near the outrage and ridicule that it did at the time. Not that I want my name attached to that statement!"
Surrounded by predictions of global superstardom in the run-up to her second album, 2010's Endlessly,  Duffy split with much of the industry team that had helped forge Rockferry's success.
Crucially, that included her manager (and Rough Trade co-founder) Jeannette Lee, who parted ways with Duffy months before Endlessly arrived.
The album stiffed to a shocking degree. Even though it scraped into the UK Top 10, it sold less than a tenth of Rockferry's numbers.
In contrast to Mercy – the unstoppable global smash from Rockferry – Endlessly's lead single, Well, Well, Well, couldn't even manage an entry in the Official UK Top 40.
No more singles were issued from the project. Promotion was cut back.
Duffy didn't release any original material in the five years that followed.
Her pop career appeared to be over.
Until that is, last week.

On Friday, Duffy quietly released her first single in half a decade – Whole Lot Of Love – as part of the soundtrack to Tom Hardy-starring British gangster movie Legend.
As well as performing as singer Timi Yuro in the film, Duffy has recorded three tracks for the OST, including Are You Sure? and Make The World Go Away. [Make The World Go Away was a Yuro standard in the 1960s.]
There's an extra layer of industry intrigue to her return too: Duffy's old record company at Universal clearly hasn't given up on the artist, but is deliberately re-introducing her to the public in an unusual manner.
According to the CEO of Universal parent Vivendi, Arnaud de Puyfontaine, Duffy's return on Universal Music Catalogue (UMC) is the product of a new drive for cross-media collaboration.
The company responsible for producing Legend, StudioCanal, is also owned by Vivendi, and has agreed to give UMG artists, especially Duffy, the chance to shine in their picture.
"UMG and StudioCanal are actively working together on other soundtrack albums," says de Puyfontaine.
"UMG and studiocanal are actively working together on other soundtrack albums."

Arnaud de puyfontaine, Vivendi
"UMG will soon be sharing a joint office with Canal+ in the Ivory Coast [to] reinforce its presence in Africa after the broadcast of UMG's Island Africa Talent show on the Canal+ A+ channel last year.
"It's an additional step in the co-operation between our two businesses."
That co-operation has provided a potential lifeline for Duffy's career, which not too long ago looked dead in the water.
The artist may find additional motivation in the fact that her comeback has arrived just as the world anticipates a new album from its biggest pop megastar.
The fortunes of Adele's record-breaking second album were in stark contrast to those of Duffy's Endlessly: 21 has now sold around 30m copies worldwide, with more than 14m in the US alone.
Meanwhile, in a music biz reflection of the hare and the tortoise, the lifetime sales of Adele's debut LP, 19, have now slightly overtaken Rockferry in the UK – despite a 1.5m sales deficit at the end of 2008.
It seems a long time since the 2009 Grammys, when the Someone Like You star pipped her Welsh peer to the Best New Artist gong, and said:
"I want to thank my manager, Jonathan, and my mum – she's in London. Everyone at Columbia, thank you, everyone at XL, thank you.
"Duffy: I love you. I think you're amazing."
Music Business Worldwide